Tzatziki sauce is this cool, creamy and refreshing dip that is served at every meal in Greece. The origins of Tzatziki date back to the Ottoman Empire and each country along the Mediterranean and Middle-East have their own version with various herbs. I'm making the Greek yogurt sauce with cucumber-dill. Although you can buy tzatziki sauce, making it at home is easy and the flavor is outstanding. Give it a go and see for yourself.
HERE'S HOW I MADE IT
Start by peeling and grating 3/4 of an English cucumber. It's also known as a Hothouse cucumber. Peeling the cucumber isn't required, it's a matter of preference. Sprinkle a pinch of salt and set aside in a colander to drain. You need to remove as much liquid as possible. Transfer the cucumber to a tea towel or double-layered cheese cloth and squeeze all the liquid out. Set aside.
Grate 2 large garlic cloves directly into a small bowl and add olive oil, vinegar, kosher salt and fresh dill. Set aside. It's traditional in Greece to use vinegar and not lemon. If you prefer lemon juice, feel free to add lemon instead of vinegar. When chopping the dill, I use only the fronds and not the stems.
If the garlic is too strong to your taste, let the garlic sit in the vinegar for a few hours before mixing with the yogurt. That mellows the garlic flavor.
In a larger mixing bowl, whip the yogurt with a whisk. Slowly combine the garlic and olive oil mixture while whisking. Taste and re-season, if needed. Combine with the cucumber and refrigerate for a few hours, best overnight. When you allow the flavors to marry, tzatziki is a wonderful dip or spread on everything from pita chips, vegetable slices to grilled meats.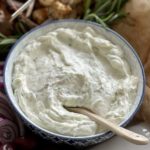 Authentic Greek Tzatziki
A refreshing and authentic Greek yogurt and cucumber dip.
Ingredients
¾

of a large

English cucumber, peeled

1 ½

cups

plain, whole milk Greek Yogurt

prefer Cabot brand

2

large

garlic cloves, grated

2

Tablespoons

extra virgin olive oil

1

Tablespoon

white distilled vinegar

½

teaspoon

kosher salt

2

teaspoons

fresh dill, finely chopped
Instructions
Peel and grate the cucumber with a box grater. Place in a fine mesh over a bowl and sprinkle with a pinch of salt to release the liquid. Transfer to a tea towel or double cheese cloth and squeeze the excess liquid. Set aside.

In a small bowl, combine grated garlic cloves, extra virgin olive oil, distilled vinegar, kosher salt and fresh dill. Set aside.

Note: It's important to grate the garlic so it disappears into the yogurt.

In a separate bowl, whip the yogurt. Slowly add the garlic and olive oil mixture and whisk to combine. Taste and re-season, as needed. Add the cucumber mix to combine.

Refrigerate at least two hours, best overnight. Serve chilled.