I wish I could step back in time to early 1912, when life was simple, elegant and conversation an art. That lifestyle is foreign to our modern, busy lives, but I would like to think we can slow down every now an then to enjoy afternoon tea with lively conversation among great friends.
Taking inspiration from Downton Abbey, I started to plan an authentic British afternoon tea garden party for my mother and her four sisters a few months ago. Luck would have it my garden party came indoors and I was able to set an earlier date. I was thrilled to learn my party coincided with Downton Abbey's movie release! I assure you it was serendipitous! Ahead of the actual tea party, I spent a lot of time researching presentation & etiquette, doing some DIY projects and sourcing my decor, antiques and teaware and testing recipes I could proudly serve. I think I achieved an authentic experience – one Lady Grantham and the Dowager Countess would approve!
In the spirit of Downton or bust, I decided on an all out Royal Afternoon Tea Party with both champagne to start and dry sherry digestif to finish. A champagne greeting in vintage Arcoroc Rosaline Pink Swirl coupe glasses was the perfect welcome as they selected their hats. They relaxed and took a few pictures while I finished setting the table.
Note: Champagne flute did not come about until the 1950s so the coupe was the only appropriate glass for my party. Here's interesting information on the history on champagne glasses from Food52.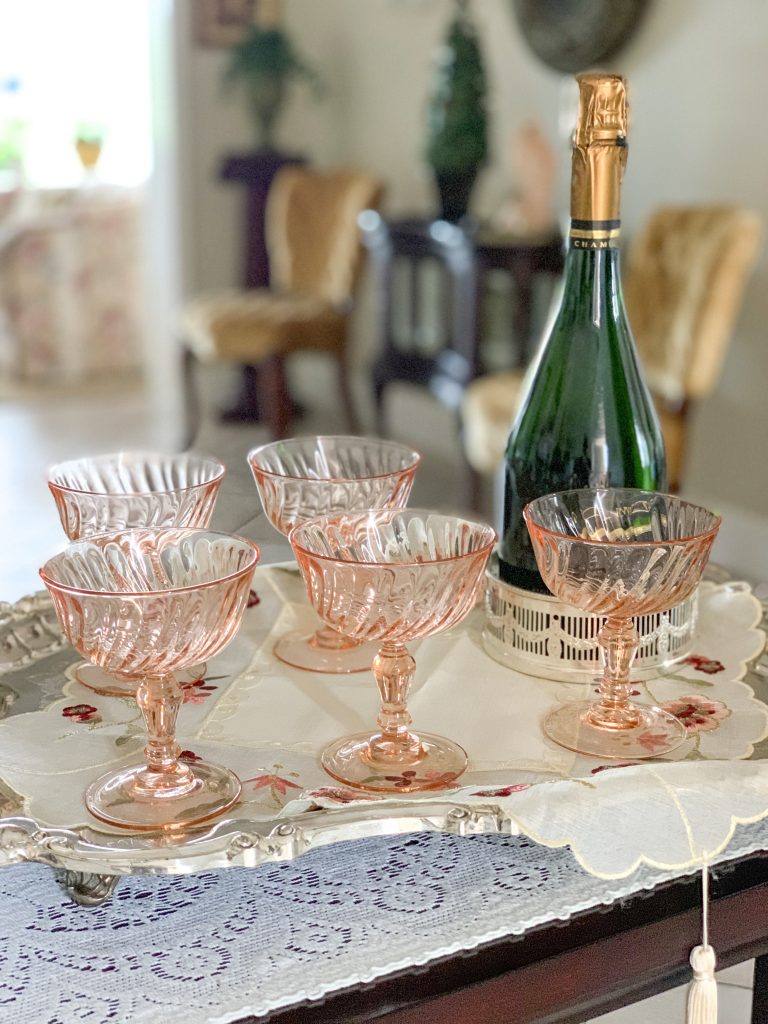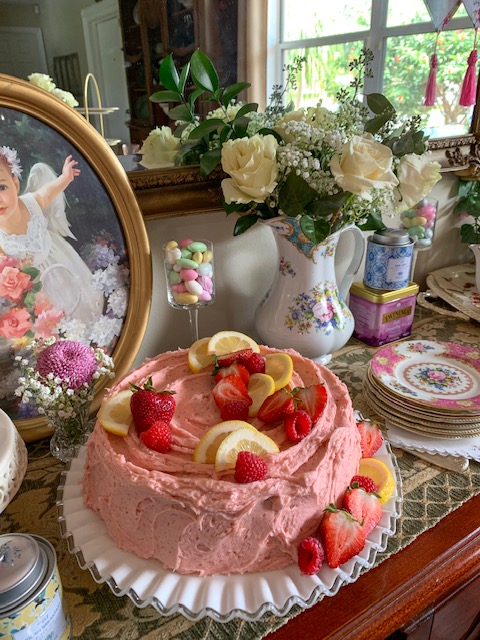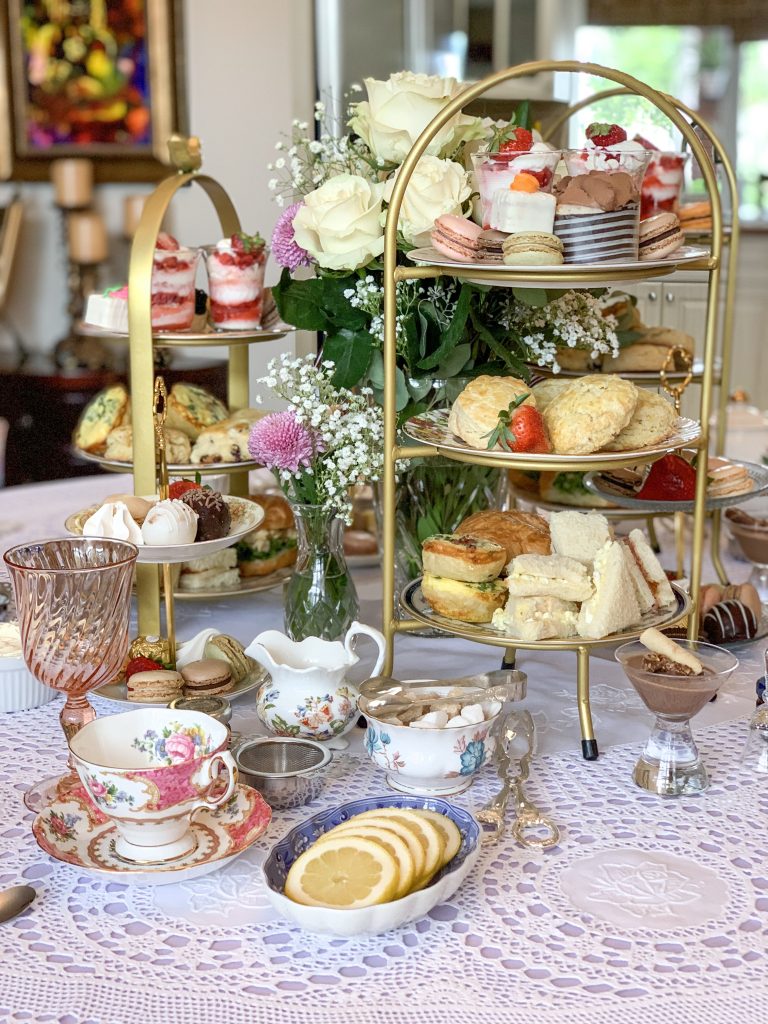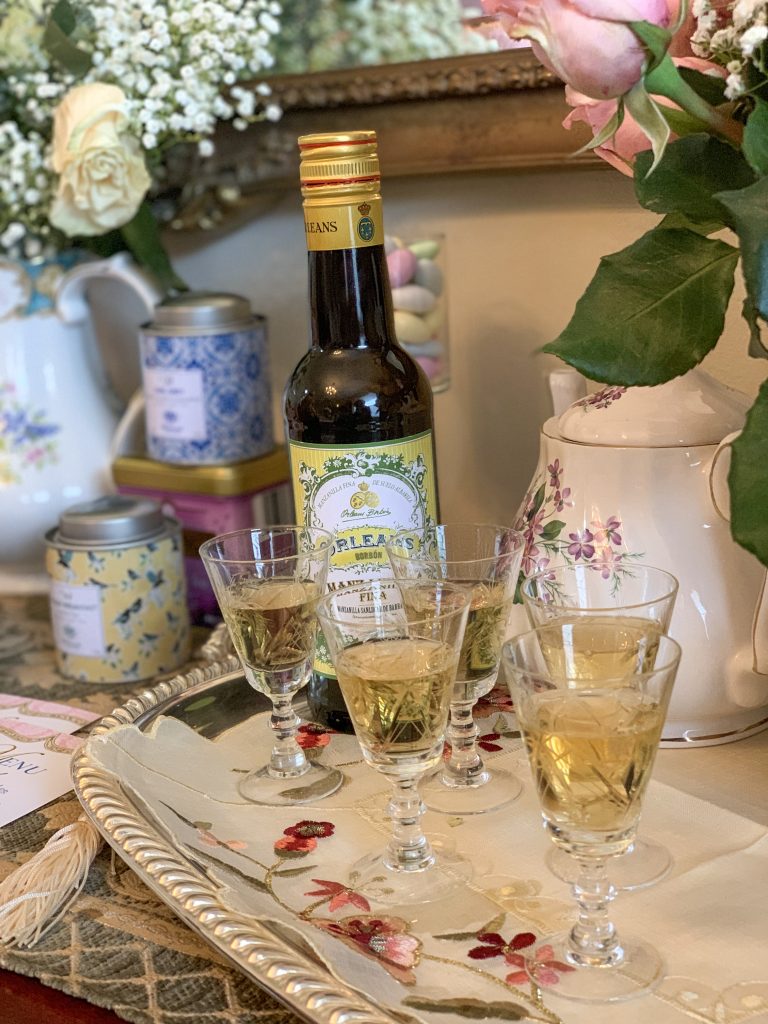 In keeping with the upstairs, downstairs concept of Downton, the formal dining room was set for mom and her sisters while a simpler table was set in the kitchen for the other family members and myself (not pictured). No attention to detail was spared. I even bought a crystal bell to ring for service – a whimsical touch I had to include! I feel in love with the bell and I can always use it to play Sorry.
The afternoon was filled with love and laughter as five sisters shared a long overdue afternoon. After their tea, they played a few rounds of Old Maid. It was more fun than anyone anticipated. These ladies do not have poker faces and the one holding the Old Maid always gave herself away.
MENU
Serving a classic selection of finger sandwiches, scones with clotted cream and preserves and a variety of homemade cakes, tarts and sweets paired with traditional teas. I also purchased a few bakery and grocery store items to round out my menu below:
Champagne Greeting
• Haton Noble Vintage Champagne – this French champagne is excellent, a favorite of my local liquor store. I've been buying this label since 2012.
Savory Finger / Tea Sandwiches & Quiches
• Coronation Chicken on Mini Croissant – chicken salad created for the coronation of Queen Elizabeth in 1953.
• Classic Egg Salad Sandwich – creamy and classic egg salad. The country mustard is the perfect touch to brighten this classic.
• Serrano Ham, Manchego Cheese and Fig – my favorite flavor combination! Salty and sweet all in one bite! Layers of Manchego cheese, Iberian ham and a thin layer of fig jam cut into squares.
• Ham & Gruyere Mini Quiche – using puff pastry and a biscuit cutter, it's easy to make these adorable mini quiches.
Scones
• Best Ever Orange Scones – because it wouldn't be a tea party without them. They are my favorite. Hands down.
• Two other variations – plain and currants. I didn't take pictures so I'll make them again and post.
Assorted Mini Desserts
• Mini Peach Tart – the loveliest fruit tart I've eaten. Since stone fruits are still available, I made a large tart and used a flower cookie cutter to cut bite size mini tarts.
• Chocolate Hazelnut Panna Cotta – the menu needed a chocolate dessert and this was perfect!
• Eton Mess – a classic British dessert made with strawberries, whipped cream and crumbled meringue cookies.
Dessert
• Strawberry and Lemon Curd Cake – this recipe from thecollegehousewife did not disappoint. Light and moist layers of lemon cake with real strawberry pieces, lemon curd filling and a strawberry buttercream frosting! The perfect dessert for my Royal Afternoon Tea Party!
TIMELINE
Two Weeks Before Review your tableware. Set the table and make a list of what you are missing. Make sure you have serving utensils. Just because it's finger food, guests should not reach out and grab with their hands. Remember the devil is in the details!
A Week Ahead Set a final menu, review your pantry inventory and create a shopping list. Determine what you will make at home and what you will purchase from a bakery or grocery store. Purchase English teas and champagne and/or sherry. Select your music. Clean silver and chandelier (you don't want to eat under a dusty lamp). Complete DIY projects and miscellaneous purchases. Select your outfit – don't leave this to the last minute. The host should be relaxed and ready to enjoy the party.
Two Days Before the Party Clean the house and wash all the china and utensils. Decorate the space and set the table. Determine food and drink placement, including the serving utensils – use Post-It notes as a reminder. Make any sauces or fillings ahead of time.
Note: If your party is outside, you may need to decorate and set the table the morning of. If that's the case, use your time wisely and prep something two days in advance, even if you need to adjust your menu.
One Day Before the Party Today is prep day so you need to be focused, organized and start early in the morning. Have your shopping list ready and purchase perishable items and missing grocery items.
Day of the Party Start early in the day so you can allow some down time for yourself. Set a cut-off time and what didn't get done, doesn't get plated. Your guests won't know and your party will still be fabulous. It's very important that the host isn't exhausted before the guests arrive.
A Tiny Disclosure – this was my first tea party and I went overboard. Not only did I purchase beautiful Royal Albert pieces and Gorham silverware and trays, but I also had an ambitious menu that I wanted to execute myself – all homemade. I wasn't able to make petit fours, cucumber and salmon sandwiches because I ran out of time. I did stick to my cut off so I could get ready and not look like Cinderella when the guests arrived. My almond cake petit fours layered with apricot and jam were delicious! Better than the grocery store petit fours I purchased. My problem was the frosting – the chocolate either clumped up or it didn't reach the right consistency to frost perfectly. I will make them again and post. Cucumber and Salmon were mom's least favorite flavors so I didn't sweat it when they didn't make it to the table. She preferred the quiche instead so I made menu changes the day of the party. I should have stuck to K.I.S.S. (keep it simple stupid), but in my excitement, I over extended myself. It happens to us all – regardless of how many parties you've hosted. Overall, my Royal Afternoon Tea Party was a huge success even if I didn't execute it as I had envisioned it. I can't wait to host my next tea party!