When I think of casual, relaxed and informal entertaining, I think of a buffet. A buffet affords the host more time with their guests while removing the pressures and time constraints that come with a sit-down dinner. I'm not referring to the traditional all-you-can-eat buffet, I'm referring to food stations that are geared toward small plates, with a varied menu that allows everyone to eat and drink throughout the evening. I love the visual impact a properly styled buffet can have. At a dinner party your guests are limited to the size of your dining table, but a buffet allows you to practically double the number of guests. As long as your guests fit comfortably in your home, the more the merrier! Additionally, green spaces with cozy seating vignettes expand the party space and add to the overall atmosphere. I've detailed below my thought process when setting up a great buffet at home.
TABLE PLACEMENT & FLOW
Evaluate your space and determine the best placement for the food, bar and dessert stations. Yes, three stations are essential to disperse guests and avoid traffic jams. The positioning of the food table is the most important one as guests will meander and mingle about. Is it against the wall (traditional serving line) or in the center of the room (dual serving line)? Do you have a round table (guests can weave in and out around the table)? Are you using the kitchen island or a folding table? The correct answer is the one that works best for you. Then select two other spots away from the food for drinks and desserts. This may be a bar cart, a console or sideboard table. They don't need to be as large or wide as the food table, but you do want them away from each other.
Note: Address table and furniture placement a few days in advance. If you're removing the dining room chairs, place them throughout your home for extra guest seating.
FOOD PLACEMENT
Now you need to determine the flow of the buffet line and strategically place the food in an order that makes sense to you, depending on your menu. Think of your guests as they self-serve – is it an easy or difficult process? As a general rule, I place my food in this order: Assorted Bread/Rolls ➡ Salads ➡ Entrees ➡ Sides & smaller bowls with condiments, dressings, sauces and butter tucked in between the larger platters.
◾️Plates, Napkins & Flatware: Plates usually define where to start. I like to stack 8″ dessert plates on the table where I want my guests to begin. As a courtesy to your guest, don't make them juggle a napkin and flatware while holding a plate and trying to serve themselves. That's an accident waiting to happen. Place the napkins and flatware at the very end.
Tip: I never serve a dinner size plate at a buffet party. The idea is to sample small bites a little at a time. Since you can return to the buffet table, you don't need a large plate piled high with food you probably won't eat. That's just wasteful.
◾️Serving Platters, Bowls & Serving Utensils: Select a serving dish and serving utensils for each item you are presenting. Arrange the platters/bowls on the table and label each one. This will help you visualize your table, gauge the remaining available space for decorations and serve as a menu reminder so you don't forget a dish.
Note: I like to do this a few days ahead. Scrambling for a platter or serving spoon the day of the party is unnecessary stress.
◾️Food Labels or Tent Cards: It's really nice when you label the food so guests know what they are eating. It is also a way to mention dietary preferences or food allergies (vegan, gluten free or dairy free, nuts, dairy, etc.) so your guests can make personal choices.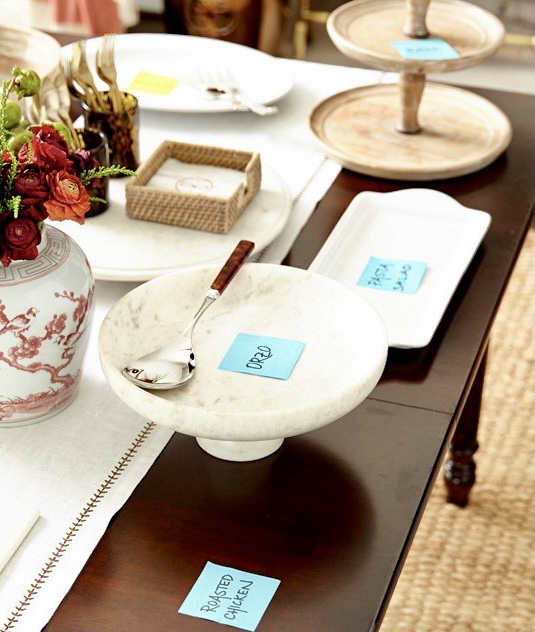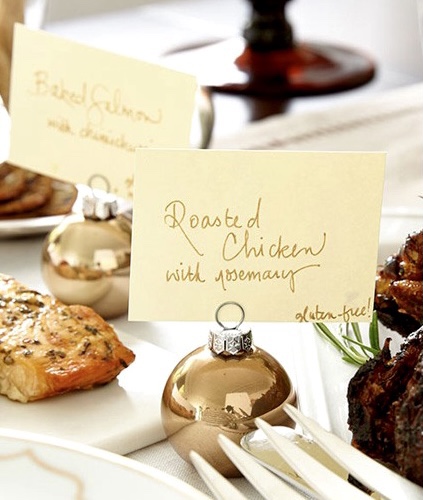 MENU, PRESENTATION & STYLING
The menu should reflect the occasion with easy finger food or fork-friendly bites. There are a few simple guidelines professional caterer use when setting up stunning food stations. This attention to detail is what sets them apart. Incorporate some or all in your buffet for a striking presentation.
The 80/20 Rule
Serve 80% of the food cold and 20% hot. That's right, buffets are mostly comprised of dishes that are served at room temperature. This makes menu planning very easy for the host. Search through cookbooks, Pinterest and online for ideas.
Tip: You can cook everything in large quantities ahead of time and transfer to small plates, bowls or shot glasses before the guests arrive. Assemble any food that will be served on a skewer or party pick the day before. Here are a few links to mini plastic disposable serving units: mini cups, mini shot glasses and tear drop spoons.
◾️Hot foods: These stainless steel chafing dishes are polished, beautiful and cordless. You can also use crockpots, hot plates or warming dishes, but those require an electrical connection and will affect the placement of your table.
◾️Ease of self serving: Everything you serve should be grab-and-go, with serving utensils of course. Your guests should not be carving any meats. If you want to serve a roast beef, set aside a carving station with an attendant. Consider hiring servers for large parties to help with serving, housekeeping and clean-up.
Groups, Rows and Levels
Buffets are not large charcuterie board. Nothing wrong with a board, I'm just pointing out they are different. Buffets have defined spaces and the food is allocated on the table in an organized manner through groups, rows and levels.
◾️Groups – present one type of food on one serving plate. It could be sliced meats, sandwiches, fruit or anything else.
◾️Rows – individual servings are perfectly aligned for a clean look. They could be in cups, shot glasses or skewers.
◾️Levels – display food vertically by serving on tiered plates, cake stands or risers. This adds visual interest.
DECORATIONS, MUSIC & LIGHTING
Setting the feel for the evening through decorations, music and lighting is equally important and you can have a lot of fun setting the mood. Take into account your home's personal decorations and avoid clashing colors or elements. Take a cell phone picture and see how it looks. When it comes to plates, use what you have as long as they are the same size. Plates don't need to match. You can also buy high-end, sturdy plastic plates to go with your theme. Create visual interest.
◾️Add Height: Use cake plates, books, boxes, vintage suitcases or just about anything to create varying levels for your platters. Place bread rolls in a vertical wire basket. Use small vases or glasses to stand flatware instead of laying them flat.
Note: If using a plain box, cover the box with linens and drape the excess material around the box in a flowing manner that has movement so you can smooth the rough edges of the box.
◾️Centerpiece: If your table is narrow, you may want a floral arrangement in a narrow, tall vase. Maybe place it off to the side. If the table is wide you could add flowers, candles, a sculpture or bust, suitcases and all kinds of decorative items that add visual interest to the table.
Note: Be mindful of the placement of your candles – you don't want to set your guests on fire or tip wax onto the food.
◾️ Backdrop: If your buffet table is against the wall, consider a backdrop to draw your eye to the table and make a statement. Backdrops add visual interest and don't require table real estate. Consider wallpaper, banners, balloons, macrame wall hanging, beaded curtain, tassels or a photography backdrop. Be creative, the possibilities are endless.
Tip: Command products are perfect for decorating.
◾️Chandelier: An optional element you can use to your advantage. Consider adding a garland, hanging ornaments or postcards from a ribbon or fishing wire.
While the food station will be the focal point, don't forget to give some attention to the the bar/beverage and dessert stations.
BAR/BEVERAGE STATION
What beverages will you serve? Take into account your guests and if children are attending, have something for them along with plenty of water for all your guests. Setting up a bar station can be a lot of fun and it could also play into your theme. Is it a margarita station? Will you have recipes handy or will you create and serve a signature cocktail in a large pitcher? Have glasses and paper cocktail napkins available along with a tea towel tucked away to quickly catch spills.
◾️ Consumption: Plan on 2 drinks per person the first hour & 1 drink per person every hour thereafter.
◾️ Wine & Beer: A case of wine (12 bottles) yields 60 servings. Unless the theme calls for beer, I don't serve beer.
Tip: If space is limited, beverage dispensers are a great way to serve large quantities of water, lemonade and tea. Place it on a stand that can clear the glass height so you avoid spills. If short on glasses, pick up a few at the Dollar Store. Drinking in plastic is for teens and college students.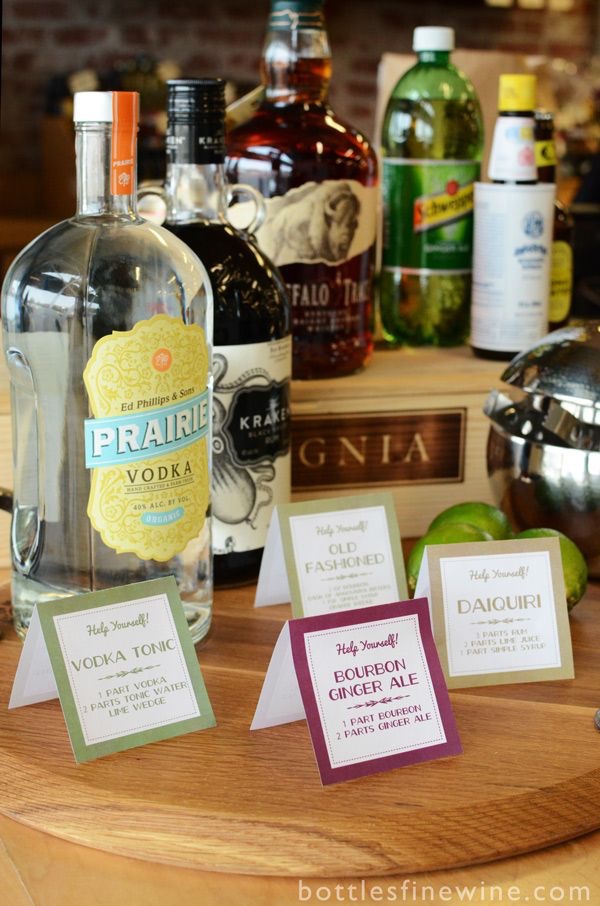 DESSERT STATION
It's hard for a dessert station not to be everyone's favorite. Tiny bites of confections are what dreams are made of. There are so many to choose from, it's hard not to make the dessert station the main attraction! I like to serve an assortment of cookies, brownies, cupcakes, and cheesecake bites. If serving whole pies or cakes, you have a few options. You can pre-slice, place a cake knife next to it or have a server. Maybe a guest could do the honors?
HOUSEKEEPING
Guests are not always considerate and parties can get messy. If you can't hire an assistant, keep an eye on the different stations and clear away empty platters along with empty small plates, glasses and trash left behind. Food is not appealing if it looks picked over or messy.
Tip: Let your guests know the location of the trash bin if it's not commonly known. You really don't want a visible trash bin near food for obvious reasons. You can place a smaller, inconspicuous trash bowl near the bar for lemons & limes, just empty it frequently.
HOSTESS GIFT
Guests like to show their appreciation and many times they will offer to bring something. Accept and be gracious. It puts your guest as ease and you can determine what small contribution they can make. Maybe they could bring flowers, a bottle of wine, cookies or ice.
Remember, parties are about having fun and making memories with family and guests. If anything goes sideways, laugh it off, take it in stride. If you learned something that didn't work, take note and make changes at the next party. That's how we all figure out what works for us. I hope you find this post helpful as you plan your next party! If you need help in executing your perfect party, you might find my post Entertaining 101: Easy Party Planning helpful as well!
All images from Pinterest unless otherwise stated.