Have you every enjoyed roasted radishes? Roasting radishes produces the same result as roasting garlic. That intense, piquant flavor mellows and transforms into a delicious, mild root vegetable. This dish was unexpectedly delicious and makes a stunning appearance at any meal.
According to Healthline, radishes are a superfood and have countless benefits and nutrients. They help detoxify the body, promotes liver and stomach wellness, anti-cancer properties and anti-fungal properties to name a few. You can eat the radish, stem, leaves and flowers. At 12 calories per 1/2 cup, it's a low-calorie-high-benefit vegetable.
HERE'S HOW TO MAKE THEM
Look at these gorgeous and fresh radishes and onions. It's best to buy them whole for added freshness. Clean and trim two bunches of radishes – remove stem and leaves and root tip at the end. Slice in half. Peel one bag of fresh pearl onions and slice in half.
Note: If you use frozen pearl onions, caramelize them separately in a skillet as they have more moisture and require different cooking times.
Combine in a mixing bowl and toss with 1 Tablespoon of olive oil, a pinch of kosher salt and a few cracks of fresh black pepper. Preheat oven to 450°F and place rack in the center. Lightly grease a baking sheet and position the vegetables cut side down. Roast for 12-15 minutes or until the bottoms have browned slightly.
Maybe my old oven is off, but after 15 minutes, I wasn't satisfied with the "golden" color. Out of fear of burning, I transferred the vegetables to a wide skillet and sautéed them over medium heat until they developed the caramelization I desired, about 5 minutes. Hold a sieve over the skillet and pour the brown butter through the sieve to collect the milk solids. Add the juice of 1/2 a lemon and stir to combine.
While the vegetables are roasting, brown 2 Tablespoons of unsalted butter, such as Plugra or Kerrygold, in a small skillet over medium heat. Swirl the butter often so the milk solids don't burn in the bottom of the pan. The butter should become golden brown and have a nutty fragrance. Remove from heat and have the butter on standby to combine with the vegetables.
Transfer to the serving dish and garnish with radish leaves. Sprinkle with kosher salt, sea salt or your favorite finishing salt and extra fresh cracked black pepper. Yields 4 servings, but the recipe can be easily multiplied.
This was so delicious! The radishes mellowed while roasting and caramelizing along with the onions. The brown butter added a rich nutty flavor and the lemon a bright pop of citrus flavor. It was perfectly balanced. We had a small amount left over and I enjoyed them in a salad the following day. Leftovers keep well in the refrigerator up to 5 days in an airtight container.
This recipe is adapted from TheKitchn.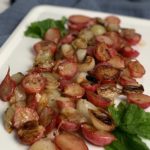 Brown Butter Radishes & Pearl Onions
A stunning side dish any time of year! Makes such a beautiful presentation and the mild fresh flavors complement any meal. The brown butter and lemon juices add a rich and bright flavor that is unbeatable.
Ingredients
2

bunches

fresh radishes, rinsed, trimmed and halved

1

bag

fresh pearl onions, peeled and halved

1

Tablespoon

extra virgin olive oil plus a little extra to coat a thin layer on the baking sheet

kosher salt

prefer Diamond brand

fresh cracked black pepper

2

Tablespoons

unsalted butter

prefer Plugra or Kerrygold

juice of

½ a

lemon

Garnishes:

radish leaves or parsley, kosher or sea salt and black pepper
Instructions
Preheat oven to 450°F, place the oven rack in the center position. Lightly coat a baking sheet with a thin layer of extra virgin olive oil and set aside.

Rinse and trim the radishes, stems and root, and halve them. Peel the pearl onions and halve them too.

Optional: reserve some radish leaves to garnish the plate.

In a mixing bowl, combine with 1 Tablespoon of extra virgin olive oil, a pinch of kosher salt and fresh cracked black pepper. Toss to combine well and place on the baking sheet cut side down. Roast for 15 minutes until the cut side is golden.

Note: Spread them out evenly so they roast instead of steaming.

Transfer the roasted vegetables to a skillet and continue to caramelize for 5 minutes, stirring infrequently.

In a small pan, melt the butter over low to medium heat until brown and with a nutty fragrance, about 3-4 minutes. Swirl the butter in the pan as to move the butter and milk solids around as not to burn the milk solids. Set aside.

Pour the brown butter directly over the roasted vegetables through a fine mesh sieve to catch the milk solids. Add the lemon juice and stir to combine.

Transfer to a platter and garnish with radish leaves or parsley, kosher or sea salt and black pepper and serve.
Recipe Notes
This dish can be easily doubled.  
Leftovers keep well up to 5 days in an airtight container.