These soft buttery pretzels are easy to make and so delicious! They freeze and reheat well too! This is an easy recipe and you can make a batch and enjoy them any time you want – Oktoberfest, game day, after school snacks, etc.
Start by activating the dry yeast in water that has been heated to 110°F. In 10 minutes, the yeast will bloom and it will be ready to make a dough!
Heat water to 110°F

Allow ten minutes for the yeast to fully bloom.
While the yeast is blooming, mix together the flour, sugar and salt. Make a well in the bowl and add the oil and bloomed yeast. Mix until it comes together and forms dough. Remove the dough from the mixer and knead on a lightly floured surface until smooth, about 7-8 minutes. Lightly oil a large mixing bowl and place the dough in the bowl, toss to coat completely and cover with plastic wrap. Place in a warm place until the dough has doubled in size. Typically about 1 – 1 1/2 hours.
Pretzel dough. Allow to double in size in warm spot.

Cut and roll into 18-20 inch rope pieces.
Using a pizza cutter, divide the dough into 14-16 even pieces. Using your hands, roll the piece back and forth over an unfloured surface and work your way out toward the ends until you have a rope that is 18-20 inches long. I found that 20 inches was the perfect length to get that classic pretzel look with the double twist in the middle.
Twist and shape into pretzels.

The baking soda water bath is a required step!
Twist the rope and make it into a pretzel shape. In a wide pot, bring to a boil the water and baking soda, then reduce to a healthy simmer. Sounds crazy, but this baking soda water bath is what gives pretzels their texture and color. Go figure. Don't skip this step, you won't have the results you are looking for. Drop a few pretzels at a time, don't crowd the pot, and allow them to cook in the baking soda water bath for about 20 seconds. Turn half way to ensure the other side is equally coated.
Brush with egg wash and sprinkle with coarse salt.

Bake until golden and soft!
Lightly grease the parchment paper. Remove the pretzels from the baking soda water bath with a spider strainer, allowing the excess water to drain off and place them on the parchment paper. Brush with an egg wash mixture and sprinkle with coarse salt. Bake at 415°F until they are browned, about 8 minutes.
Note: If you oven has a hot spot like mine does, turn the baking tray half way or try convection baking (fan bake) for even air flow. If you wish to increase the oven temperature as others do, don't use parchment paper as it burns at temps higher than 415°F. Read the packaging to see what your parchment paper brand recommends.
Cut in bite size pieces for sweet pretzel bites.

Toss in butter and roll in cinnamon sugar!
I made about 12 pretzels and used the remaining pieces to make cinnamon sugar pretzel bites! So delicious. I brushed them with the egg wash mixture, omitting the salt, and baked accordingly. While they were baking, I melted some unsalted butter and mixed about 1/2 cup of sugar and 1 teaspoon of cinnamon in a paper bag. I didn't measure. When the bites were baked, I coated them in butter and tossed a few at a time in the paper bag and gave it a few good shakes. I repeated until all the bites had been coated. Yum! I can tell you these pretzel bite-size poppers were the first to go!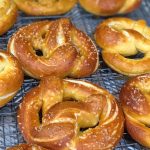 Soft Buttery Pretzels
These soft buttery pretzels have a great texture and they are delicious salty as they are sweet. It's the perfect treat or snack. Make them for your next Oktoberfest, game day or snack for the family.
Ingredients
Dough
3

teaspoons

active dry yeast

1

teaspoon

white granulated sugar

1 ½

cups

warm water, 110°F

4

cups

all purpose flour

½

cup

white granulated sugar

1 ½

teaspoons

Kosher salt

1

Tablespoon

vegetable oil
Baking Soda Water Bath
4

cups

water

½

cup

baking soda
Toppings
egg wash

Kosher salt, or

melted butter, unsalted

Cinnamon sugar mixture
Instructions
Blooming the Active Dry Yeast
Warm the water to 110°F. Use a candy thermometer if necessary to check the temperature.

In a Pyrex measuring cup, combine the warm water, yeast and sugar. Mix well to combine and let it sit for 10 minutes to bloom.
Making the Dough
Combine 4 cups of all purpose flour, ½ cup white granulated sugar and 1 ½ teaspoons of Kosher salt in the stand alone electric mixer.

Make a well in the center and add the bloomed yeast mixture and oil. Mix until the dough is formed into a ball and it pulls away from the bowl.

Transfer to a flat surface and knead until smooth and round, about 8 minutes. Lightly oil a large bowl and place the dough in the bowl, flipping to coat the dough. Cover with plastic wrap and allow the dough to rest and double in size in a warm spot. About 1 – 1½ hours.

Divide the dough into 14-16 even pieces – a pizza cutter works perfectly. Using your hands, roll out each piece into an 18-20 inch rope. Twist the rope and shape into a pretzel.
Baking Soda Water Bath
Before you start the water bath, place the rack in the middle and preheat the oven to 415°F. Line two baking sheets with parchment paper and light spray with oil. Set aside.

In a wide pot, dissolve the baking soda in the water and bring to a boil. Reduce to a simmer. Drop 2-3 pretzels at a time and cook for about 20 seconds, turning half way to cook each side evenly. Remove with a kitchen spider or slotted spoon draining excess water and transfer to the prepared baking sheets.
Bake and Top Pretzels
Prepare the egg wash: beat 1 egg with a little water.

Lightly brush each pretzel with the egg wash. For savory pretzels, sprinkle a little kosher salt before baking.

Bake until golden brown, about 8 minutes.

For sweet pretzels, brush the pretzels with butter and sprinkle with the cinnamon sugar mixture; or, dip the pretzels in butter and drop the pretzel in a prepared paper bag with cinnamon sugar mixture. Shake to coat the pretzel, remove and repeat until all the pretzels are coated.