When making a quick and easy frosting, my go-to recipes are my Vanilla Buttercream Frosting or my Crisco buttercream Frosting, which I am using here, but with Champagne for added flavor. While Italian Buttercream is the most stable, it takes longer to make and involves more ingredients so we are not going to compare them. I'm going for quick and easy here.
Shortening frosting holds up better than buttercream frosting in south Florida. Our tropical weather will quickly melt away all the detail on a beautifully decorated buttercream cake. Crisco shortening has a higher melting point so your cake decorations will hold their crisp detailed shape longer when piping or when sitting out in our balmy, warm (hot) weather. Shortening also gives frosting a light and fluffy texture – not to mention you can only get pure white frosting with an all shortening frosting. Did you know many professional bakeries use shortening frostings for these same reasons?
My recipe is a combination of shortening and butter so I can get the best of both. I love the buttery flavor and the great texture and high melting point from the shortening.
HERE'S HOW I MADE IT
In a stand mixer fitted with the paddle attachment, cream together 3/4 cup of shortening with 4 Tablespoons of unsalted butter, both at room temperature. Beat on medium to low speed for about 5 minutes until creamy and well incorporated.
Note: If the butter isn't at room temperature, you'll see specks of butter. Allow it to sit in the bowl until it comes to room temperature and then properly cream together.
Add 4 to 4 1/2 cups of powdered sugar, one 1 cup of powdered sugar at a time. Beat until well incorporated and scrape down the sides after each cup. After 2 cups of sugar, add a pinch of kosher salt, 1 1/4 teaspoon of vanilla extract and 3 – 4 Tablespoons of champagne. Beat until combined and continue with the remaining sugar. The sugar should be thick at this point.
Note: If adding a champagne flavored extract instead of real champagne, add a drop or two depending on how much frosting you're making. Champagne extract is very strong and has a strange aftertaste.
If coloring, add a drop of food coloring at a time until you reach your desired color. Add 1 Tablespoons of heavy whipping cream and beat until light and fluffy.
If the frosting is too thick, add another Tablespoon of heavy whipping cream. If too runny, add a half cup of powdered sugar at a time until you reach your desired consistency. Once the frosting is to your liking, beat on high for a few minutes for light and airy frosting.
Don't be afraid to substitute the water with other liquids like alcohol or juice. You can also boost the flavor by adding a little fruit preserve/jam like strawberry jam or orange marmalade. In my Strawberry Buttercream Frosting I added both freeze dried strawberries and strawberry jam. I like to use alcohol like vodka, limoncello, brandy, rum, etc. Add in moderation and retaste. Remember you can always add, but you can't take away. If going for a pure white frosting, add clear vanilla extract or try other flavors like almond extract.
Look at how beautiful the frosting holds its shape when piped! I made these for my Pink Nutcracker Tablescape and they were delicious! I used this frosting and my Magnolia Bakery's Vanilla Cupcakes and decorated them with a Wilton Pearl Swirl Cupcakes Wraps.
I hope you find this helpful and this post serves as a helpful guide as you create your special frosting.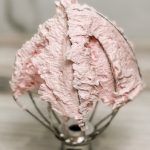 Crisco Buttercream Frosting
My easy and delicious champagne kissed bakery-quality go-to frosting that's perfect every time. This is great for piping and making flowers and doesn't melt in warmer weather.
Ingredients
¾

cup

Crisco shortening, room temperature

¼

cup

unsalted butter, room temperature

(¼ cup = 4 Tablespoons)

4 ½ – 5

cups

powdered sugar, sifted

pinch of kosher salt

1 ½

teaspoon

vanilla extract

can substitute with other extract flavors

3 – 4

Tablespoons

of champagne

can substitute with water, alcohol or juice

1

Tablespoon

heavy whipping cream

optional: food coloring
Instructions
In a stand alone mixer fitted with a paddle attachment or a hand held mixer with beaters, cream on medium speed the shortening and butter until smooth, about 5 minutes.

Add the powdered sugar one cup at a time, scraping down the sides of the bowl after each cup. After the second cup, add a pinch of kosher salt, 1 ½ teaspoons of vanilla extract and about 3 – 4 Tablespoons of champagne. Beat until incorporated.

Continue adding the remaining sugar, scraping the sides as you go. If adding any food coloring, add it at this point.

Add the heavy whipping cream and beat until light and fluffy. Yields a little over 2 cups, enough for a 2 layer cake or 18-20 cupcakes.