These crumble bars come together in no time with just a few ingredients – shortbread dough, your favorite jam, oatmeal, almond and lemon zest! These would be great with a cup of coffee in the morning or with a scoop of ice cream. I adapted this recipe from Ina Garten's Foolproof cookbook because I didn't have already made granola and I didn't want to make a batch for less than a cup. The shortbread bars were delicious and Bonne Maman jams and spreads are of the highest quality and can be easily sourced.
Preheat the oven to 350°F and set aside your baking dish. I used an 8 X 11 inch tart pan to easily lift the cookies out. If you are using a regular baking pan, line with parchment paper long enough to overlap on the side so you can easily pull the baked bars out of the baking pan.
Cream together two sticks of butter, sugar and vanilla paste. Vanilla paste has beautiful vanilla specks like the vanilla bean and you measure the paste just like you would measure vanilla extract. Add the sifted all-purpose flour and salt and with the mixer on low, slowly add the dry ingredients to the creamed butter just until combined.
Dump on your board and shape into a ball. Divide the dough and press two-thirds of the dough evenly on the bottom of the pan and reserve the remaining third for the top crumble. Press as evenly as you can and go up 1/4 inch up on the sides so the jam doesn't spread and bake onto the pan.
Spread the jam evenly. I didn't have enough raspberry jam, as in Ina's recipe, so I used cherry with a little raspberry. The flavor combination was delicious! I also added the zest of a lemon for extra punch. I love the combination of lemons and cherries or raspberries. I divided them into 10 bars and gave them a generous dusting of sugar. These bars didn't make midnight at home! They were so delicious. Not too sweet, not to tart. Perfect for an any time snack and wonderful served warm with a scoop of ice cream!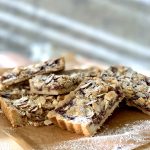 Cherry Crumble Bars
A delicious shortbread and jam cookie that's perfect on its own or with a good cup of coffee.
Ingredients
2

sticks

unsalted butter, room temperature

¾

cup

granulated sugar

1

teaspoon

vanilla paste or extract

vanilla paste has the bean flecks

2⅓

cups

all-purpose flour

½

teaspoon

kosher salt

prefer Diamond brand

10-12

ounces

cherry or raspberry jam

Bonne Maman or Dickinson's prefered

zest

1

lemon

heaping

¼ cup

sliced almonds

¼

cup

oats

1

Tablespoon

brown sugar

pinch

cinnamon
Instructions
Place the butter and sugar in the bowl of an electric mixer fitted with the paddle attachment and mix on medium speed just until combined. With the mixer on low, add the vanilla paste.

In a separate bowl, sift flour and kosher salt together and, with the mixer on low, slowly add the flour to the butter mixture. Mix until it almost comes together in a ball.

Turn the dough onto a board and shape into a ball with your hands. Press two-thirds of the dough evenly on the bottom of an 8 X 11 or 9-inch square baking pan and about ¼ inch up on the sides.

Spread the jam evenly leaving a ¼ inch boarder all around and sprinkle the lemon zest over the jam.

In a separate bowl, mix the shortbread dough, granola, brown sugar and cinnamon with your hands. Break the dough into small bits and distribute evenly on top of the jam, covering most of the surface. Sprinkle the sliced almonds on top.

Bake for 40-45 minutes until slightly golden. Cool completely and cut into 9 or 12 bars. Sprinkle with confectioners' sugar.
Recipe Notes
Adapted from Ina Garten's  recipe in Foolproof.  
If using a tart pan, it's easier to bake and remove from the oven if you place it on a baking sheet.