Buttermilk Pancakes have that unmistakable tangy flavor and buttermilk makes the batter moist, tender and fluffy! This is the only pancake recipe I've made the past 26 years and it's tried and true. These pancakes with crispy golden edges are a simple pleasure with warm maple syrup or a decadent with fruit toppings. I'll share my tips for the perfect Classic Buttermilk Pancake.
What Does Buttermilk do?
Buttermilk is acidic and that acid helps activate the baking powder and baking soda. It also breaks down the gluten creating a soft, moist and tangy pancake.
Can I Substitute Buttermilk?
When a recipe calls for buttermilk, the best results are always achieved with the real deal. I prefer whole milk buttermilk, but I don't always find it. Not having buttermilk shouldn't stop you from making any recipe. You have three options including making your own buttermilk. If making your own, just allow 5-10 minutes for the milk to sour.
For 1 cup buttermilk:
1 Tablespoon white vinegar or fresh lemon juice plus enough whole milk to measure 1 cup; or
1 3/4 teaspoons cream of tartar plus enough whole ilk to measure 1 cup; or
1 cup plain yogurt
How Do I Get Fluffy Pancakes?
An old baker's trick for fluffy pancakes is to allow the buttermilk, milk and eggs come to room temperature before mixing. Everything just blends better when the ingredients are all at room temperature. The other trick is to allow the batter to rest for 10-15 minutes after mixing and before making pancakes. During that time the buttermilk will activate the baking powder and baking soda and break down the gluten. Have you ever made pancakes immediately after mixing the batter? The first batch spreads thin and doesn't rise, but subsequent batches look better? Well, that's because the batter rested while the first pancakes were cooking. With these two tips, you'll be making perfect buttery and fluffy pancakes each and every time.
Let's get started. You'll need two mixing bowls, a whisk, griddle or wide skillet and a flat spatula. In the first bowl, whisk together all the dry ingredients – all-purpose flour, granulated sugar, baking powder and baking soda and kosher salt. Make a well in the center of the bowl. In the second mixing bowl, combine the buttermilk, milk, beaten eggs, melted butter and vanilla extract. Pour the wet ingredients into the dry and with the whisk, gently combine the two working from the inside out. With every turn of the whisk you will incorporate some of the dry ingredients. Continue to gently whisk until the ingredients are just combined and the batter is a bit lumpy. It doesn't need to be smooth since we are not making crepes. Small lumps are perfectly acceptable as these will break down as the mixture sits. Allow the batter to rest for 10-15 minutes and let the acid in the buttermilk work its magic with the other ingredients.
Use this time to heat up your griddle or skillet or make a fruit topping. Some of my favorite toppings are warm maple syrup, peaches, bananas foster, any berry and apples. They are all so good.
Heat a large griddle over medium heat. I like to have a cold stick of unsalted butter handy and I slide it back and forth over the griddle. Cooking the pancakes in butter not only enhances that buttery flavor all over the pancakes but it's a practical way to coat the griddle with fat. I like to use a 1/4 cup as a measuring cup to ensure a manageable short stack size pancake, but you can use a 1/3 cup size for larger pancake. It just won't yield as many.
Pour your pancake batter onto the buttered griddle and leave undisturbed until you see the bubbles develop and the edges are golden. Carefully slide a spatula under the pancake and carefully flip it. If making all the pancakes, you can keep them warm in a 200°F pre-heated oven. Just tent loosely with foil.
I love to stack these fluffy pancakes, garnish with fresh fruit, powdered sugar and pour real maple syrup all over them. Since this pancake isn't overly sweet, it really works well with any fruit and syrup. It's a tried and true great recipe that is consistent time and time again. Think of other variations – swap out the vanilla extract for almond, orange, lemon or add fruit or spices to the batter. If you make these Classic Buttermilk Pancakes, please let me know how you enjoyed them!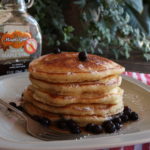 Classic Buttermilk Pancakes
Classic Buttermilk Pancakes are simply the best pancakes you'll ever enjoy! The buttermilk makes these light and fluffy transforming them into the most moist and tender pancakes.
Ingredients
2

cups

all-purpose flour

4

tablespoons

white granulated sugar

3

teaspoons

baking powder

1

teaspoon

baking soda

1¼

teaspoon

kosher salt

2

extra large eggs, room temperature

2

cups

buttermilk, room temperature

¼

cup

whole milk, room temperature

4

tablespoons

unsalted butter, melted

1½

teaspoons

pure vanilla extract
Instructions
Whisk together the flour, sugar, baking powder, baking soda and kosher salt in a mixing bowl.  Make a well in the center and set aside. 

In another mixing bowl, beat the eggs, then add the buttermilk, milk, melted butter and pure vanilla extract. 

Pour the wet ingredients into the dry ingredients and whisk just to combine. The batter will be lumpy. Allow the batter to rest for 10-15 minutes. The buttermilk will react with the baking powder and baking soda to make them fluffy and tender. The batter will thicken up some and the lumps of flour will blend into the batter some on its own.

Heat a griddle or pan over medium heat. When the griddle is hot, lightly butter the griddle and quickly ladle 1/4 cup of batter onto the griddle. Allow to cook undisturbed until bubble appear and the edges are golden. Flip the pancake and cook the other side.

Keep the pancakes warm in a 200°F oven, loosely covered with foil, until all the pancakes are cooked or until you're ready to serve.
Recipe Notes
The batter holds well in the refrigerator for two days.  If the batter is too thick, add a Tablespoon of milk.