This old traditional Cuban dessert was my grandfather's favorite. He would often ask mom to make him a batch just for him (so much for sharing). I have such fond memories of watching her in the kitchen making this time and time again for him. It's been a long time now since she's made it and since he's passed, but just this week her 84-year old brother asked her for some. I thought I would capture it and share it with everyone since Mom is rarely in the kitchen anymore.
Note: This is not a favorite of mine because I don't like the texture of cottage cheese, but for all the cottage cheese lovers out there, this dessert right up your alley.
HISTORY
I don't know the origins of this dessert. My best guess is mid 1850s and probably popularized by the great depression with the advent of evaporated milk. The core simple ingredients are easily sourced on a farm – milk, eggs, sugar and an acid to sour the milk. You can add flavorings like a cinnamon stick, a lemon peel and vanilla extract, but back then the core ingredients yielded an enjoyable dessert during hard times. Grandfather was born in 1907 and was a very interesting man. Maybe one day I'll write a blog post about him.
HOW MOM MAKES IT
Add a pinch of salt to each each egg and beat them well. In a separate container, whisk the evaporated milk and sugar until the sugar has dissolved. Add the beaten eggs, distilled vinegar and orange juice and beat until well combined. Set it aside for 5 minutes to allow the milk to curdle. Add the mixture to a wide, heavy bottom pot and cook over medium heat until the liquid begins to bubble. Add the cinnamon sticks and reduce heat slightly as to maintain a steady low simmer. You'll notice how the milk curds begin to form. It's important to stir infrequently as not to break up the milk curds while making sure the sugar doesn't stick to the bottom. This can be tricky at times so a good heavy bottomed pot is key! Don't stir in a circular motion, instead run the spatula north and south, like you would stir sugar in a tea cup.
Note: The original dessert doesn't call for orange juice, but it is our secret ingredient. Years ago, mom's good friend (who's almost 100 years old) shared her secret ingredient – she only used orange juice to curdle the milk. Not only does it curdle the milk, it also adds a lovely citrus note. Her secret became mom's standard and we wouldn't omit it now. I'm sure every Cuban family has their own version since this is more of a method and recipes are as varied as the available ingredients on the island.
You will notice the change in color as the water evaporates and the sugars begin to caramelize. After an hour, add the vanilla extract and gently stir to combine. Continue to simmer on low until the water has evaporated and the sugar is a shiny, runny syrup that drips off the spoon – much like a simple syrup. Turn off the heat and allow it to come to room temperature undisturbed before transferring to a storage container. This dessert is best served cold, but some people do enjoy it warm.
The result is a rich and creamy simple dessert of milk pearls with hints of cinnamon and orange in a sweet thin syrup! Warning, a little goes a long way and this is sweet. Mom's recipe yields between 6-8 individual servings or one large quart container for a greedy old man, LOL! Remove the cinnamon stick before serving. I like to serve it cold in small demitasse cups or dessert shot glasses. For a smaller batch, use the recipe in the notes section.
Note: If you prefer a dessert that's not overly sweet, reduce the amount of sugar. For every can of evaporated milk, add only 3/4 cup of granulated sugar.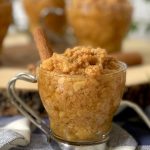 Dulce de Leche (Caramel Milk Curds)
A sweet and creamy traditional Cuban dessert. If you like cottage cheese, you'll love this dessert. Milk is curdled and slow cooked until it turns into golden milk pearls in a cinnamon sugary syrup with floral citrus notes!
Cook Time
1
hour
30
minutes
Ingredients
3

large

eggs

¼

teaspoon

kosher salt

prefer Diamond brand

3

12-ounce cans

evaporated milk (not skim milk)

prefer Borden or Pet brand

2 ¼ – 3

cups

granulated sugar, depending on desired sweetness

mom uses 1 cup of sugar per can of evaporated milk

1 ½

Tablespoons

white distilled vinegar

¾

cup

pulp free orange juice

2

cinnamon sticks

1

Tablespoon

pure vanilla extract
Instructions
In a small bowl, sprinkle a pinch of salt over each and and beat well.

In a separate container, whisk the milk and sugar until the sugar dissolves. Add the beaten eggs, distilled white vinegar, orange juice and blend well. Set aside for 5 minutes to allow the milk to curdle slightly.

Note: You can use a 3/4 cup of sugar for every can of evaporated milk to reduce the level of sweetness.

Cook in a wide heavy-bottom pot over medium heat until it begins to bubble. Add the cinnamon stick and reduce heat slightly so you have a consistent simmer.

Stir infrequently so milk curds form, but it doesn't stick to the bottom. When stirring, do so gently in a brush stroke motion north to south instead of a circular. Watch it, don't walk away from the stove. About an hour later add the vanilla extract and gently stir to combine.

When the liquid has evaporated and the milk curds are a golden caramel color and the sugar is the consistency of a simple syrup, remove from the heat and allow to cool before serving or storing.

Best served cold, but some enjoy it at room temperature. Remove the cinnamon sticks before serving. Serve in demitasse cups or shot glasses.
Recipe Notes
Mom's Original Small Batch Recipe
1 large egg 
a small pinch of salt 
1 12-ounce can of evaporated milk 
3/4 cup to 1 cup granulated sugar, depending on desired sweetness 
1 1/2 teaspoons of white distilled vinegar
1/3 cup of orange juice (no pulp) 
1 cinnamon stick 
1 teaspoon vanilla extract 
Follow the same instructions above.  Cooking time will be shortened.