This delicious chocolate dessert is so creamy and decadent. An elegant finish to any meal. I love that you can make it ahead of time and simply garnish it with whipped cream, chocolate shavings, fresh fruit or broken up pieces of Ferrero Rocher hazelnut candy.
Allow the unflavored gelatin to soften in a cup of whole milk – it takes about 5-7 minutes. In a separate larger bowl, combine the hazelnut spread and chocolate chips and set it aside. In a sauce pan, heat up the heavy whipping cream, sugar and salt over medium heat until the edges bubble. Add the milk and softened gelatin and whisk until well combined and milk is simmering. Pour the very hot milk mixture into the bowl with the chocolate and let it steep for a minute or two. Then whisk together until the chocolate has melted and combined well. Add the vanilla and Frangelico liquor. Pour into equal servings, cover and refrigerate overnight for best results. Garnish the next day with your favorite topping. It's so easy, but your guests will think you slaved for hours in the kitchen!
Note: If you want a deeper chocolate flavor, add more chocolate! If you want the cream to set firmer, add another teaspoon of gelatin.
Ingredients – use whole milk! It makes a difference.

Hazelnut is so amazing!
Allow the hot milk and chocolate to steep before mixing. It allows the chocolate to soften.

My mini desserts ready for transport to the fridge.
Combining two of my favorite things – cream based dessert with hazelnut spread! Just divine!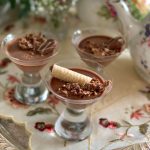 Hazelnut Panna Cotta
A decadent and deliciously creamy hazelnut dessert. An ending to a perfect meal.
Ingredients
1

cup

whole milk

1

Tablespoon

unflavored gelatin

⅔

cup

Nutella hazelnut spread

3

Tablespoons

bittersweet chocolate, chopped

2

cups

heavy whipping cream

3

Tablespoons

granulated sugar

pinch of Kosher salt

¼

teaspoon

vanilla extract

2

Tablespoons

Frangelico (hazelnut liquor)

can also use coffee or orange liquor

Garnish: whipped cream and 1 chocolate bar for shavings
Instructions
In a small bowl, add the milk and sprinkle the gelatin. Allow to stand for 5-7 minutes until the gelatin has softened.

In a separate bowl, combine the hazelnut spread and chopped semisweet chocolate. Set aside.

Pour heavy cream, sugar and salt into a saucepan and stir over medium heat until sugar dissolves and it begins to bubble. Add the milk and gelatin mixture. Whisking continuously, cook for another 5-7 minutes. Pour the cream mixture into the chocolate mixture and allow to steep for a few minutes, then whisk until smooth.

Whisk in the vanilla extract and liquor until combined. Divide into six equal glasses or ramekins. Allow to cool slightly at room temperature. Cover in plastic wrap and refrigerate overnight.

Just before serving, top with whipped cream and chocolate shavings.