Trying to eat more plant-based foods or you need to cut back on red meat, but still want to enjoy a burger? Well, this is the vegetarian meatless option you should definitely try! I knew I would like the burger because I like the individual ingredients, but I didn't anticipate how much I would enjoy it. This was truly delicious and I didn't miss the meat patty at all.
This is from Jamie Oliver's Ultimate Veg: Easy & Delicious Meals for Everyone and the second #RainyDayBitesCookbookClub Instagram challenge for June. This book club is so much fun and I love seeing how creative other cooks get with ingredients and presentation. Jamie's website is a wonderful resource of recipes and cooking videos. He's very detailed as he teaches and has a contagious and fun personality. Take a look!
My adapted version of Jamie's yields two patties. Here's how I made it:
First thing I made was my fresh Pico de Gallo so the flavors could marry while I made the burger. In a pinch, a good ready-made salsa from the store or restaurant works fine.
Making the Burger
Pulse in a food processor a rough chopped large Portobello mushroom, about 1/2 cup of Shiitake mushrooms, about 1/4 cup of red onion, a pinch of kosher salt, fresh ground black pepper, 1/4 teaspoon of coriander and a good dash of cumin.
The mushrooms should be coarse in texture. Add 1/2 full cup of rinsed and drained black beans about 1/3-1/2 cup of Panko bread crumbs. I used Panko because it's what I had on hand. You just need some bread crumbs to absorb some moisture.
Pulse a few more times to just mince and combine, but you don't want to end up with a paste. Dump the bean/mushroom mash onto a cookie sheet lined with parchment paper and shape into two uniform patties. Even Jamie says it doesn't look "pretty", but they have so much flavor. Drizzle the patties with extra virgin olive oil and dust with coriander and cumin. Bake in a 400°F pre-heated oven for 25 minutes or until dark and crispy.
While the patties are baking, mix a couple tablespoons of sour cream with the zest of a lime, some lime juice, a pinch of kosher salt and some fresh cracked black pepper. It should be spreadable, but not runny, and zippy in flavor.
Remove the patties from the oven, top with a mound of cheese, butter the buns and return them to the oven for a few minutes – enough time to melt the cheese and toast the bread.
Note: I used Tillamook Mexican shredded cheese and brioche buns. Tillamook produces great cheeses and are widely available in grocery stores. If you can't find it, use whatever cheese you like on a burger.
Peel and thinly slice a ripe mango and Hass avocado and set them aside. Spread the seasoned lime sour cream on both top and bottom buns. Layer a few slices of avocado and mango as shown above. Place the black bean burger patty on top and layer with red onion, jalapeño slices, avocado and fresh pico de gallo.
Just look at this burger! It's so pretty I didn't want to cover it up with the top bun. The patty has a meaty flavor from the mushrooms, but it wasn't dry, it was creamy and deep-flavored. The coriander adds floral and citrusy notes while the cumin adds a smoky one – a perfect match with the lime in both the sour cream and the pico de gallo.
This delicious burger paired perfectly with a Mango Margarita! There was nothing left as you can see. I hope you try this burger and mango margarita and enjoy it as much as I did!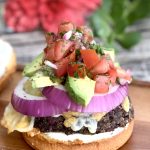 Roasted Black Bean Burger
A delicious vegetarian black bean and mushroom burger that is very satisfying and bursting with flavor. Perfect for a meatless meal.
Ingredients
Bean Burger
1

large

Portobello mushroom

½

cup

Shiitake mushroom

¼

cup

red onion

¼

teaspoon

ground coriander, plus extra for dusting

a

couple dashes

ground cumin, plus extra for dusting

kosher salt

prefer Diamond brand

fresh ground black pepper

½

heaping cup

black beans

⅓-½

cup

Panko bread crumbs, or rye bread
Zingy Lime Sour Cream Spread
2-3

Tablespoons

sour cream

prefer Daisy brand

zest

1

lime

juice

½

lime

kosher salt and pepper to taste
Other Ingredients
2

Brioche bread hamburger buns

Mexican cheese blend, or Cheddar cheese

prefer Tillamook brand

Pico de Gallo or good ready made salsa

1

ripe

mango, thinly sliced

1

ripe

Hass avocado, thinly sliced

pickled jalapeño slices, optional
Instructions
Preheat the oven to 400°F. Line a baking sheet with parchment paper and set aside.

Make fresh Pico de Gallo or buy from a restaurant or grocery store. If making fresh, make it first so the ingredients have time to marry and blend the flavors. Adjust the recipe below, as needed.
Making the Burger
In a food processor, combine the Portobello and Shiitake mushrooms with the red onion. Add coriander, cumin, salt and pepper. Pulse a few times just to mince and combine.

Add the black beans and bread crumbs. Pulse a few times just to mince and combine.

Note: The beans should be rinsed and dry. If you wish to remove extra moisture, you can roast in the oven for a few minutes.

Dump mash-up onto the prepared baking sheet and shape into two even patties. Drizzle with olive oil and dust with both coriander and cumin. Roast for 25 minutes or until dark and crispy.

Remove from the oven, top with your favorite cheese and place the sliced buns on the tray. Return to the oven for a few minutes just to melt the cheese and toast the bread.
Zingy Lime Sour Cream Spread
In a small bowl combine the sour cream, lime zest and juice, kosher salt and pepper. The spread shouldn't be runny. If so, add a little extra sour cream to adjust consistency.
Assembling the Burger
Coat each bun side with the zingy lime sour cream spread. Add a few slices of avocado and mango. Place the bean patty with melted cheese, red onion slices, pickled jalapeños, more avocado and top with the pico de gallo.

There is no specific order to how you layer your burger. The burger provides a great combination of flavors with wonderful textures. This is a very enjoyable meatless burger.
Recipe Notes
Pico de Gallo Recipe
2 1/2 cups plum/Roma tomatoes, seeded and finely chopped (about 8-10 tomatoes)
1 cup red onion, finely chopped
1/2 cup fresh cilantro, finely chopped (about 1/2 a bunch)
1/2 cup fresh lime juice (substitute with fresh lemon juice)
1 teaspoon Kosher salt
1/2 teaspoon black pepper
a few dashes hot sauce to taste
This Roasted Bean Burger is my version of Jamie Oliver's from his cookbook Ultimate Veg: Easy & Delicious Meals for Everyone