This recipe is so delicious and easy to make. Just a few simple ingredients makes this fish the star of any meal. I like to roast it whole because the presentation is more impressive. These simple Mediterranean flavors are glorious! Lemons, capers and butter. Can it get any better? I think not!
Skin or no skin? My personal preference is to remove the skin if I'm roasting. Unlike frying, the skin doesn't get crispy when roasting and it's more elegant when plating and eating. The key to roasted fish is not overcooking it.
Place a piece of parchment paper on a baking sheet and drizzle a little olive oil on the parchment paper. Place the skinless salmon on top and lightly salt and pepper both sides. With the pretty side up, add a handful of drained capers, layer slices of lemon in a single row and dollop with tablespoons of unsalted butter. Squeeze a little fresh lemon juice over the salmon and roast at 350°F for 20-22 minutes, depending on the filet's thickness. Remove from the oven and tent with foil for 10 minutes. The salmon will continue to cook while tented.
The parchment paper allows you to easily slide the whole salmon onto your serving platter. Garnish with chopped Italian flat leaf parsley.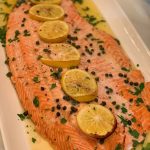 Salmon with Lemons & Capers
An elegant and delicate salmon roasted in butter with lemons and capers. A true Mediterranean entree. Serve whole or make into individual packets.
Ingredients
1

salmon fillet, skin removed

Kosher salt

fresh ground black pepper

1

Tablespoon

olive oil

2

Tablespoons

capers, rinsed and drained

2

lemons

sliced

1

stick

butter, unsalted, cut into Tablespoons

2

Tablespoons

Italian parsley, chopped
Instructions
Preheat oven to 350°F. Line a baking sheet with parchment paper and coat with olive oil.

Salt and pepper both sides of the fillet and place it on the baking sheet with the pretty side up.

Sprinkle with capers, layer the lemon slices and top with butter slices. Take the ends of the lemons and squeeze the juice over the fillet.

Bake for 20-22 minutes, depending on the thickness of the salmon. Remove from oven and tent with foil for 10 minutes. Garnish with parsley.