Talk about restaurant quality tacos! This dish elevates any Taco Tuesday and is deserving of it's own night.
Seafood tacos are big at my house and these are extra special. There's a Mexican restaurant in Fort Lauderdale Beach, FL that we love – El Vez. If you're ever in the area, I highly suggest stopping by and enjoying some delicious food with a margarita as you take in the ocean views. Anyway, my brother-in-law mentioned they were so good, he felt like he was eating at El Vez. Best compliment ever!
Start by cleaning the shrimp – peel, devein and remove the tails. Shrimp tails are cute when it's an appetizer, but not so much when it's inside a dish. Blend together the Shrimp Taco Spice mix ingredients in a small mason jar and shake. Pat the shrimp dry with a paper towel and sprinkle the spice mix evenly on both sides.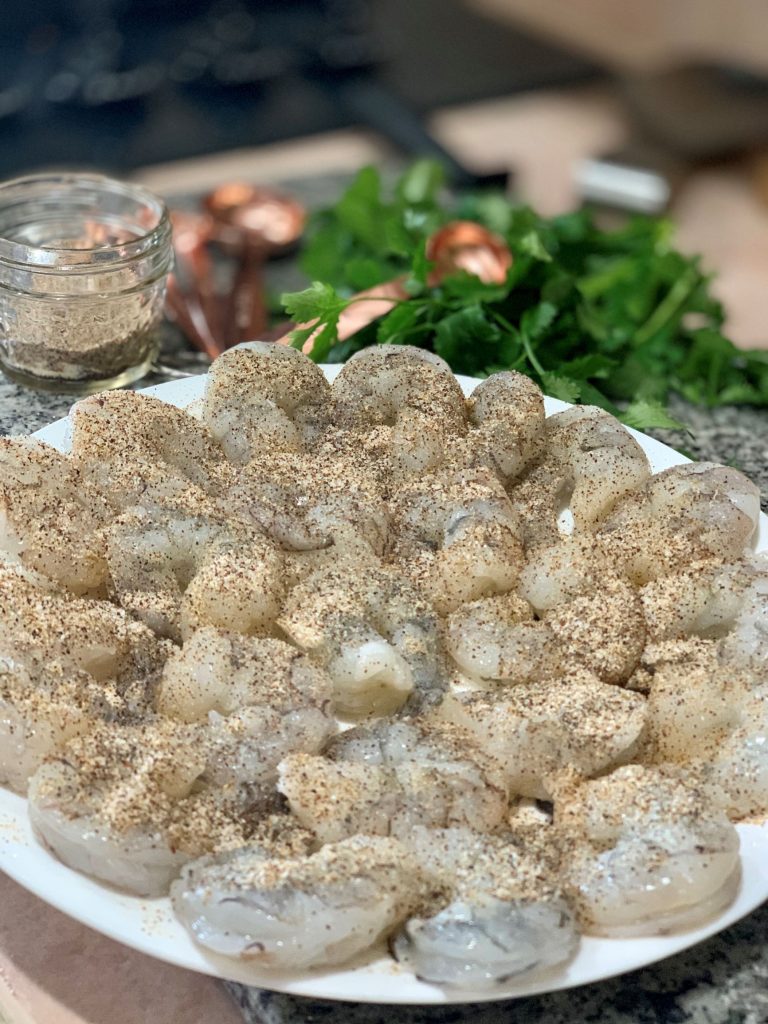 In a food processor pulse together the cilantro, scallions, garlic, salt, sour cream, water, oil, lime juice and zest. Pulse and blend it up. Taste and reseason as needed. It should be refreshing, light and creamy and it will counter the mild heat from the shrimp. Pour some sauce into a mixing bowl and toss with the shredded cabbage and set aside. The remaining sauce will be drizzled over the tacos once assembled.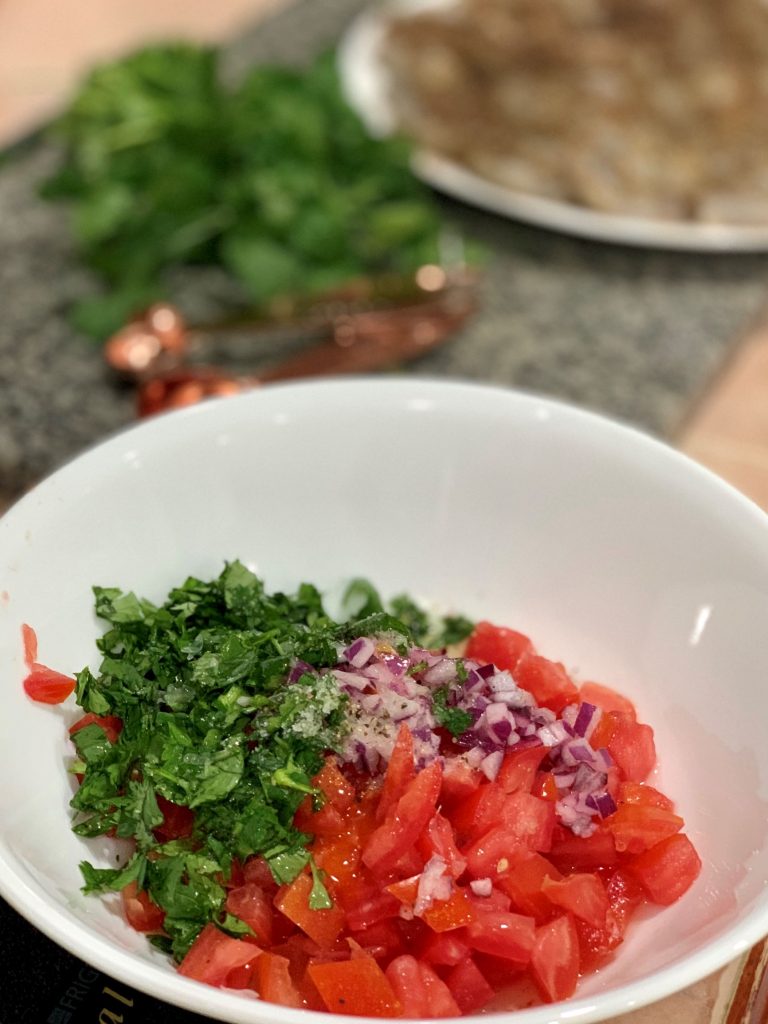 I garnished the tacos with my Pico de Gallo recipe. This is optional, but I just love the freshness and brightness it adds to any Mexican dish. Make the Pico de Gallo before you sear the shrimp and toast the tacos on the skillet.
Heat a wide skillet and add a little olive oil. Quickly place the shrimp in a single layer into the pan. I like to slide them off a plate into the skillet. Don't move them. Let them be and sear for 3-4 minutes before flipping and searing the other side. Quickly toss a few times to ensure each shrimp is evenly cooked and remove from the heat. Simultaneously as you heat the skillet for the shrimp, also heat a flat top or large skillet and dry toast the corn tortillas over medium heat. They quickly get golden brown spots and you can toast all of them in the same time the shrimp sears.
Assembly is so fast, I forgot to take any pictures. But here goes. I layered over a toasted corn tortilla, cilantro lime slaw, shrimp, crushed Cotija cheese, drizzled extra cilantro lime sauce and topped with pico de gallo. Are these not the prettiest and most colorful shrimp tacos? I think so too! Have extra sauce, pico de gallo, avocados or guacamole, cheese, lime wedges and hot sauce on the table. Allow everyone to pile on the flavors and create their own masterpiece.
Note: A good substitute for Cotija cheese is Feta cheese. The grocery store was out of avocados so I didn't add it this time. You can serve sliced avocados on the side or make guacamole and make it the first layer spread directly on the taco followed by the slaw and so on.
MAKE IT AN APPETIZER!
This shrimp would be great as an appetizer with the cilantro lime sauce as a dipping sauce. I would leave the tails on the shrimp if serving as an appetizer.
This dish also works great as a deconstructed taco bar.
Adapted from Pinch of Yum.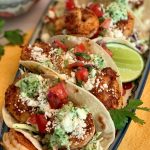 Shrimp Tacos with Cilantro Lime Slaw
A restaurant quality shrimp taco that comes together in 30 minutes. An impressive quick dish with a lot of fresh flavors and rich textures.
Ingredients
Shrimp & Shrimp Spice Mix
1½-2

lbs.

jumbo shrimp, peeled, deveined and tails removed

(11-15 count)

1¼

teaspoons

chili powder

1

teaspoon

kosher salt

(prefer Diamond brand)

½

teaspoon each

ground cumin, garlic powder and onion powder

¼

teaspoon

fresh ground black pepper

⅛

teaspoon

cayenne pepper

(or more to taste)
Cilantro Lime Sauce
¾

cup

cilantro leaves and stems, ends trimmed

3-4

stalks

scallions, cut in large pieces

generous

½ cup

sour cream

2

garlic cloves, peeled

⅓

cup

canola oil

(or another oil without a strong flavor)

¼

cup

water

zest

1

lime

(always zest before you juice)

juice

2

limes
Pico de Gallo
2 ½

cups

plum tomatoes, seeded and finely chopped

(about 8-10 plum tomatoes)

1

cup

red onion, finely chopped

½

cup

fresh cilantro, finely chopped

½

cup

fresh lime juice

1

teaspoon

kosher salt

(prefer Diamond brand)

½

teaspoon

fresh ground black pepper

a

few dashes

hot sauce
Other Ingredients
olive oil to lightly coat the wide skillet for the shrimp

1

10 oz.

bag green cabbage pre-shredded mix

10-12

small

corn or flour tortillas

1

8 oz.

Cotija cheese, crumbled

(substitute with Feta cheese)

optional:

avocados or guacamole, hot sauce and extra lime wedges
Instructions
Making the Cilantro Lime Sauce
Add all the ingredients to a food processor and pulse a few time to blend well, but still see the green flecks of the cilantro and scallions.

Combine most of the Cilantro Lime Sauce with the shredded cabbage in a mixing bowl and set aside. The remaining sauce will be used to drizzle over the assembled tacos.
Making the Pico de Gallo
Mix all the ingredients in a bowl and set aside.
Searing the Shrimp & Toasting Tacos
Pat the shrimp dry with paper towels. In a small mason jar mix together the chili powder, kosher salt, cumin, garlic powder, onion powder, black pepper and cayenne pepper. Sprinkle over the shrimp and coat evenly.

Coat a wide skillet with a little olive oil over medium high heat. Add the shrimp and sear for 3-4 minutes on one side, flip and sear the other side for 3-4 minutes. Toss to combine to ensure the shrimp are evenly cooked. Remove from heat.

While the shrimp sears, toast the tacos on a flat grill top or wide skillet over medium heat. The tacos take little time to toast and achieve golden brown spots throughout. Set aside.
Assembling the Shrimp Tacos
Line up a few tacos and add a layer of slaw, shrimp, Cotija cheese, drizzle some cilantro lime sauce and top with pico de gallo. Place them in a platter close together so they hold each other up.

If available, avocados or guacamole would be a delicious first layer before the slaw.

Serve with additional Cotija cheese, hot sauce, lime wedges and the extra cilantro lime sauce.
Recipe Notes
AS AN APPETIZER
If serving as an appetizer, leave the tails on the shrimp and serve with the cilantro lime sauce as a dipping sauce on the side.
This dish works great as a deconstructed taco bar at your next 5 de mayo fiesta.