What makes a great burger? Well, that's a personal question, but I love my burgers medium with a nice seared crust on the outside. This is hard to obtain at home especially during the summer BBQ months when everyone is grilling burgers. To me, they are always a bit dry and easily overcooked. I remembered seeing a chef on TV adding grated butter to ground beef a while back and decided to give it a try. Game changer!
I grated half a stick of unsalted butter and gently mixed it with about 1.25 lbs of ground sirloin beef and shaped out my patties. I sprinkled them with Diamond kosher salt and pepper and set them aside while I made the sauce and caramelized a medium onion in a small skillet.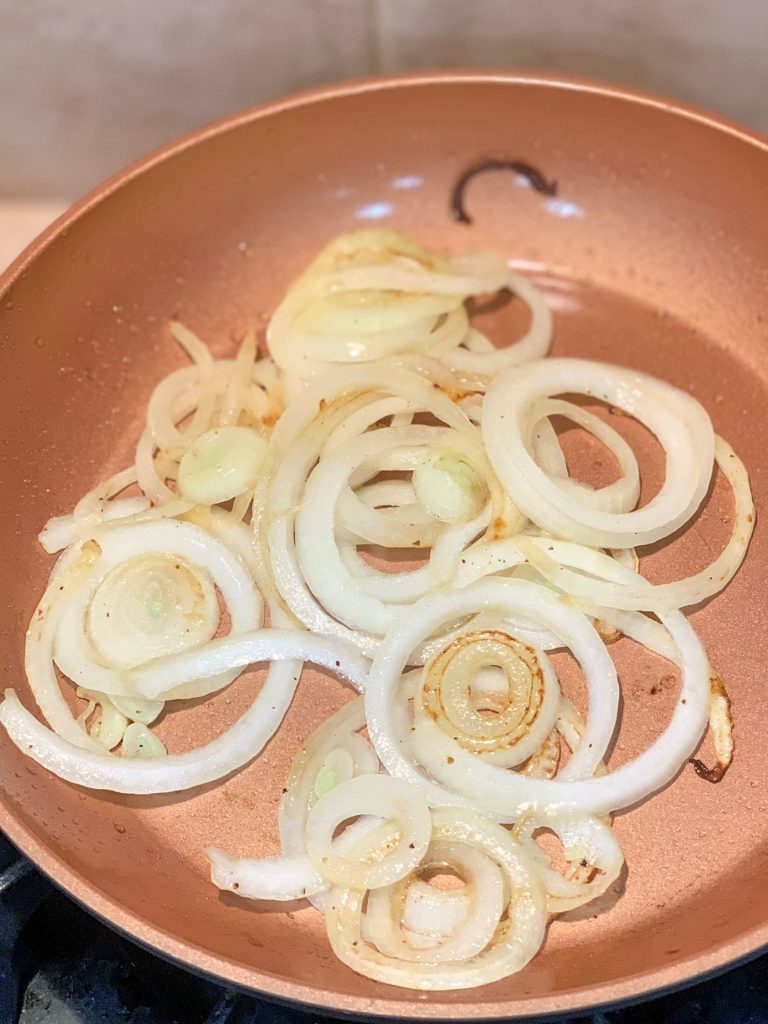 I made Chef Laurent Tourondel's Pickle Mayonnaise sauce as featured on Barefoot Contessa. I love her show!
Ingredients:
6 Tablespoons mayonnaise
3 Tablespoons ketchup
2 Tablespoons sweet relish, drained and rinsed
1 Tablespoon cornichons, finely minced (tiny French mini pickles that are tart, can substitute with mini gherkins)
2 Tablespoons pickled jalapeños, finely minced
1 Tablespoon Cognac (don't omit this – it's the secret ingredient)
Kosher salt and fresh ground black pepper
Directions:
Mix all ingredients together.
Once the burgers are placed on the flat top, don't move them, don't press on them, don't do anything. Let them be and allow them to develop a nice crust before flipping them over. Chef Tourondel recommends to sear them for 2-3 minutes on each side for medium-rare.
Note: My family likes them well done so they appear to be overcooked, and they are. A medium burger is the juiciest burger to me.
Once cooked, I added a nice slice of Tillamook Sharp Cheddar cheese and created a foil tent (without touching the cheese) to quickly melt the cheese. I wish you could smell these burgers! When I removed the burgers with the spatula, all that cheesy, oozing goodness was picked up and placed on the bun.
I layered pickle mayonnaise sauce on the bottom and top bun. The burger was nestled perfectly and topped with caramelized onions, lettuce, tomato slices and topped with the bun. This burger was sooo delicious. The combination of the juicy inside with the crispy crust on the outside created a perfect burger bite. It was just simply amazing! Although these burgers are well done, the burger was still very juicy. The pickle mayonnaise elevates this burger to restaurant quality. I honestly won't eat another burger without this sauce. On the show, he made his personal favorite burger using this sauce and topped with sliced avocados. I didn't have any avocados on hand, but I will try that combination next time!
I hope you try adding butter to your burger and searing it on a flat top or wide skillet. Don't forget the pickle mayonnaise recipe, you won't be disappointed.
April 2020 Updated Posted:
I made this burger again and it was as delicious as the first time! Searing the meat on a flat top and allowing the meat to develop a nice crust is key! I used Tillamook Swiss Cheese this time (didn't have Cheddar). This time I stacked the burger on a toasted bakery brioche burger bun with the pickle mayonnaise, lettuce, tomatoes, caramelized onions and mushrooms and served them with a side of homemade oven baked Parmesan steak fries. Can you say restaurant quality? Yum!!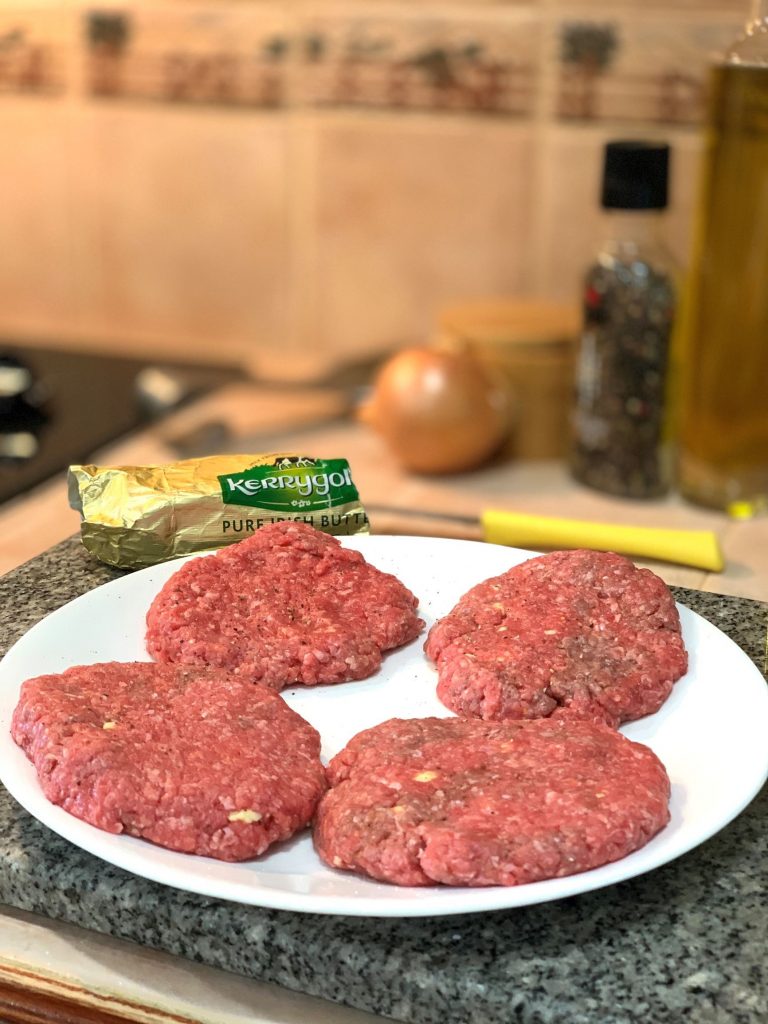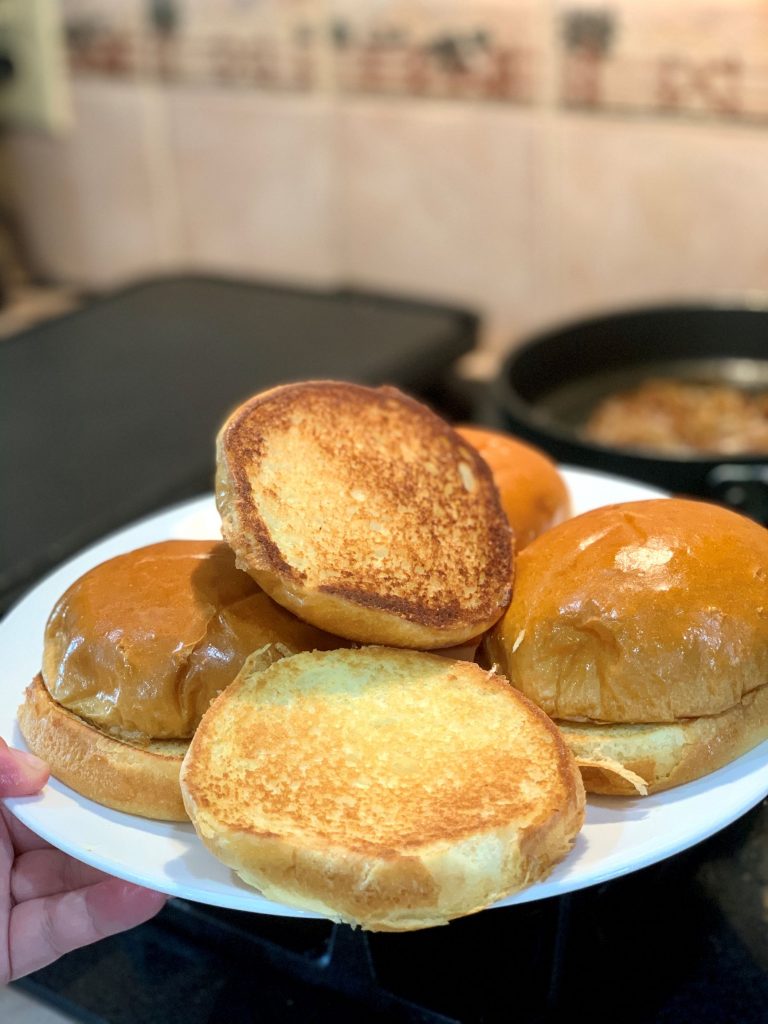 Oven Baked Parmesan Steak Fries:
Preheat oven to 425°F and line a cookie sheet with foil for easy cleanup.
• 3 Yukon Gold potatoes – cut into 6 wedges each
• olive oil, kosher salt, pepper, Kraft Parmesan cheese, chopped herbs
Add wedges to cookie sheet, coat with olive oil and toss, sprinkle with kosher salt and pepper.
Bake for 20-25 minutes, toss midway for even browning.
As soon as you remove from the oven, sprinkle with Kraft Parmesan cheese and your favorite herb – I used parsley. Finish with a little extra salt and pepper.
By the way, dipping these in the pickled mayonnaise is equally amazing.