I've been away for about a month dealing with some health issues, but I'm on the mend and ready to get back into the kitchen. I wanted to start by making something comforting, since it's a rainy day, and this streusel cake with a hot cup of coffee hit the spot.
This has to be my favorite streusel cake ever. I love all kinds of streusel cakes, but the flavor combination of almond and orange is just spectacular! This is the streusel cake everyone will be talking about long after all the crumbs have been eaten. It's a great addition to any breakfast or brunch menu, church or office potluck, or rainy day at home.
Start by having all your ingredients out to avoid running around the kitchen looking for that one ingredient that you can't find or has expired. If you need to run out and replace expired baking powder, you can do so before you start mixing your cake. Preheat your oven to 350°F and butter and flour coat your baking pan. You can use a tube springform pan – I used a bundt pan today.
Note: I personally don't like the non-stick baking sprays. There's something charming to baking the old-fashioned way, like grandma used to.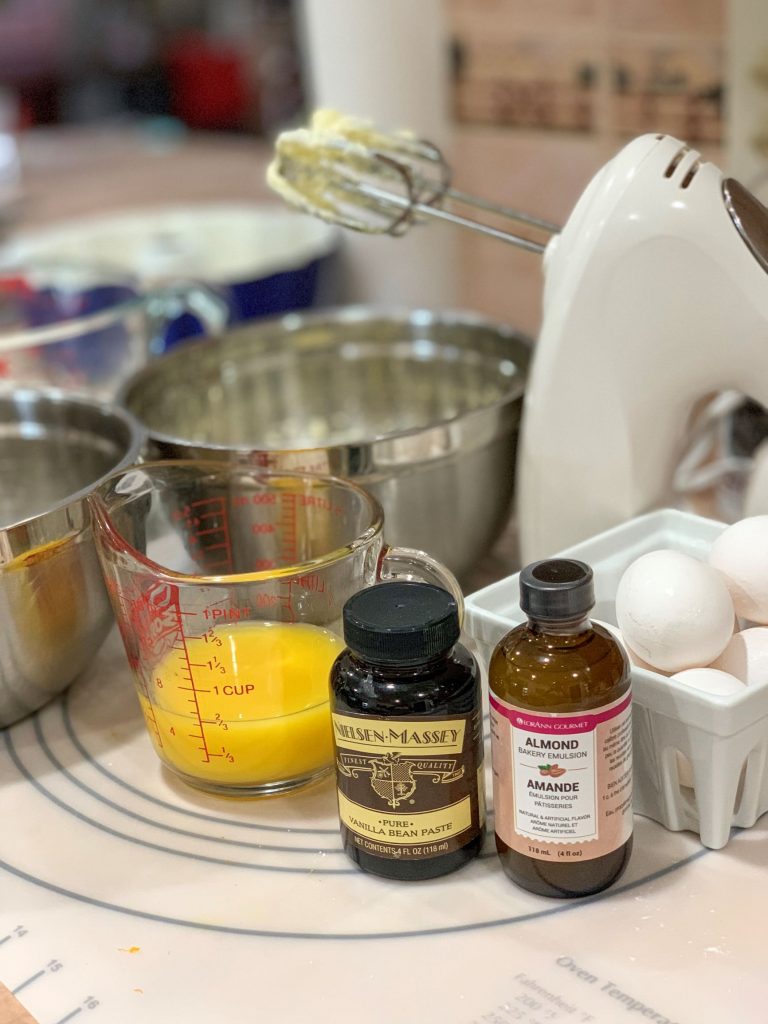 You'll need three mixing bowls for the cake and one Pyrex 2-cup measuring cup for the glaze. This may seem like a lot of bowls to clean up, but it is so worth all the effort.
Bowl 1 – Streusel topping: sugar, orange zest, all-purpose flour, melted butter and almonds.
Bowl 2 – Wet ingredients: butter, sugar, eggs, orange zest, vanilla and almond emulsion (pictured above)
Bowl 3 – Dry ingredients: all-purpose flour, baking powder and baking soda.
Note: Professional bakers prefer flavored emulsions over flavored extracts. You can find them where you buy baking supplies or online. I get my emulsions at Michaels.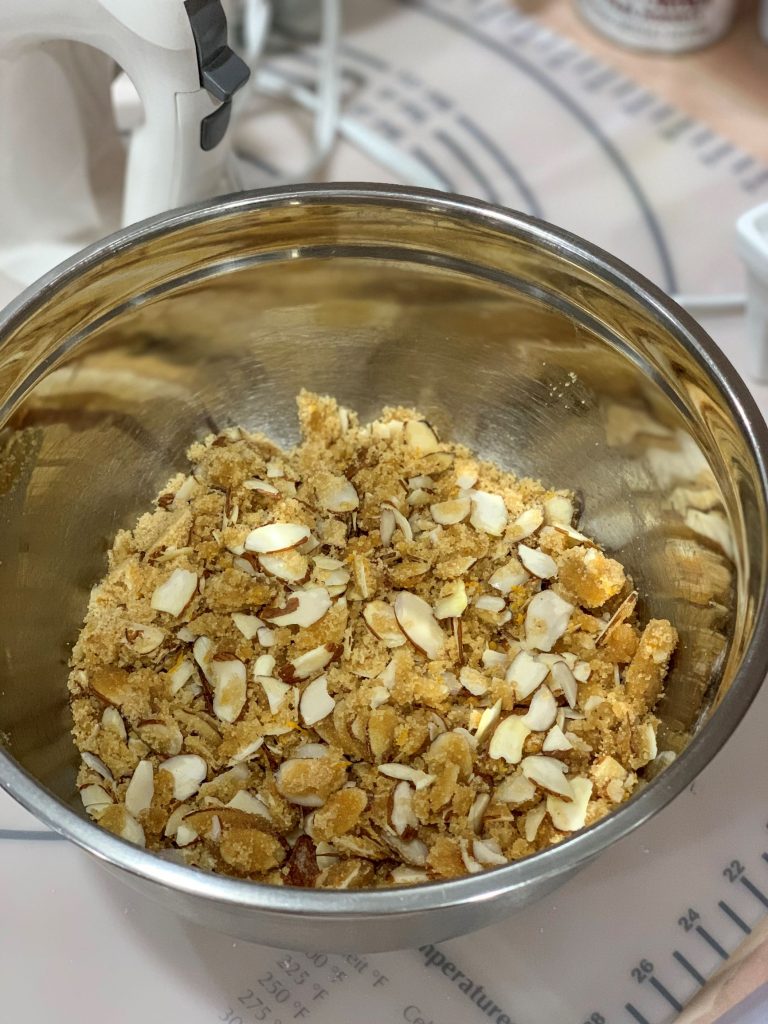 I keep my flour in a wide mouth container with a secure lid in the pantry. Before measuring, I always shake the container a bit to loosen up the flour so it's not so compact. I do this to avoid sifting the flour. Once the flour is light and airy, I measure it out. When all my dry ingredients are in the bowl, I whisk them together with a fork or small whisk to ensure everything is evenly distributed – especially if I am dividing the dry ingredients to mix with the wet ingredients in parts. If you're not able to loosen up your flour, sift the flour before measuring. If your flour is compact, you may end up with a dense and dry cake.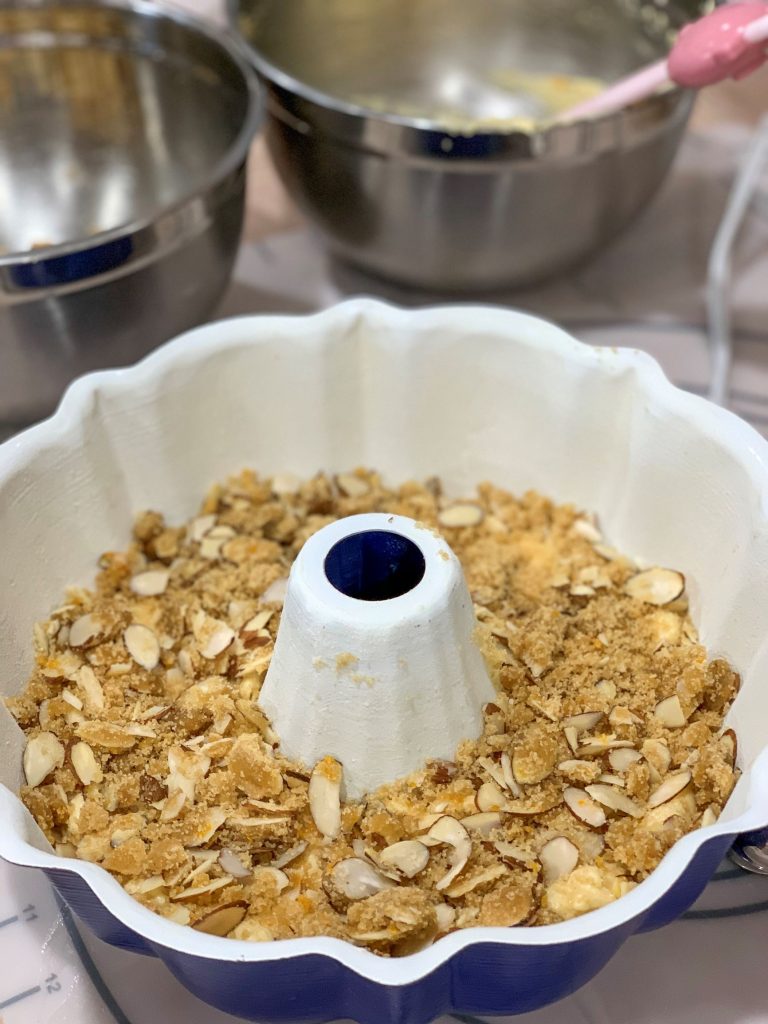 The second layer is harder to spread evenly. By dolloping the remaining batter throughout the pan, it makes it easier to spread. Top with the remaining streusel and bake for 30 – 35 minutes until a toothpick comes out clean! Cool at least 10 minutes before trying to invert it onto a serving plate.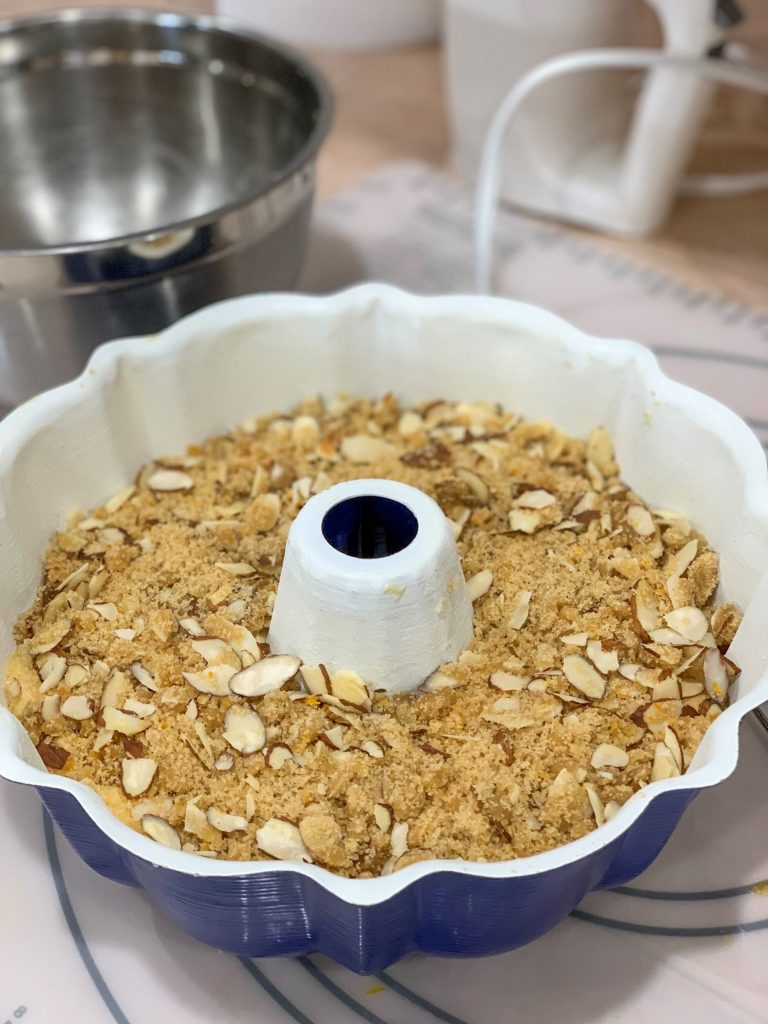 Baking Tip: Whenever you smell what it is you're baking, check it. Nine times out of ten, it's ready. Not all ovens are created equal and where you live affects your baking. Your nose knows!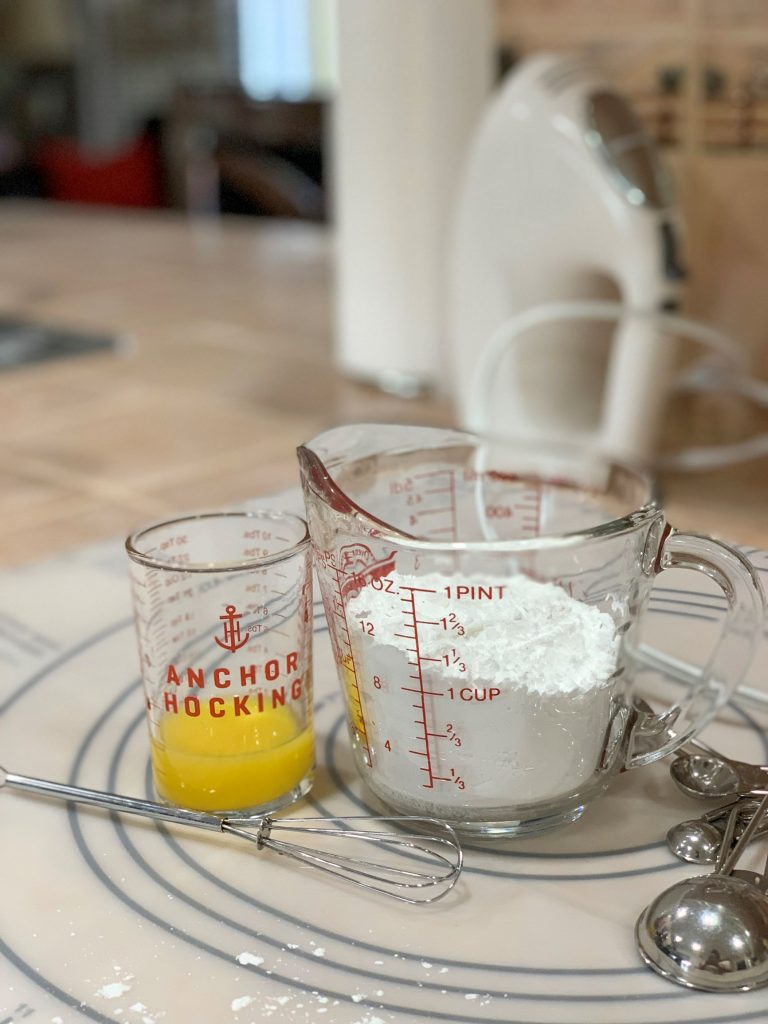 When the cake is in the oven, it's time to make that sugary glaze. In its simplest form, you can mix the powdered sugar and orange juice. But if you want to take it to another level, add a little orange zest and a splash of Grand Marnier! I make extra glaze because that's what my family loves. If you want to lightly glaze it, cut the glaze ingredients in half.
Any way you slice it, it's a little piece of heaven. Enjoy it with a great cup of coffee, tea or on its own.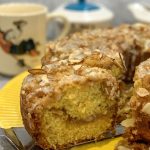 Almond Orange Streusel Cake
This is the best streusel cake I've ever eaten. The flavor combination is just delicious. It's easy to make and makes a delightful addition to any breakfast, brunch, church or office potluck gathering.
Ingredients
STREUSEL TOPPING
1

cup

light brown sugar, firmly packed

1

tsp

grated orange zest

1

cup

sliced almonds

¼

cup

all-purpose flour

3

Tbsp

unsalted butter, melted
STREUSEL CAKE
1

stick

butter, softened at room temperature

½

cup

granulated sugar

3

large

eggs

1

tsp

grated orange zest

½

tsp

vanilla extract

½

tsp

almond emulsion (optional)

2

cups

all-purpose flour

1

tsp

baking powder

1

tsp

baking soda

⅔

cup

orange juice, pulp free
GLAZE
1

cup

powdered sugar (Confectioner's)

5

tsps

orange juice, pulp free

¼

tsp

orange zest (optional)

1

splash

Grand Marnier (optional)
Instructions
Preheat oven to 350°F. Grease & flour a 9 or 10 inch tube or bundt pan. Set aside.
PREPARING THE STREUSEL
In a medium bowl, use a spatula or spoon to mix together the light brown sugar and orange zest. Add the flour and almonds and toss to coat. Stir in the melted butter and toss until you have an even crumble topping. Set aside.
MAKING THE CAKE BATTER
In a separate mixing bowl, combine the dry ingredients – flour, baking powder and baking soda. Set aside.

In a large bowl using an electric mixer on medium speed, beat together butter and sugar until fluffy. Add eggs, one at a time, beating over low speed just until combined. Add the orange zest, vanilla extract, almond emulsion and mix to combine.

With the mixer on low speed, alternate adding the flour mixture and orange juice to the egg mixture, starting and ending with flour. Mix only to combine. Don't over mix batter.
ASSEMBLING THE CAKE
Spoon half the batter into the prepared tube or bundt pan. Using a spatula, spread it evenly. Sprinkle half of the streusel crumb mixture. Top with remaining batter and streusel topping.

Tap the pan a few times on the counter or table to remove any air bubbles. Bake for 30-35 minutes until toothpick inserted in the center comes out clean. Transfer pan to cooling rack to cool.
MAKING THE GLAZE
In a Pyrex measuring cup, stir together the powdered sugar, orange juice, orange zest and splash of Grand Marnier until smooth.

Once the cake has cooled slightly, invert the cake out onto a serving plate, streusel side up.

Drizzle with the glaze. Serve warm or at room temperature.