Caribbean drinks just feel like a getaway in your own back yard! I love this watermelon version for summer backyard gathering. It's cool, colorful and refreshing!
Whenever I make a large a pitcher of a blended drink, I like to mix it the night before. As it sits, the flavors marry and the drink becomes smooth and velvety without any one ingredient overpowering the other. The next day I just add the fruit and it looks effortless!
Start by making the mint infused simple syrup. In a small sauce pan, add equal parts of water and granulated sugar. Infuse with a sprig of mint. Stir to dissolve the sugar and allow it to simmer for a minute or two. Turn heat off and allow to cool at room temperature. Remove mint before adding to the punch.
Mix everything together in a large container and refrigerate overnight. Prep the garnishes the night before. Cut the watermelon wedges, sprinkle with rum and store in a plastic bag in the refrigerator. Pop them in the freezer 30 minutes before making the punch. Slice the lime and make the watermelon mint ice cubes. You could also make skewers with watermelon, pineapple chunks and strawberries for a bright pop of color!

Note: The more you make ahead and prep, the more time you have to relax and enjoy your own party. If you don't have time or space for the garnishes, simply add ice and fresh watermelons and citrus slices to the punch.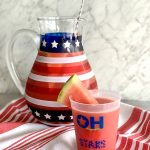 Watermelon Caribbean Summer Punch
If you like watermelon, you'll love this punch. It's a cool and refreshing drink that will complement any summer gathering. I love making a double batch and serving it in a punch bowl with watermelon wedges and fresh mint.
Ingredients
8

cups

watermelon cubes, juiced and strained

2

cups

coconut rum

8

ounces

pineapple juice

½

cup

fresh squeezed lemon juice

½

cup

fresh squeezed lime juice

½

cup

orange liquor

1

cup

mint infused simple syrup

garnish with watermelon slices, mint leaves and lime slices
Instructions
Mint Infused Simple Syrup
Combine 1 cup of water with 1 cup of granulated sugar and a sprig of fresh mint in a sauce pan. Bring to a simmer over medium heat and stir until the sugar has dissolved. Simmer for 2-3 minutes and turn the heat off. Allow syrup to cool at room temperature. Remove mint spring before adding the simple syrup to the punch.
Punch
Cube watermelon fruit and blend in a blender until smooth. Strain to remove any pulp and add to a large container where you'll mix the punch.

Add coconut rum, pineapple juice, lemon juice, lime juice, orange liquor and mint simple syrup. Refrigerate overnight for best results or at least a 4 hours before serving to allow the flavors to marry. Just before serving, add about 4 cups of ice cubes to the punch bowl, add the punch and garnish.
Watermelon Ice Cubes and Garnishes
Make some fun ice cubes out of watermelon juice and mint leaves instead of regular ice cubes. As the juice melts, it won't water down the punch and it's visually beautiful.

Sprinkle a little rum over the watermelon wedges and pop in the freezer 30 minutes before adding it to the punch. The cold, spiked watermelon makes the perfect adult garnish on a hot summer day.