This is my back pocket pasta recipe, the one I go to after a full day of errands and the family is hungry. I literally throw this together with a few staple items I keep on hand in the freezer and pantry. I measure very few ingredients and what I do measure, I do it with my hands. Clean up is easy peasy lemon squeezy! You know I had to sneak in a lemon reference somewhere! Ha! This is my easy take on Pasta alla Papalina – named after Pope Pius XII. Let's make it!
INGREDIENTS
8-ounce packet of diced ham
medium onion, or half a large – any onion works (I used red below)
Italian seasonings
black pepper
garlic
red pepper flakes
chicken stock
white wine or vermouth
cream, half-and-half, milk or combination
occasionally a chicken stock slurry
Parmesan cheese
parsley
and pasta of course!
HOW I MADE IT
In a medium size stock pot, bring to a boil enough water to cover the amount of pasta you'll be cooking. I like to use short pastas like bowtie, mini penne, fusilli, etc. I add a generous pinch of salt, a little oil and stir the pasta to prevent it from sticking together. Cook according to packaging instructions or preferred doneness.
While the pasta cooks, in a wide skillet over medium to high heat, cook an 8-ounce packet of diced ham with a medium or half a large onion, sliced. The onion can be red, yellow or white onion – use what you have. When the onions are translucent, add about 2 cloves of garlic, chopped, black pepper to taste, a pinch of red pepper flakes and Italian seasoning. Stir to coat and blend well. When the ham has those golden brown edges, add about a cup of chicken stock and a splash of white wine or vermouth. Squeeze in a few dollops of basil paste and stir to combine.
Note: I don't measure, I just go twice around the pan with the chicken stock and once with the wine. If I'm using Vermouth, I just pour out and up quickly, I don't go around the pan.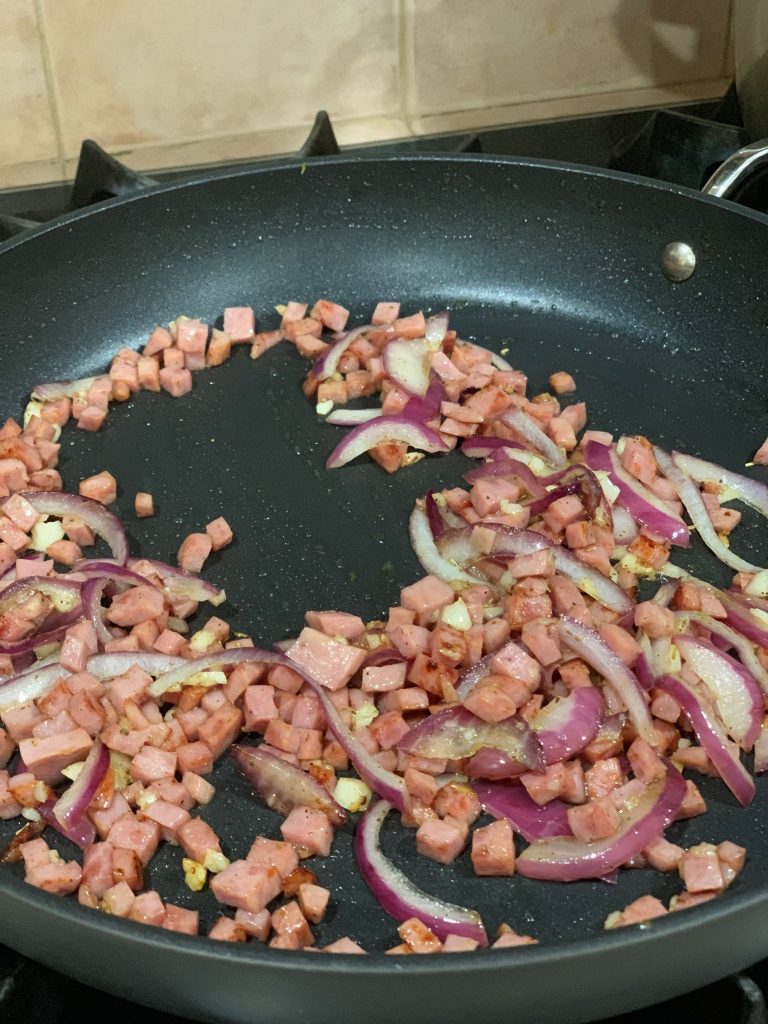 Reduce heat to medium low so the sauce just simmers, and stir occasionally. Add Parmesan cheese, a good amount of frozen peas and stir to combine. Allow the sauce to bubble and slightly thicken. If you used too much liquid, you can make a chicken stock slurry. In a Pyrex measuring cup, add two Tablespoons of cornstarch to about a half cup of chicken stock. Blend well with a fork until smooth and add back to the sauce, stirring frequently to incorporate. This will thicken the sauce.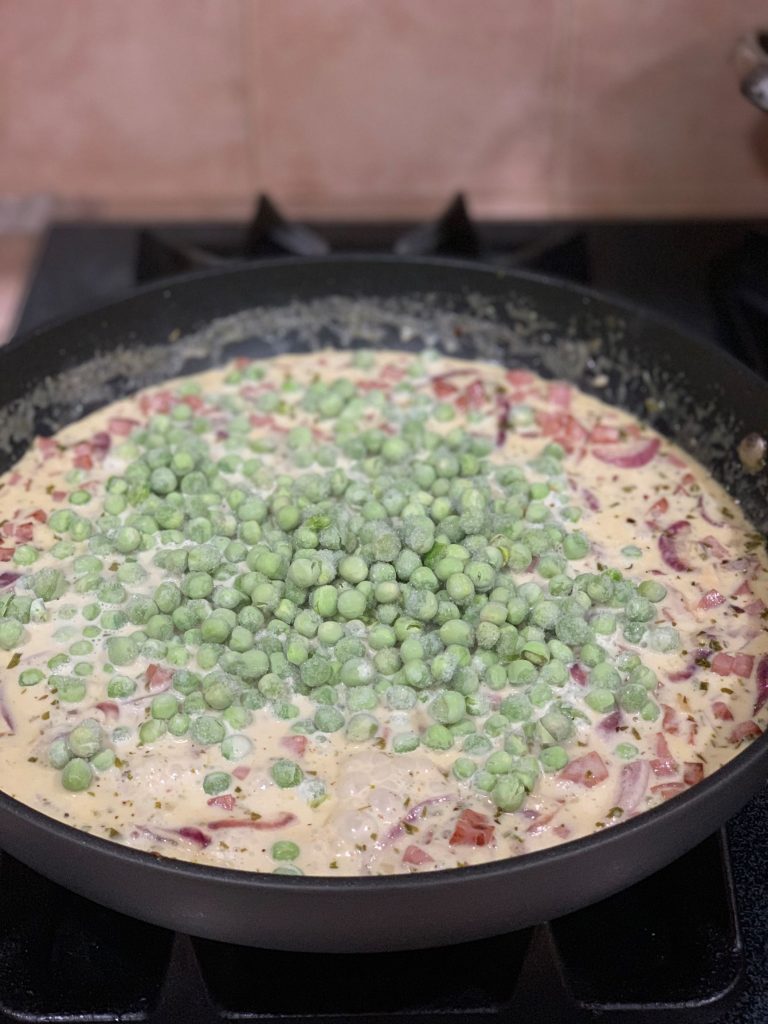 Using a kitchen spider or slotted spoon to transfer the pasta from the stock pot to the skillet. By using the spider, most of the water will easily drain out without having to use a colander. Toss and mix the pasta with the sauce, coating all the pasta with the sauce. Now's a good time to taste and adjust any seasonings. I don't add salt because the ham and cheese are salty enough. I do love black pepper and extra cheese. I like to grate extra cheese at this time and garnish with fresh basil or flat leaf Italian parsley for a little extra pop of color and flavor. Because I'm the only one in the house that appreciates a little extra heat, I add more red pepper flakes to my serving.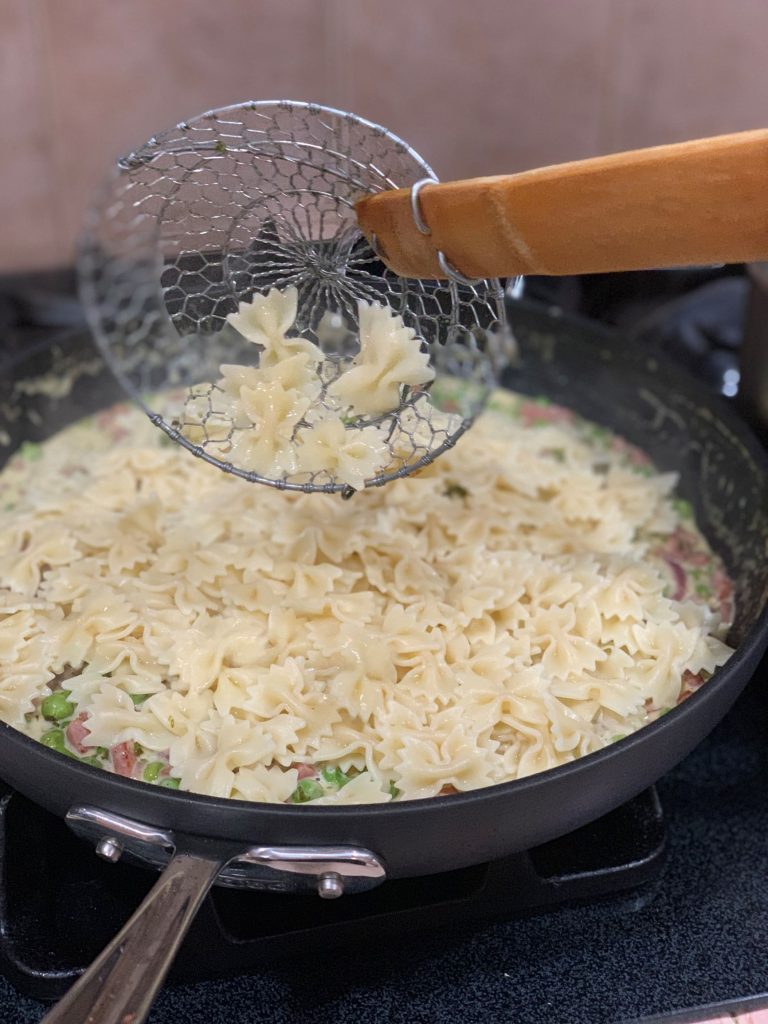 This recipe is very forgiving can be adapted to use any ingredients you have on hand – if you don't have peas, use another frozen or fresh vegetables, like broccoli, green beans or asparagus. For an easy vegetarian dish, use portobello mushrooms instead of ham. Add a salad, crusty bread and open a bottle of wine for a delicious and easy family meal. Enjoy!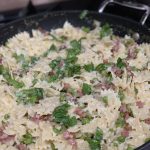 Any Day Pasta
My back pocket pasta recipe that comes together in a snap. Made with pantry and freezer items in a skillet for easy clean up.
Servings
4
generous servings
Ingredients
1

box

short pasta like mini penne, bow tie or fusilli pasta

olive oil to coat the pan

1

8-ounce

diced ham package

1/2

large

onion, sliced (yellow, white or red)

2

cloves

garlic, minced

1

teaspoon

Italian Seasoning

1

pinch

red pepper flakes or more to taste

about

½-¾ cup

chicken stock

about

1 cup

whipping cream

about

½ cup of

white wine or a splash of vermouth

about

3-4 Tablespoons

basil paste

Parmesan cheese plus extra to garnish

about

1 cup

frozen peas

fresh basil or parsley to garnish
Instructions
Cook a box of pasta according to packaging instructions in a stock pot with boiling water with a generous 3-finger pinch of kosher salt and a little olive oil. Stir well to avoid the pasta from sticking together.

While the pasta cooks, in a wide skillet over medium to high heat, circle once around the pan with olive oil and add the diced ham and onion slices. When the onions are translucent, add the minced garlic, black pepper to taste, a small two-finger pinch of red pepper flakes and Italian seasoning. To release the fragrance of the dry seasonings, place a quarter-size on your palm and rub your palms together over the skillet. Stir to coat and mix well.

Add chicken stock, heavy cream and a splash of white wine or dry vermouth. Stir and mix well. Add a few tablespoons of basil paste. Allow to simmer, bubble and thicken slightly.

Note: If the sauce is too thin, make a chicken stock slurry. In a Pyrex cup whisk until smooth 2 tablespoons of cornstarch and about ½ cup of chicken stock (or water). Add to the sauce and stir to combine until smooth.

Reduce heat, add Parmesan cheese and frozen peas. Stir well to combine.

Using a kitchen spider spoon, transfer the pasta to the skillet and toss to coat the pasta. Cook for a few minutes to evaporate some of the extra pasta water.

Taste to reason. Add more Parmesan cheese and garnish with basil or parsley.