It never really gets cold here in south Florida. It's hard to believe that while it's snowing today in some parts of the country, our weather is 91°F with a feels like 100°F, high humidity and rain. With these temps, cool and refreshing drinks are what we need; although I wish I were sipping mulled wine and curled up by a fire place. I'm reminded we live in paradise, so I acquiesce.
In the south, iced tea is a staple that's enjoyed year round. I personally I drink unsweetened tea all the time, no sodas. I'm blessed our local grocery store, Publix, makes a great iced tea, so I don't brew my own. I know, a true southerner would brew their own tea, but for me its a short cut I can live with. If you are into brewing iced tea, I applaud you and I'm sure your version will be even more flavorful. I specifically use Honeycrisp apple cider when making this tea because I love Honeycrisp apples for their crisp bite with a sweet yet tart flavor. They are my favorite apples.
In a pitcher, combine a quart (32 ounces or 4 cups) of honeycrisp apple cider with 3/4 quart (24 ounces or 3 cups) of unsweetened iced tea. Add an orange peel for that citrus hint, a few cinnamon sticks because cinnamon and apples are a great combo and some apple slices. Chill for 2-3 hours. Remove the orange peel before serving.
Note: If you can't find honeycrisp apple cider, use Martinelli's apple cider. Also, if you prefer sweet iced tea, buy sweetened iced tea or add caster sugar to your mix. Caster sugar dissolved faster.
When serving, add ice or no ice to your liking, fill a glass 3/4 full and top with champagne or sparking wine. For a non-alcoholic version, top with Martinelli's Sparking Apple Cider. To make it a true cocktail, substitute the sparking wine for a splash (about 1/2 ounce) of dark rum, bourbon or whisky. Garnish with cinnamon sticks and apple sliced.
I served this tea on Sunday afternoon with my Swirled Peanut Butter Chocolate Cheesecake Bars. Oh happy day! Even though it's hot, I still want the illusion of fall and the seasons so my floral arrangement and loose leaves on the table reflect that. I love these petrified fall branches, purchased on Etsy from FromTheGardenWhsle vendor! They are beautiful and can last up to two years, so you'll see them again next fall. They have many beautiful floral options so check them out. Special thanks to InspiredbyCharm for the recommendation. Check out Michael's blog. It's so magical and inspiring (pun intended).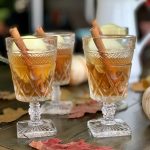 Apple Cider Iced Tea
Honeycrisp apple cider makes this iced tea a special treat. With hints of cinnamon and citrus from the orange peel, this beverage is a perfect drink for any gathering. Yields 8-10 servings.
Ingredients
Apple Cider Iced Tea
4

cups

honey crisp apple cider (1 quart or 32 ounces)

3

cups

unsweetened iced tea (3/4 quart or 24 ounces)

your favorite grocery grand will be great

2

honey crisp apples, sliced thin, plus extra for garnish

5-6

cinnamon sticks, plus extra for garnish

1

orange peel, without the pith

the pith is the white bitter part of the peel
Toppers and Alcoholic Floaters
1

bottle of

Champagne or Sparkling Wine

Martinelli's Sparking Cider for non-alcoholic version

Floater Options: shot of dark rum, bourbon, whiskey
Instructions
Making the Apple Cider Iced Tea
In a large pitcher, combine the apple cider, iced tea, cinnamon sticks, orange peel and apple slices. When adding the orange peel, twist slightly to release the oils and fragrance.

Chill for 2-3 hours. Remove the orange before serving.
Serving the Iced Tea
Ice optional. Fill glasses 3/4 full with apple cider iced tea and top with champagne or sparking wine. Garnish with apple slices and cinnamon stick.

Note: The honeycrisp apple cider iced tea doesn't need alcohol. It's delicious on its own and doesn't require added alcohol to be complete.

Floater Option: To make this a true cocktail, substitute the sparking wine for a splash of bourbon, rum or whiskey of your choice, but no more than ½ an ounce.