Shut the front door! This Pad Thai is so d-e-l-i-c-i-o-u-s, it might just become my new favorite go to weeknight meal. It literally comes together in under 5 minutes and it's fresh and bright with great flavors and texture. This recipe is from chef Kris Yenbamroong, owner of the award winning LA restaurant, Night + Market. Chef Kris uses ingredients that can be easily sourced in any grocery store because that's how his grandma does it. You have to love a chef that honors his grandmother in his approach to cooking.
Night + Market: Delicious Thai Food to Facilitate Drinking and Fun-Having Amongst Friends A Cookbook was selected for this month's IG RainyDayBites Cookbook Challenge. Kris is a self-taught chef, who studied film at NYU. Now he uses food to tell his story and everyone is listening! He has been recognized by the James Beard Foundation and his restaurant is frequented by chefs and celebrities alike. You can see chef Kris with Gwyneth Paltrow cooking his famous Pad Thai in this video on GOOP. He looks like such a nice person, someone you would want to hang out and cook with. No wonder his restaurant is so popular. According to my daughter, a frequent patron, it's California meets Bangkok street food and every dish is as delicious as the next. He says if they had a mission statement it would read "we aim to make the most delicious and authentic Thai food to facilitate drinking and fun-having amongst friends". That's my kind of place. I can't wait to visit Night + Market in WeHo (West Hollywood, CA). His mission statement is also a great cookbook title!
HERE'S HOW I MADE NIGHT + MARKET'S PAD THAI
Before you start, you'll need to soak the rice noodles for 25 minutes in warm water. Not to cook, just to soften. You can even soften the noodles and keep them in the refrigerator until ready to use. You don't need a wok. I don't own one, so I used my dutch oven casserole pan and it worked like a charm. This dish comes together quick so have all your ingredients ready to go.
In a small bowl combine fish sauce, distilled vinegar and granulated sugar. Stir to dissolve the sugar and set aside. Heat your pan and once it's hot, add vegetable oil and swirl the pan around to evenly coat the bottom. When the oil is shimmering, add shrimp and stir-fry until the shrimp beings to turn pink, but not fully cooked.
Add the rice noodles with a splash of water and continue stir-frying so the noodles being to cook. Add the fish sauce mixture and continue to stir-fry so the noodles absorb the sauce. Push the noodles off to the side and add an egg. As soon as the edges begin to set, scramble the egg with the spatula and quickly stir-fry and mix with the noodles and sauce. The creamy egg yolk adds so much richness to the sauce, it's amazing. So good!
Turn off the heat. Add bean sprouts and sliced scallions and toss to combine well. Plate and add more scallions, chopped peanuts, red pepper flakes and a squeeze of lime juice. Divine! Now I can make at home one of my favorite Thai dishes. I never knew it could be so simple and so delicious!
NOTE: Chef Kris calls for a teaspoon of roasted chili powder. I couldn't find any so I used red chili flakes instead and sprinkled them on top according to my personal heat tolerance.
Do these two plates look different? I'm glad you noticed. You see, the recipe is for 2 servings. Initially, no one wanted to eat dinner, but as soon as I started cooking, everyone was starving. So I made another batch. (L) with red pepper flakes (R) with a lime wedge, but no red pepper flakes, as requested. The great thing about adding the heat at the end like a garnish is you can please everyone in the family.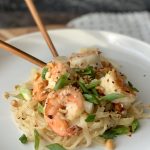 Night + Market's Shrimp Pad Thai
Chef Kris Yenbamroong's famous Pad Thai is the only one you'll ever need. Creamy and crunchy, full of flavor and using fresh ingredients easily found at the grocery store. A perfect meal in minutes.
Ingredients
4

ounces

dry rice noodles

pot of warm water to soak the noodles

2

Tablespoons

fish sauce

2

Tablespoons

granulated sugar

2

Tablespoons

distilled white vinegar

3

Tablespoons

vegetable oil

¼

pound

shrimp, peeled and deveined

can also use tofu or chicken (cut into bitesize pieces)

1

large

egg, room temperature

1

cup

bean sprouts

2

green onions or scallions, cut at an angle into long pieces, plus extra for garnish

2

Tablespoons

roasted peanuts, chopped

chili pepper flakes to taste

wedge of lime
Instructions
Fill a pot with warm water and soak the rice noodles for 30 minutes. Drain and use immediately or cover and refrigerate until ready to use.

In a small bowl, combine fish sauce, granulated sugar and distilled white vinegar. Stir to dissolve the sugar in the sauce and set aside.

Heat a wok or heavy casserole pan over high heat until it begins to smoke. Add vegetable oil and swirl the pan so the oil is well distributed and the pan is coated.

When the oil is shimmering, add the shrimp and stir-fry the shrimp less than a minute. You don't want to fully cook the shrimp at this time.

Note: If cooking chicken, use boneless thighs and cut into bite-size pieces.

Add the rice noodles and a splash of water to get the rice noodles cooking.

Add the fish sauce mixture and stir-fry constantly until the rice noodles absorb the sauce. About a minute.

Push the noodles and shrimp off to a side with the spatula and make an opening for the egg. Add the egg and cook for 15 seconds. When the edges begin to set use the spatula to scramble the egg and quickly combine it with the noodles and shrimp while the yolk is still soft.

When the egg looks mostly cooked, turn the heat off. Add the bean sprouts, sliced scallions and toss to combine well.

Plate and garnish with more scallions, peanuts, red pepper flakes and a lime wedge.
Recipe Notes
This recipe is an adaptation of chef Kris Yenbamroong's as listed on GOOP.