Ah, fried foods! Who doesn't love it? I mean breaded, fried chicken is the precursor to chicken nuggets. Schnitzel is basically a cut of pork, veal, chicken or steak that has been pounded to a 1/4 inch thick, seasoned, breaded and fried. It's glorious! Think about it, most European countries have a version of Schnitzel. This kid friendly and budget healthy way to prepare chicken has been feeding families all over the globe!
Pound the cut of meal about 1/4 inch thick between two pieces of plastic wrap. I like to season the meat with Kosher salt, black pepper and a little garlic powder. Create a dredging station – three bowls with all-purpose flour, egg wash and bread crumbs. I like to dredge with one hand and keep the other one clean.
Note: Dredging simply means to cover and coat all sides in each of the steps. The layers of flour, egg and crumbs makes the most delicious and perfect coating! I like to use Panko bread crumbs even though it is not traditional.



Once breaded, fry over medium to high heat in canola oil. You're not deep frying the cutlet, but it's not a shallow pan fry either. Make sure that you have enough oil to come up the sides, about 1/2 inch deep. When the edges are turning golden brown, flip the cutlet and fry on the other side (3-4 minutes per side). Transfer them to a paper towel to drain any excess oil. I like to reseason with a little finishing sea salt and more Kosher pepper. Repeat until all the cutlets have been fried.
Note: It's important not to crowd the pan or the oil temperature will drop and you'll end up with soggy breaded cutlets.
For my Oktoberfest Chicken and Pork Schnitzel Sandwiches, I used chicken breast and pork tenderloin. I served them on Pretzel buns with a little mayonnaise, lettuce, tomatoes and pickles – they were so delicious!
Breading a cut of meat and pan frying is really a method and not an exact recipe. I didn't measure anything when I make these. You can also play with and add other ingredients to make different versions – think of cheese, or nuts for a crunchy coating or spices! After all, what's a Chicken Parmesan or a Bistec Empanizado if not a Schnitzel by another name! It is still as delicious.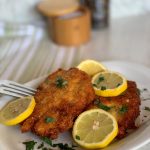 Chicken Fried Cutlet (Schnitzel)
Golden, crispy and delicious! The perfect fried chicken bite that is kid friendly and easy to make.
Ingredients
2

Chicken breasts, cut in half

(can use pork, veal or steak)

Garlic powder (not garlic salt)

Kosher salt

Fresh ground black pepper

1½

cups

all purpose flour

2

eggs plus a little water (for an egg wash)

2

cups

Panko bread crumbs

Canola oil
Instructions
Pound the meat between two pieces of plastic wrap. Pat dry with paper towel and season lightly with garlic powder, Kosher salt and fresh ground black pepper. Set aside.

Create a dredging station with all-purpose flour, egg wash and Panko bread crumbs.

Note: To make an egg wash, beat the eggs with a little water.

Dredge (coat all sides) the cutlet in flour and shake off the excess. Coat in the egg wash and finally in the Panko bread crumbs.

In a wide skillet over medium-high heat, add enough canola oil for frying, about 1/2 inch. When the oil is hot, but not smoking, fry each cutlet until the edges are golden then flip and fry on the other side (about 3-4 minutes per side).

Note: It's important not to fry more than two cutlets at a time. Crowding the skillet will result in soggy Schnitzel.

Transfer them to a paper towel and remove the excess oil. Sprinkle with salt and black pepper.