This is an easy Apple Strudel dessert so you know I'm taking a shortcut with a store bought item! I'm using a sheet of Pepperidge Farm frozen puff pastry instead of making the traditional strudel pastry from scratch. It is still a delicious apple dessert and when served with my Warm Vanilla Sauce, it's just perfect and it tastes authentically Bavarian!
I don't have too many pictures, but here's what I did:
Thawed one sheet of Pepperidge Farm Puff Pastry and peeled three Granny Smith apples – grated one apple and sliced thin two apples. Mixed the apples with the brown sugar, cinnamon and cornstarch and cook on the stove top for about 15 minutes over medium heat and stirring with a wooden spoon often so the sugar wouldn't stick or burn. Pre-cooking the apples some ensures they are fully cooked when you bake the strudel. Set aside and allow them to cool to room temperature.
Note: You can use the apples of your choice, but Granny Smith are the best for baking, they hold their texture very well. Sometimes I mix half Granny Smith with half Honeycrsip apples).

On a lightly floured surface (and floured rolling pin), lightly stretch the thawed pastry so you have a larger rectangle surface. In a large mixing bowl, mix the cooked apple mixture with the golden raisins and spoon onto the pastry. Make sure that you leave enough space all around to pull the pastry over the apples and seal the seams. Basically you're making a log.
Note: You don't have to place the apples diagonally, but I rolled mine like an egg roll and it worked perfectly. Just make sure that all your seams are sealed so the juices don't ooze out.
Place it on a baking sheet lined with parchment paper seam side down. Brush with an egg wash and sprinkle with sliced almonds for added crunch. You can also add chopped walnuts to the filling and omit the almonds on top. Bake in a preheated 400°F oven until golden brown, about 25 – 30 minutes, depending on your oven. Allow to cool slightly and dust with confectioner's sugar.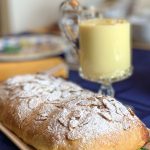 Easy Apple Strudel (Apfelstrudel)
A delicious traditional Bavarian dessert made easy with store bought puff pastry. Serve with warm vanilla sauce for an authentic dessert.
Ingredients
1

sheet

Pepperidge Farm puff pastry sheet, thawed

1

Granny Smith apples, peeled and shredded with a box grater

2

Granny Smith apples, peeled and sliced thin

⅔

cup

light brown sugar

1

teaspoon

cinnamon powder

2

Tablespoons

cornstarch

½

cup

golden raisins

1

egg and a splash of water (to make the egg wash)

sliced almonds

confectioner's sugar (powdered sugar)
Instructions
Preheat the oven to 400°F degrees and line a baking sheet with parchment paper.

In a medium pan over medium heat, combine and cook the shredded apple, sliced apples, brown sugar, cinnamon powder and cornstarch for 15 minutes. Stirring frequently to ensure they cook evenly. Set aside and allow to cool to room temperature.

Lightly flour your rolling pin and flat surface. Roll the thawed puff pastry a little to get a rectangle shape. Place the puff pastry on the prepared baking sheet with parchment paper.

Add ½ cup of golden raisins to the apple filling and arrange the filling down the middle of the pastry lengthwise. Fold the pastry around the mixture, seal the edges and turn it so it is seam side down.

Whisk an egg and a little water in a Pyrex measuring glass and brush the top of the pastry. Make three small slits on the top of the pastry and sprinkle with sliced almonds.

Bake until golden brown, about 25-30 minutes. Allow to cool slightly and sprinkle with confectioner's (powdered) sugar. Serve with Warm Vanilla Sauce on the side.