Egg salad reminds you of packed school lunches or church picnics on Sundays. It's simple and delicious because the egg is the star. Nothing complicated or fancy in this salad, but so flavorful! Perfect for lunch, scooped on toast with avocado or on loaf bread for tea sandwiches.
Simple ingredients that pack a punch!

Rolling the eggs allow you to easily peel the shell.
Mom always adds a capful of distilled vinegar to the water to prevent the eggs from cracking. Mom's always right, so I boil my eggs the same way.
Cream egg yolks with mayonnaise and other ingredients.

Finely minced egg whites.
While the yolks are warm, whisk them with the mayonnaise until well blended and smooth. Add scallions and sweet pickle relish, pinch of salt and black pepper. Mince the egg whites and add to the mayonnaise mixture.
Bacon adds great texture and a salty bite. For tea sandwiches, I like to fold the bacon in with the egg salad. For open faced sandwiches, I like to sprinkle the bacon on top. Either way, it's always better with bacon!
Delicate egg salad tea sandwiches!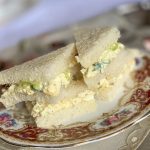 Classic Egg Salad
A classic egg salad that's perfect for any brunch, tea party or sandwich on the go. Simple and delicious like mom used to make.
Ingredients
8

extra large eggs

enough water to cover the eggs

1

capful of distilled vinegar

1/4

cup

mayonnaise (prefer Duke's)

1

Tablespoon

country mustard (prefer Grey Poupon)

1

Tablespoon

sweet pickle relish with juice

1

scallion, thinly sliced

pinch of Kosher salt

1/4

teaspoon

fresh ground black pepper

Optional: 4 slices of bacon, cooked and crumbled
Instructions
Fill pot with cold water and arrange eggs in a single layer. Add a capful of distilled vinegar and bring the water to a boil. Boil for 5 minutes and turn heat off. Allow eggs to steep in hot water for 5 minutes. Rinse under cold water and remove shell.

Tip: To remove the shell, tap the egg on each end and roll the egg back and forth to crack the shell. Remove shell and discard.

Cut the eggs in half and separate yolks from whites. Cream the warm yolks with the mayonnaise and mustard. Add pickle relish, scallions, pinch of salt and black pepper and mix to combine. Mince or grate the egg whites and add to the cream mixture.

Optional: While the eggs are boiling, cook 4 bacon strips over medium heat in a wide skillet. When crispy, remove and drain on a paper towel. When cool to touch, crumble into tiny bits. Set aside. You can either incorporate the bacon into the egg salad mixture or sprinkle it on top of the sandwich.