This light dessert takes it's name from Eton College in England. According to Wikipedia, it was first mentioned in print in 1893 and it was served at the annual cricket match against Harrow School. Ina Garten introduced me (on her show, of course) to this easy to make dessert and I'm forever grateful.
If desserts had relatives, Eton Mess is the Pavlova's cousin. Just about the same ingredients – whipped cream, meringue and berries! It's simple and uncomplicated. Made even easier when you crumble bakery bought meringue!!
But just in case you wanted to make your own meringue cookies, I added the recipe from Joy of Baking.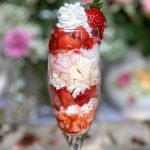 Eton Mess
A delicate dessert of macerated strawberries, broken meringue pieces and whipped cream. Looks best served in a parfait or trifle. Pavlova's messy cousin!
Ingredients
Macerated Berries
1

pint

strawberries, hulled and cut

2

Tablespoon

granulated sugar

½

teaspoon

Vanilla extract or a dash of Grand Marnier liquor
Whipped Cream
1

cup

heavy whipping cream

¼

cup

confectioner's sugar

same as powdered sugar

½

cup

granulated sugar

¼

teaspoon

Vanilla extract

¼

cup

sour cream
Meringue Cookies
3

large

egg whites, room temperature

save the yolks for a custard

¼

teaspoon

cream of tartar

¾

cup

caster sugar

superfine granulated sugar

¼

teaspoon

Vanilla extract
Instructions
Macerated Berries
Mix strawberries, sugar and vanilla or Grand Marnier in a bowl and set aside for 30 minutes.
Whipping Cream
In a chilled mixing bowl, beat the cream with the confectioner's sugar, granulated sugar and vanilla extract until it holds soft peaks. Add sour cream and beat until it holds stiff peaks.

Tip: Transfer the whipped cream to a pastry piping bag for easy assembly.
Meringue Cookies
Preheat oven to 200°F and place the rack in the center of the oven. Line a baking sheet with parchment paper and set aside.

Using your stand or handheld mixer, whisk the egg whites on low-medium speed until foamy. Add the cream of tartar and continue to whisk until the whites hold soft peaks.

Add the sugar a little at a time and continue to whisk over medium-high speed until the whites hold very stiff peaks. Add the vanilla and whisk until will well blended.

Note: Test the meringue by rubbing a little between two fingers. If it feels gritty, keep beating until the sugar has completely dissolved. It needs to feel smooth between your fingers.

Transfer the meringue to a pastry bag fitted with a 1 inch tip and pipe rounds of meringue in a row on a parchment paper or you can spoon mounds using two spoons.

Bake for 1 ½ to 2 hours (depending on your oven and climate). Half way through, rotate the baking sheet to ensure even baking. Turn the oven off and crack open the oven door. Leave the meringues in the oven to finish drying for several hours, best if left overnight.

Crumble the meringue cookies for this dessert.

The meringues are done when they are fair in color and crisp. They will easily release from the parchment paper. You can store them at room temperature for several days. Makes 10 2.5 inch meringue cookies.
Assembly
Create an assembly line with the strawberries, whipped cream and crumbled meringue cookies.

In the serving vehicle of your choice, layer the meringue crumble, whipped cream, macerated berries. Repeat layer. Garnish with strawberry.