I was at Costco when I came across a beautiful fillet of Corvina and decided I wanted fried fish for dinner. What is Corvina? Corvina is a white firm fish similar to sea bass that is common in Central and South America. It has a mild, sweet taste with firm, large flaky flesh. It is pinkish when raw, but cooks up white. It is a versatile fish and it can be fried, grilled, baked, used in sashimi and popular in ceviche. I love its flavor and texture and we were in the mood for some fried fish!
HERE'S HOW I MADE IT
I portioned out the corvina using the width of my four fingers as a measuring guide. The fillet yielded 5 even sized fillets and the end piece. The tail of the fish is always thinner and tapered so it cooks faster than the other portions. Pat the fillets dry with a paper towel and season the fish with kosher salt and black pepper. Set aside.
Note: Dredging is usually a three step process: flour, egg wash and bread coating – like in fried chicken. I wanted a lighter bread coating so I omitted the flour and focused my flavors on the bread crumb mixture.
In a shallow plate, combine equal parts of Louisiana New Orleans Style Fish Fry breading mix with plain Panko bread crumbs and grated Parmesan cheese. Mix well to combine and evenly distribute. Set aside.
Note: I would have added Old Bay seasoning to the fish, but I had guests that didn't eat spicy foods. Old Bay would have kicked it up a notch!
In another shallow plate, beat together an egg with a tablespoon of water. This will be the glue that holds the breading on the fish. Set aside.
Now you're ready to dredge the fillets. Create an assembly line from left to right: fillets, egg wash, bread mixture and empty plate to place the dredged fillets. When dredging, always try to dredge with one hand and keep the other clean. It's a dirty job and there's no sense in getting both hands dirty. Working with one fillet at the time, coat the fillet in the egg wash and allow any excess egg to drain off over the plate then place the fillet in the breading plate and evenly coat all sides of the fillet. Lift the fillet so any excess breading falls off and set aside on the empty plate. Repeat this step until all the fillet pieces have been coated. Discard remaining egg wash and bread mixture. Easy-peasy!
We don't fry a lot at home and I'm particular about the lingering smells of fried food so I usually fry fish outside in an electric skillet. This helps me achieve two things – keep the smell outside and control the oil temperature. Because I'm not deep frying, I only need to add enough canola oil in the skillet to cover about half way up the fillet, typically 1/2 – 3/4 inch of oil, depending on the thickness of the fillet.
Note about canola oil: Canola is a recommend oil for frying fish since it has a smoke point above 450°F. It is very mild in flavor and also has one of the lowest amounts of saturated fats – an extra plus!
Preheat the oil to 375°F. When the oil comes to temperature, place the fillets in the skillet and immediately reduce the oil temperature to 350°F. Fry the fillets for about 5-7 minutes on one side before flipping. Don't overcrowd, move or poke the fillets. Each fillet will vary in cooking time depending on their thickness. I always place the thickest portions first and the end pieces last. Depending on the size of your skillet and fillets, you may need to fry in batches.
Note: When you fry any item in oil, the oil temperature initially drops because you're introducing a colder item. For this reason it's recommended you don't overcrowd the skillet and it's preferable to fry in batches. This is also why I preheat the oil to 375°F and immediately reduce to 350°F. If the oil isn't hot enough, the breading will only absorb the oil and your fried item will be very greasy.
When one side is golden, use a fish spatula to flip each fillet away from you and cook the other side for a few minutes until golden brown. Remove and drain on a brown paper bag to eliminate any excess oil. Transfer to a serving plate and finish with sea salt, black pepper and a few lemon wedges.
I served the corvina with yellow rice (short cut Goya Yellow Spanish Rice – follow package directions) and steamed asparagus with a little salt & pepper and Parmesan cheese. This fried corvina would also make a great fish sandwich with some potato wedges. Enjoy!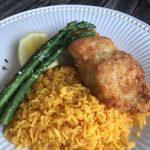 Corvina – Louisiana Fish Fry Style
Who doesn't love a fish fry? Corvina is a nice white, meaty fish, similar to sea bass, that holds up well when frying. The combination of Louisiana fish fry batter, Panko bread crumbs and Parmesan cheese gives it a nice flavor and crunch.
Ingredients
1

large

fillet of Corvina, cut in 5-6 even pieces

about ½

cup

Louisiana Fish Fry prepared breading mix

about ½

cup

Panko bread crumbs, unseasoned

⅓ – ½

cup

Parmesan cheese, grated

beat 1

egg plus

1 Tablespoon of water to make an egg wash

kosher salt & black pepper to taste

prefer Diamond kosher salt

Canola oil for frying

optional:

finish with

sea salt, black pepper and lemon wedges
Instructions
Pat the fillets dry with a paper towel and season the Corvina with kosher salt and pepper.
PREPARE THE DREDGING STATION
In a shallow bowl, combine the Louisiana Fish Fry breading mix, Panko bread crumb and Parmesan cheese. Mix well to evenly combine and set aside.

In another shallow bowl, make an egg wash by beating one egg plus a tablespoon of water. Set aside.

Using one hand, dredge the fish in the egg wash, allow the excess egg wash to drain off the fillet and dredge both sides in the bread crumb mix until all sides are evenly coated. Set aside on a plate and repeat steps until all the fillets have been dredged and coated.
SKILLET FRYING
Add enough canola oil an electric skillet or frying pan, if cooking on a cooktop, to a depth of ½-¾ inch. The fish is not being submerged in oil or deep frying.

Heat the canola oil in the frying pan to 375°F. If you don't have an electric skillet, you can use a deep-fry thermometer to determine the oil temperature. When the oil comes to temperature, add the fillets to the skillet away from you to avoid splatter and reduce the temperature to 350°F.

Don't overcrowd the fillets, don't move them and don't poke them. Allow them to fry on one side for 5-7 minutes, according to their thickness. Using a fish spatula, gently flip the fillet and fry for a few more minutes until golden brown.

Drain on brown paper bag to collect the excess oil. Finish with flaky sea salt, black pepper and serve with some lemon wedges.

Can be enjoyed with rice and a side vegetable or as a fish sandwich with your favorite toppings.
Recipe Notes
If frying in batches, you can transfer the fillet to a 180°F preheated oven to keep warm until all the fillets have been fried and you're ready to serve.