This dessert has been a staple at our Easter table for as long as I can remember. No bake, easy to assemble and made for adults! Everyone needs a delicious no-bake dessert and this one is a winner-winner dessert!
All you need are store bought items, a little Limoncello and Grand Marnier and if you want to make it extra special, make your own whipped cream.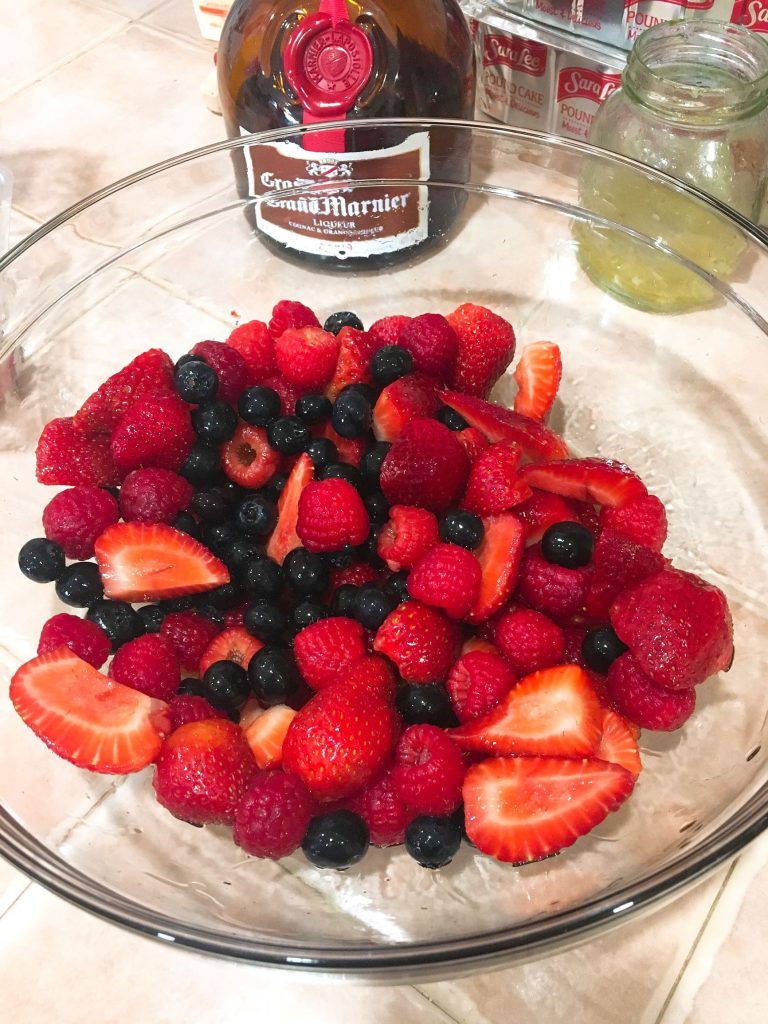 Macerate the berries (strawberries, blueberries and raspberries) with a little sugar and Grand Marnier. The sugar and liquor will break down the berries and they will release their own juices. Set aside for 30 minutes or so.
If you make the whipped cream, whip about 1 1/2 cups of whipped cream with a dash of vanilla extract and a heaping Tablespoon of powdered sugar. Whip until peaks form and reserve about 1/2 cup.
Tip: Whipped cream comes together best in a very cold bowl. I place mine in the freezer for about 10 minutes before. Don't over whip, when stiff peaks begin to form – stop! If you continue you can end up with butter.
Store bought lemon curd needs to be brought to life again. Using a mini whisk, I whisk it in it's own container. Carefully fold in the lemon curd with a spatula. I start with about 1 cup. Depending on how bright you want the lemon curd flavor to shine through, you may wish to fold in less or more lemon curd. I usually do a jar. The best lemon curd I've tasted is Oliver Napa Valley's Meyer Lemon Creme. I try to have at least one at home, but it's not always in stock.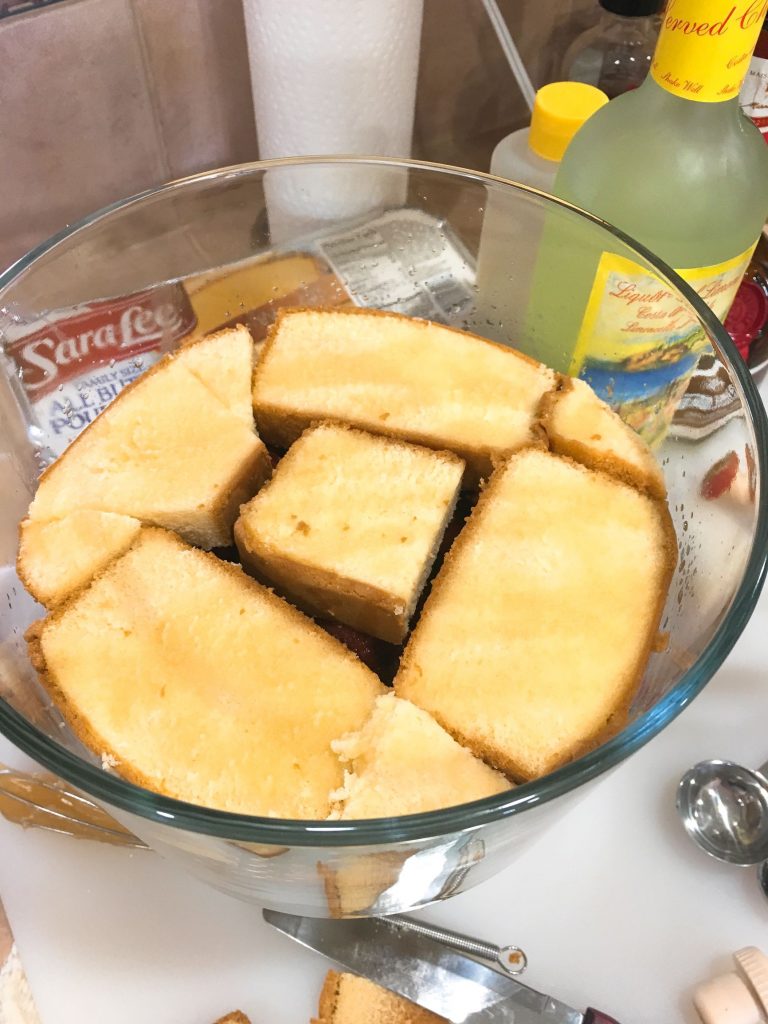 Cut the pound cake in even slices. Arrange some slices at the bottom of the trifle bowl making sure that you don't have large open gaps. Generously sprinkle with Limoncello or Grand Marnier. Layer the lemon curd/whipped cream on top and then layer half the berries in their juice on top. Repeat another layer and top with the reserved plain whipped cream. Garnish with fresh berries and a little mint for color. Keep refrigerated until ready to serve. Yum!
Tip: You can also make this dessert into individual servings. Use a stemless wine glass for the same trifle effect.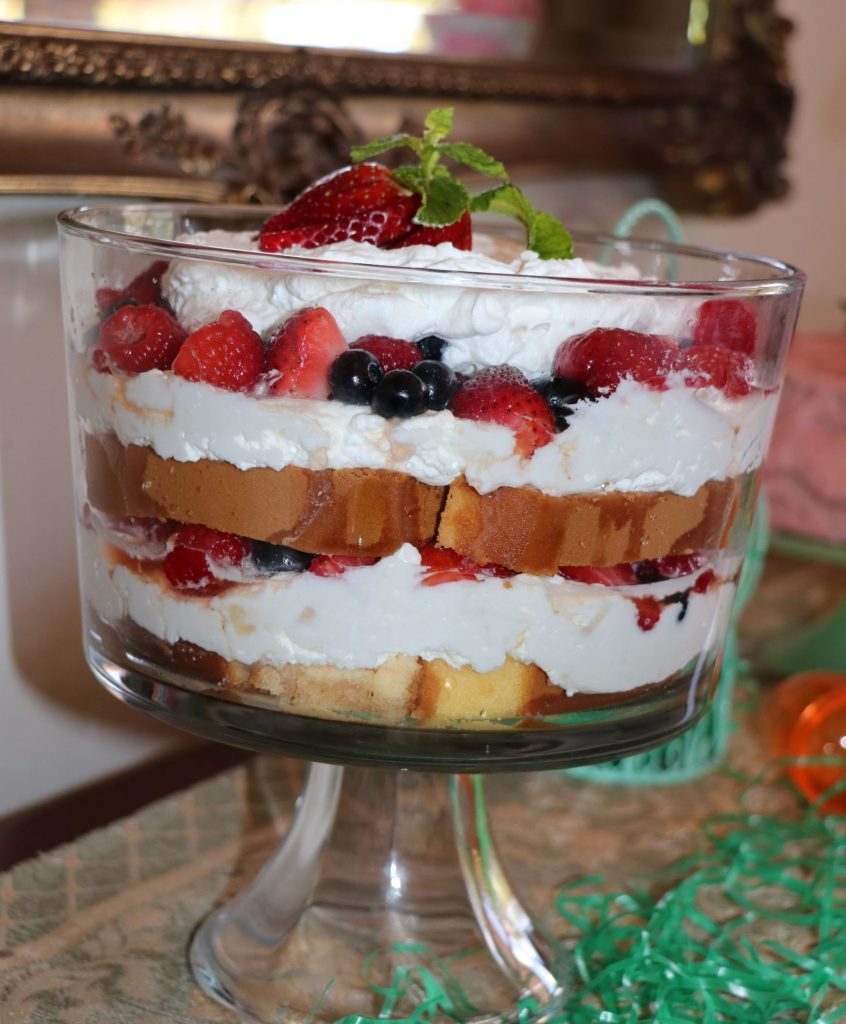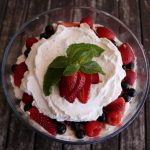 Limoncello Berry Lemon Curd Trifle
A perfect no-bake dessert that is light and easy to make. Perfect to serve in the spring and summer. Also transports well.
Ingredients
1

pound cake, sliced at 1 inch intervals

(like Sara Lee Family Size pound cake)

1

pint

Raspberries and blueberries each

1

container

strawberries, tops cut, culled and sliced in half

2

Tablespoon

granulated sugar, divided

Limoncello or Grand Marnier

1 1/2

cups

whipped cream

1

teaspoon

pure vanilla extract

1

jar

store bought lemon curd
Instructions
Slice the store bought pound cake in 1-inch intervals.

In a big glass bowl, macerate the berries by adding about 1 Tablespoon of sugar and 1/4 cup of Grand Marnier or Limoncello. Set aside for about 30 minutes.

If you are making your own whipped cream: place the mixing bowl in the freezer for about 15 minutes. Add the whipping cream, 1 Tablespoon of sugar and vanilla extract. Whip until stiff peaks form. Reserve 1/2 cup of whipped cream.

Use about 1 cup of the lemon curd and whisk it for a few seconds to loosen it up a bit. You want the lemon curd to be light when you fold it into the whipped cream. Fold the lemon curd in the whipped cream with a spatula.

Add a layer of pound cake at the bottom of the trifle bowl. Generously sprinkle Limoncello (or Grand Marnier). Add a layer of half the lemon curd/whipped cream mixture. Add another layer of half the berries with their juice. Repeat another layer.

Top with the reserved whipped cream and garnish with berries and a sprig of mint. Keep refrigerated until you're ready to serve it.