These cookies will forever remind me of my childhood home and our lovely next door neighbors, Harry and Nelly, who welcomed us with a plate of these chocolate chip cookies the day we moved in. Needless to say my sister and I ate them up and we never forgot their sweet gesture. Many generations have grown up enjoying and making these cookies so when you make them, you're not only making a solid cookie, you're also evoking countless happy memories.
This recipe has been around for a very long time and Crisco still includes the recipe on their packaging and website. I'm including it in TTF because I love them and no matter how many other recipes I make, I always come back to the cookies that reminds me of my childhood and the first cookie I baked with my daughter. These cookies bake up crisp and crunchy and they are packed with chips and nuts – what more can you ask for? While I don't usually cook with shortening, I recognize how well it works in this and other recipes. Shortening has a great shelf life, it's a great fat substitute and it should be a staple pantry item in every home.
This is an easy, uncomplicated recipe that doesn't require special equipment – just a hand-held electric mixer or a strong arm and a wooden spoon. In a Pyrex mixing bowl, add the Crisco, brown sugar, milk and vanilla extract. Cream together and then incorporate the egg. I messed up and creamed the egg with the wet ingredients and the cookies were still great!
In a separate bowl, mix the dry ingredients together with a fork or whisk to evenly distribute the salt and baking soda throughout the flour. Add the dry ingredients to the creamed egg mixture and beat together just until blended. Toss in the chocolate chips and chopped nuts. Stir with a spatula to combine and start scooping your cookie dough. The original recipe yields about 3 dozen cookies if you drop about 1 Tablespoon of cookie dough every three inches. I opted for a bigger cookie and used a 1 1/2 inch scoop for 24 cookies, six per baking sheet.
Bake the cookies in a pre-heated 375°F oven for 11-13 minutes. The recipes says DO NOT OVER BAKE (in caps) so we know it's important. The cookies will come out of the oven soft and they will fall apart if you remove them too soon. Let them cool for 2 minutes on the baking sheet, then transfer to a cooling rack. Mine usually don't make it to the cooling rack. I still love to eat them while they are warm and the chocolate oozes all over my hands. It's the best mess ever! These cookies hold up to dunking in a cold glass of milk, making ice cream sandwiches or freezing! It's great to have cookie dough in the freezer for an anytime snack – just roll it up like a log, wrap in parchment paper and plastic wrap. Slice a few 1/2 inch rounds whenever you need a little sweet something. Oh it's so good!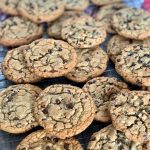 Crisco's Ultimate Chocolate Chip Cookies
Crisco's classic Ultimate Chocolate Chip Cookies is simple and everything a chocolate chip cookie should be. This is an easy recipe that yields a consistently delicious and crisp cookie.
Ingredients
¾

cup

Butter Flavor Crisco Shortening

¾ stick of Crisco Shortening

1¼

cup

firmly packed light brown sugar

2

Tablespoons

whole milk

1

Tablespoon

vanilla extract or paste

1

large egg

1¾

cups

all-purpose flour

1

teaspoon

kosher salt

¾

teaspoon

baking soda

1

cup

semi-sweet chocolate chips

½-1

cup

coarsely chopped pecans or walnuts

optional
Instructions
Preheat oven to 375°F and line two baking sheets with parchment paper.

In a large mixing bowl, cream Butter Flavor Crisco Shortening, packed light brown sugar, milk, and vanilla extract at medium speed with an electric mixer until well blended. Beat egg into the creamed mixture.

In a separate bowl, combine flour, salt and baking soda. Whisk to distribute the salt and baking soda evenly. Mix dry ingredients into creamed mixture just until blended.

With a wooden spoon stir in chocolate chips and chopped nuts.

Note: If omitting nuts, add an extra 1/2 cup of semi-sweet chocolate chips.

With a 1½ inch ice cream scoop measure six scoops per baking sheet. Bake one baking sheet at a time at 375°F for 11-13 minutes. DO NOT OVERBAKE. Repeat process until all cookies have been baked. ½

Cool for two minutes on baking sheet. Transfer to cooling rack.
Recipe Notes
Using a 1 1/2 inch scoop will yield 24 cookies.  
Original recipe suggests to drop rounded Tablespoons of dough 3 inches apart; yields about 3 dozen cookies.