Delicious homemade granola with healthy ingredients. It's just so good and so easy to make at home. All you need is a mixing bowl, a spatula, a measuring spoons & cup and a baking sheet with parchment paper. No special equipment. This is the easiest dump recipe you'll find. Once you make granola at home, you won't buy it at the grocery store.
This version has all of my favorite nuts and fruits – almonds, walnuts, dried cranberries, golden raisins and diced apricots. Use this recipe as a guide and create different variations. Change up the nuts, add seeds, use different dried fruits – the options are endless. Allergic to nuts? Leave them out and use only seeds. Try some popular seeds like sunflower, pumpkin seeds (aka pepitas), flax or sesame seeds. When you have a good basic recipe, the variations are endless.
Make sure your ingredients are fresh and have not expired. Nuts and seeds taste rancid if past their peak of freshness and baking them won't bring them back to life, it will only reinforce that rancid taste.
Dump the oats and nuts in a bowl, add the spices and toss to combine. You want them evenly distributed. Add the oil, honey or maple syrup and vanilla and toss to coat evenly. Dump onto the prepared baking sheet and spread out evenly. Bake in a preheated oven at 300°F for about 40 minutes until golden and the oats toasted. Stir the granola every 15 minutes for even color and baking since the edges and corners tend to brown first. Press the granola down with the spatula for clumpy granola. Like coconut? Add coconut flakes during the last 15 minutes of baking. If you're adding roasted nuts, add them after you removed the granola from the oven.
When the granola comes out of the oven, add the dried fruit and any roasted nuts you may have. I sprinkled a little extra brown sugar on mine, spread the fruit evenly throughout and allowed it to cool completely at room temperature – about 45 minutes to 1 hour. If you want to add chocolate chips, add them after the granola has cooled.
Note: Roasted nuts are usually salted. If your nuts are salted, reduce the salt to 1/2 teaspoon. Remember you can always sprinkle a little sea salt at the end, but you can't remove salt once you've added it.
Using clean hands, break up the granola to have a combination of crumbs and clumps. Store it in an air tight container for 7-10 days. If you want a longer shelf life, store it in the refrigerator. Granola also freezes well up to 3 months. Allow to come to room temperature for 15 minutes before serving. This recipe makes 6 cups.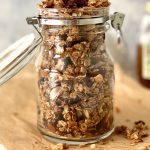 Homemade Granola
Healthy and delicious granola. Perfect with yogurt and fresh fruit, over ice cream, on salads or on its own. So easy to make and customize to dietary restrictions or preferences.
Total Time
1
hour
45
minutes
Ingredients
3

cups

old fashioned rolled oats

not instant

2

cups

raw nuts or seeds

I added almond slices and chopped walnuts

1

Tablespoon

brown sugar, packed

1

teaspoon

kosher salt

prefer Diamond brand

½

teaspoon

ground cinnamon

¼

teaspoon

ground cardamom

½

cup

honey or maple syrup

½

cup

olive oil

can also use canola oil or coconut oil

1

teaspoon

vanilla extract

1½

cups

dried fruit

I added ½ cup each of cranberries, apricots and golden raisins

optional: a sprinkling of brown sugar, 1 teaspoon
Instructions
Preheat oven to 300°F and line a sheet pan with parchment paper.

In a large mixing bowl, combine the oats, nuts and/or seeds.

Note: If the nuts are too large, you may want to chop them. I chopped the walnuts, but not the sliced almonds.

Add in brown sugar, salt, cinnamon, cardamom and toss to combine well.

Pour in the oil and honey or maple syrup and vanilla extract. Mix well until everything is evenly coated.

Dump the granola onto the prepared baking sheet and bake at 300°F for about 40 minutes or until the granola is toasty in appearance. Stir the granola every 15 minutes or so to ensure the granola is baking evenly. If adding coconut flakes, add them in the last 15 minutes of baking time.

Remove from oven and add dried fruits and roasted nuts. Stir to combine and allow to cool for an hour. If adding chocolate chips, add them once the granola has cooled completely.

Note: The granola will seem a bit wet as it comes out of the oven, don't worry. It will continue to cook slightly and dry up and set as it cools.

Using clean hands, break up the granola into crumbs and clumps. Enjoy immediately or store in an air tight container for 7-10 days. Longer in the refrigerator and up to 3 months in the freezer.
Recipe Notes
Roasted nuts should be added after the granola is baked as not to burn the roasted nuts.  Roasted nuts usually come salted.  If so, reduce the salt depending on the quantity of salted nuts you're adding.  
Coconut flakes take less time to toast so add them in during the last 15 minutes of baking. 
Recipe adapted from Megan Gordon – owner of Marge Granola in Seattle, WA