This must be the easiest and most common taco Tuesday meal in countless homes across America. For years we would just open a packet of taco seasoning, sprinkle it over some ground beef, set the fixings on the table and call it dinner. And it's delicious! Unfortunately, you're also eating maltodextrin, silicon dioxide and natural flavors – whatever that means. I like knowing what I'm eating. I'm not a die-hard health conscience person, I just like to know what's in my food and I like to cook with fresh ingredients and no imitations. So I began to make my own blend based on the combination of ingredients listed on the El Paso taco seasoning packet. With a little trial and error, I came up with a blend my family likes.
HOMEMADE TACO SEASONING
Taco Bell packets contains corn starch, salt, chili pepper, sugar and less than 2% of spice, onion and garlic powder. This was my starting point. I ended up with this blend. This is enough for a 1 pound packet of ground beef.
1 Tablespoon of chili powder, 1 teaspoon cumin powder, 3/4-1 teaspoon Diamond kosher salt, 1 teaspoon corn starch, 3/4 smoked paprika, 1/2 teaspoon each of garlic powder, onion powder, sugar, Mexican oregano and black pepper. Add 1/8 – 1/4 cayenne pepper/red pepper flakes/a few dashes of hot sauce. Whisk together and you're ready to use.
Heat a skillet over medium heat. Add a little oil to the hot skillet and place the ground beef in the skillet. Not only does the oil prevent the meat from sticking, but it also adds a little richness to very lean meats. As the meat cooks, break up big pieces with a wooden spoon. When the meat is no longer pink, drain the meat if you're not using lean meat, and sprinkle the seasoning evenly over the meat. Stir to ensure the seasoning has evenly coated the beef.
Add 2/3 cup of water, combine well and cook over medium heat until the meat is fully cooked and the water has evaporated, about 4-5 minutes.
We enjoy tacos in various types of soft tortillas and hard shells. Today we are warming up some white corn tortillas on a dry skillet and I popped some hard taco shells in the oven. My Texas friend recommended these La Tiara Taco Shells so I ordered some from Amazon. We loved them, they were thin and crispy with great texture.
Sometimes I serve the tacos deconstructed and everyone makes their own, but today I prepared them as requested and lined them up in a narrow serving platter. Toppings include Tillamook Mexican 4 Cheese blend, Pico de Gallo, thinly sliced red onion, shredded lettuce and a little Cotija cheese. I also serve jalapeños on the side for me.
I hope you enjoy making these as much as we do eating them.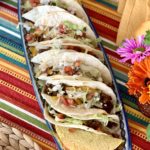 Easy Beef Tacos with Homemade Seasoning
Easy beef tacos made with lean beef and homemade seasoning. The homemade seasoning can't be beat. Serve over your favorite tortilla and top with your favorite toppings. This seasoned ground beef is also wonderful in a taco salad.
Ingredients
TACOS and TOPPINGS
1

lb.

ground beef

prefer lean beef like sirloin

1

taco

seasoning mix, recipe below

⅔

cup

water

10-12

your favorite tortilla shells, soft or hard

shredded cheese

prefer Tillamook Mexican 4 cheese blend

Pico de Gallo or diced tomatoes

thinly sliced red onions

shredded lettuce

Cotija cheese
HOMEMADE TACO SEASONING
1

Tablespoon

chili powder

1

teaspoon

cumin powder

1

teaspoon

corn starch

¾ – 1

teaspoon

kosher salt

prefer Diamond brand, don't use table salt

¾

teaspoon

paprika

½

teaspoon

garlic powder

½

teaspoon

onion powder

½

teaspoon

sugar

½

teaspoon

Mexican oregano

½

teaspoon

black pepper

⅛-¼

teaspoon

cayenne powder, red chili flakes or hot sauce
Instructions
MAKE THE TACO SEASONING
In a small bowl, combine all the seasonings.
COOK THE TACO MEAT
Heat a skillet over medium heat. Add a little oil to coat the pan and place the meat in the pan. Using a wooden spoon, begin to break up the meat.

When the meat is no longer pink, drain the fat (if not using a lean meat) and evenly sprinkle the taco seasoning over the ground beef. Stir to ensure the meat is evenly seasoned. Add 2/3 cup of water and cook until the liquid had evaporated, about 5 minutes. Remove from heat and assemble your tacos.
TACO ASSEMBLY
Warm your soft or hard shell tortillas and add a scoop of seasoned ground meat. Top with your favorite toppings and enjoy.
Recipe Notes
Pico de Gallo
2 1/2 cups of diced tomatoes, seeded and evenly chopped
1 cup red onion, finely chopped
1/2 cup fresh cilantro, finely chopped
1/2 cup fresh lime juice
1 teaspoon kosher salt (prefer Diamond brand)
1/2 teaspoon black pepper
a few dashes of hot sauce, to taste 
Combine all ingredients in a glass mixing bowl with a spatula. Taste a reseason, as needed.  Cover and refrigerate at least 30 minutes before serving.