Oh ceviche!! The ancient art of cooking food in citric acid shows us that some methods are best left alone. Ceviche is one of those foods that has gained global popularity. Every country throughout Latin and Central America, the Caribbean and Europe has their own recipe, so feel free to experiment and add your favorite ingredients. This simple shrimp ceviche is made with avocado and jalapeños, making it a Mexican-style ceviche. What a great and delicious appetizer that's easy to make!
HISTORY
It was said the Spanish brought the process of cooking seafood and meats in acid to Peru, but archeologists have found evidence dating pre-Hispanic period as far back as 2,000 years ago. The actual word ceviche has various spellings – ceviche, cebiche, seviche, sebiche and escabeche, and it is derived from an Arabic word meaning "to cook in vinegar". This cooking method is called denature and it's a chemical process that makes raw fish safe to eat. Corvina or sea bass are traditional types of fish used in Peru and they are combined with key lime juice, onions, chili peppers, salt and pepper. You can use any white fish such as mahi-mahi, tilapia, flounder, cod, kingfish and snapper. Scallops are also great in ceviche. Today I'm making mine with Key West shrimp from Whole Foods.
Note: While citrus "cooks" the seafood, it doesn't kill parasites like traditional cooking methods do. In all the research I've done, it's recommended to use commercially flash-frozen fish or sashimi grade fish from a reputable seafood monger – let them know you're making ceviche. Commercial companies flash freeze seafood in as low as -4 degrees and this properly kills the bacteria making it safe for us to consume. If you have any health concerns, speak to your doctor before consuming any raw fish or fish cooked in acid.
HERE'S HOW I MADE IT
In a non reactive bowl, combine 1 pound of shrimp (peeled & deveined, about 60-70 count per pound) with kosher salt, black pepper, zest of two limes and juice and zest of two lemons. Mix well to combine and add enough lime juice to cover the shrimp. You'll need about 10-12 limes since you'll need about a cup of lime juice. Cover in plastic wrap and refrigerate for 45 minutes.
Note: Exposed shrimp can't "cook" in citrus, it must be covered by the juices. The freshest produce makes all the difference here. Don't cut corners and use pre-diced packaged produce from your grocery store.
While the shrimp is "cooking", prepare all the other ingredients and combine in a bowl. You'll need 1/2 cup of diced tomatoes. I used vine-ripe tomatoes and sliced the flesh away from the core, removed the seeds and finely chopped the flesh. You could also use cherry tomatoes. One jalapeño works best, but add according to personal taste. If you don't like a lot of spice, add only half a jalapeño. Remember the heat is in the seeds and ribs, and don't rub your eyes when handling this pepper. I love English cucumbers, also referred to as European or Hot House cucumbers – they barely have any seeds. Quarter a third of a cucumber and thinly slice each half and add to the bowl. Thinly slice about a quarter of a red onion. Red onions have a sharp bite so it's important to slice them paper thin to reduce any one ingredient overpowering another. Finally, chop 3-4 Tablespoons of cilantro and add to the bowl.
When the shrimp is done "cooking", add the fresh vegetables and herb to the ceviche and mix well to combine. Cover and allow the flavors to marry for an additional 15 minutes. Optional: If you like more heat, add a pinch of red pepper flakes or a few dashes of hot sauce. You could also set the red pepper flakes or hot sauce on the table for your guests. Just before serving, finely dice a Hass avocado. Season with a pinch of kosher salt and pepper and toss to combine with the ceviche. The avocado adds a creamy and rich texture that provides a wonderful contract to all the spicy and tart notes.
Transfer the ceviche to the serving bowl and add as much or as little citrus juice you like. While it was important for the citrus to cover the shrimp while "cooking", it's not necessary to serve with so much liquid. Some folks prefer a dry ceviche. Serve plenty of corn chips on the side to scoop all the delicious ceviche for a perfect bite!
This was absolutely delicious and refreshing on a hot day in south Florida. It was almost 90°F. The shrimp was tender and the vegetables retained their crunch. The bright and tart citrus notes provided perfect contrast with the creamy avocado. Add the crunch from the chip and it was just perfection! I will raise my hand for ceviche any time of the day!
Note: The next day I tossed what little remained over some lettuce and it was delicious. The shrimp was more pickled, but still fresh and delicious. Don't keep ceviche past two days, fresh is best.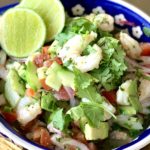 Simple Shrimp Ceviche with Avocado
A quick and easy ceviche that's refreshing and delicious. It's a great appetizer to enjoy with chips and a Margarita, Paloma or cold beer.
Total Time
1
hour
5
minutes
Ingredients
1

lb.

raw shrimp, peeled and deveined (60-70 count)

purchased mine at Whole Foods

1 ½

teaspoons

kosher salt

prefer Diamond brand

½

teaspoon

ground black pepper

2

limes

zested

2

lemons

juiced and zested

about 1

cup

of lime juice, about 10-12 limes

enough to cover the shrimp and cook in the acid

½

cup

plum or vine ripe tomato, seeded and diced

about 1-2 tomatoes, depending on size

½ – 1

jalapeño, seeded and ribs removed, finely diced

add according to taste

⅓

hothouse cucumber, quartered and diced

¼

red onion, finely sliced

3-4

Tablespoons

fresh cilantro, chopped

1

ripe Hass

avocado

season avocado with a pinch of kosher salt and black pepper

optional: hot sauce, to taste
Instructions
In a non-reactive bowl, combine shrimp, kosher salt, black pepper, zest of two limes and juice and zest of two lemons. Add about 1 cup of lime juice, enough to cover the shrimp. This make take 10-12 limes. Cover with plastic wrap and refrigerate for 45 minutes.

Note: shrimp should have an opaque color when done "cooking". I used 60-70 count shrimp so I wouldn't need to dice the shrimp. If making white fish or scallops, slice pieces in 1/2 inch slices.

In a separate bowl, combine diced tomatoes, diced jalapeño, diced cucumber, sliced red onion and fresh cilantro.

When the shrimp is ready, add the vegetables and herb and toss to combine. Wrap in plastic wrap and refrigerate for an additional 15 minutes so all the flavors marry.

Optional: add a pinch of red pepper flakes or a few dashes of hot sauce for an extra kick.

Just before serving, cut Hass avocado in small cubes, season with salt and pepper and combine with ceviche. Transfer to a serving bowl and add as much or as little citrus juice as you like.

Serve with tortilla chips or lettuce cups. Enjoy!
Recipe Notes
GENERAL GUIDE:  Depending on the size and thickness of your seafood, you will need from 30 minutes to 1 hour to properly "cook" the seafood.  The seafood must be covered by citrus juice in order to be "cooked" – exposed seafood will not be cooked and can pose a potential health risk.    After 2 hours, you begin to pickle the seafood.  
Ceviche is safe to eat up to two days.  Discard after two days.