Inspired by the Smoked Brisket Nachos from El Camino Mezcal & Tequila Bar in Fort Lauderdale, I set out to make a batch of my own. The nachos at El Camino stack tortilla chips with pinto beans, shredded brisket, Jack cheese and all the toppings! It's amazing and the brisket is delicious. Because my version is a small batch, I wasn't going to make an 8-12 pound brisket so I went to Whole Foods and purchased a pound of brisket from their prepared hot food section. It was the perfect amount and a great time-saver, making these nachos very easy.
HERE'S HOW I MADE THEM
Preheat the oven to 350°F and set the oven rack in the middle position. Spread your tortilla chips on a baking sheet and set aside. Shred the meat, discarding fatty bits and fibers. Warm it up in a skillet over medium heat and add a tablespoon of Sweet Baby Ray's BBQ sauce, mixing well to combine. I love this BBQ sauce, it's been my go to for years. Shredding the brisket was the most time consuming part of these nachos, but it sure beat cooking a large brisket. While the brisket warms through, heat up a can of refried beans over medium heat.
Note: I love these Santitas tortilla chips. They have a wonderful and authentic corn taste and crispy snap.
Add some Ortega Taco Sauce to the beans and stir until it's all combined. I find canned beans a bit bland and taco sauce adds a little extra flavor. Sometimes I also add a few dashes of hot sauce.
Once combined, generously top the beans with Tillamook Mexican 4 Cheese shredded mix, reduce the heat to low and cover. The heat will melt the cheese. This cheese's meltability qualities are wonderful! Not only is it delicious, but it has a lovely silky texture when it melts.
By now the brisket and refried beans are hot and ready to go. Pop the baking sheet with tortilla chip in the oven and bake for 4-5 minutes just to warm through. Remove them from and immediately begin to layer your nachos. Use half of the chips as the base layer. Using a spoon, add some refried beans with melted cheese over the tortilla layer along with some jalapeños and pico de gallo. I like to have some toppings in the center as well. Layer the remaining half of tortilla chips on top and evenly distribute the shredded brisket meat over the nachos.
Add more cheese and pop back in the oven for a minute, just until the cheese melts, then load the nachos up with all the delicious toppings. I added shredded lettuce, homemade Pico de Gallo, homemade Guacamole, sour cream, sliced scallions, sliced radishes, sliced jalapeños and crumbled Cotija cheese – because one cheese just wasn't enough. It was so delicious! My family couldn't get enough of this dish! Next time I hope to smoke a brisket myself and set some meat aside just for these nachos! I'll keep you posted. Until then, I hope this inspires you to make your own brisket nachos! Enjoy!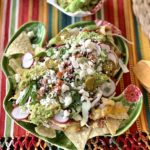 Easy Brisket Nachos
The most delicious beef brisket nachos piled high with all your favorite toppings! Perfect for any cinco de mayo celebration with friends and margaritas!
Ingredients
1.5

lbs

beef brisket

from Whole Foods prepared hot food section

1-2

Tablespoons

BBQ sauce

prefer Sweet Baby Rays

1

bag

tortilla chips

your favorite brand

1

can

refried bean

your favorite brand

3-4

Tablespoons

Taco Sauce

prefer Ortega brand

1

8-ounce bag

shredded cheese

prefer Tillamook Mexican 4 Cheese blend
TOPPINGS SUGGESTIONS
shredded iceberg lettuce

Pico de Gallo, recipe below

Guacamole, recipe below

sour cream

sliced jalapeños

sliced scallions

sliced radishes

sliced black olives

Cotija cheese, crumbled
Instructions
Preheat oven to 350°F and position oven rack in the middle. Spread tortilla chips on a baking sheet and set aside.

Shred beef brisket and discard any fat bits and connective tissue. Combine shredded beef with BBQ sauce and warm through on a skillet over medium heat.

In a separate skillet, combine a can of refried beans with taco sauce. Warm through over medium heat and top with half the shredded cheese. Cover with lid and simmer over low heat until cheese has melted.

Bake tortilla chips for about 5 minutes until warm.

Layer half of the tortillas on the serving platter and dollop the refried beans and cheese. At this point you can add some toppings such as jalapeños, scallions, onions, etc.

Layer the remaining tortillas and shredded beef brisket. Top with remaining cheese and place in the oven for 2 minutes, just until the cheese melts.

Add all your favorite toppings and serve immediately.
Recipe Notes
PICO DE GALLO
2 1/2 cups of diced tomatoes, seeded and evenly chopped
1 cup red onion, finely chopped
1/2 cup fresh cilantro, finely chopped
1/2 cup fresh lime juice
1 teaspoon kosher salt (prefer Diamond brand)
1/2 teaspoon black pepper
a few dashes of hot sauce, to taste 
Combine all ingredients in a glass mixing bowl with a spatula. Taste a reseason, as needed.  Cover and refrigerate at least 30 minutes before serving. 
GUACAMOLE
 3 Hass avocados, halved 
1-2 limes, juices (maybe three depending on size) 
1 teaspoon Diamond kosher salt 
1/2 teaspoon fresh ground black pepper 
1/2 cup red onion, finely minced 
2 plum tomatoes, finely chopped, seeds and liquids removed 
1 garlic clove, grated in a rasp
Place avocado halves in a bowl and add the lime juice, salt and pepper.  Using two dinner knives, cut the avocados until you have a chunky and creamy combination. Add the remaining ingredients and fold with a spatula until well combined.  Prior to storing, add a little lime juice on top to prevent browning.  Cover with plastic wrap and press down against the avocado, removing any air pockets. Refrigerate at least an hour so the flavors marry.