Hosting can be both fun and stressful, but with a little planning and realistic expectations, your party can be a success. Remember the number one rule in planning is K.I.S.S. (keep it simple stupid). Simple, casual, relaxed are common denominators of any great party. For gatherings like a football games or graduations, I prefer a grazing table with lots of tiny bites. I just love variety. I'm sharing below a few tips that have worked for me over the years. I hope they help you too.
CALCULATE HOW MUCH FOOD YOU'LL NEED
A catering rule of thumb is to allow 6 appetizers per person at a dinner party and 10-12 per person at a cocktail party. It is estimated guests eat 5-7 appetizers in the first hours and 2-4 in the second hour. I also like to serve at least 4 hot options with a few cold, not including dessert. After all, variety is the spice of life! Give your guests grazing options, they will love you for it.
Note: I find these catering numbers very generous. If I eat six appetizers, I'm skipping dinner, but you need to know your guests. If you're inviting your son's football team over to watch the game, 12 bites per person may not be enough. Know your audience.
CREATE FLOW, VISUAL INTEREST AND SEATING AREAS
Whenever possible, set the grazing table in the center of the space so your guests can walk around the table. This helps create flow and eliminates a food line or bottleneck. Have a place designated for every appetizer you'll be serving. You don't want to be scrambling at the last minute and shifting food around. If friends are bringing items, plan on providing a serving utensil. I find they remember the dish and forget the serving spoon or tongs. If you can, use tiered serving trays to create height and visual interest. This makes for a more pleasing table. Cake stands are also great to use and it gives you added space to tuck in a tray below.
When possible, create a separate station for drinks away from the food. This will help distribute guests throughout the space. Keep plenty of ice on hand, sometimes in a separate cooler and have plenty of bottle openers, shakers, etc. While some are getting drinks, others can be plating food.
Have enough seats for your guests. If you invite 10 guests, have seating for 10 guests. You don't want to be playing musical chairs indoors or breaking up the party if everyone is there to watch the game and eat simultaneously. My only exception would be if you have a patio area. People love to spill over into green spaces, especially in Florida where it's doable year-round. Green spaces allow people to come and go even during a game.
When plan your menu, be honest about your skills in the kitchen. Now's not the time to try a new recipe. Make some, buy some and focus on presentation, ambiance and just having a good time. Accept help when offered and request it when needed. Here's the scratch-made menu I put together with a store-bought option below.
SUPER BOWL GAME DAY SCRATCH-MADE MENU
Cubano Style King's Hawaiian Sliders – ham, pork and Swiss cheese with mustard, pickle chip on a buttery roll and baked in a butter mustard and onion sauce.
Kansas City Style Pulled Pork Sliders – pork butt seasoned with a Kansas City rub and cooked in a crock pot for hours low and slow. Topped with store bought coleslaw and served on a brioche bun.
Note: Takes the longest to make between the marinating overnight and extended crockpot cooking time.
Southwestern Egg Rolls with Avocado Ranch Dipping Sauce – chicken, black beans, sweet corn, red onion, red bell pepper, jalapeño jack cheese and taco seasonings rolled in an egg roll wrap and fried until golden. Served with a Hass avocado ranch dipping sauce.
Assorted Dip Board – Pico de Gallo, Guacamole, store bought Smoked Fish Dip and store bought Spicy Conch Dip served with Carrots, Celery, Chips and Crackers
Best Ever No Bake Key Lime Pie – the easiest no-bake pie that packs a punch of flavor. I love the crunchy crust contrasted by the creamy and tart key lime filling. A match made in heaven.
Assorted Beers & Beverages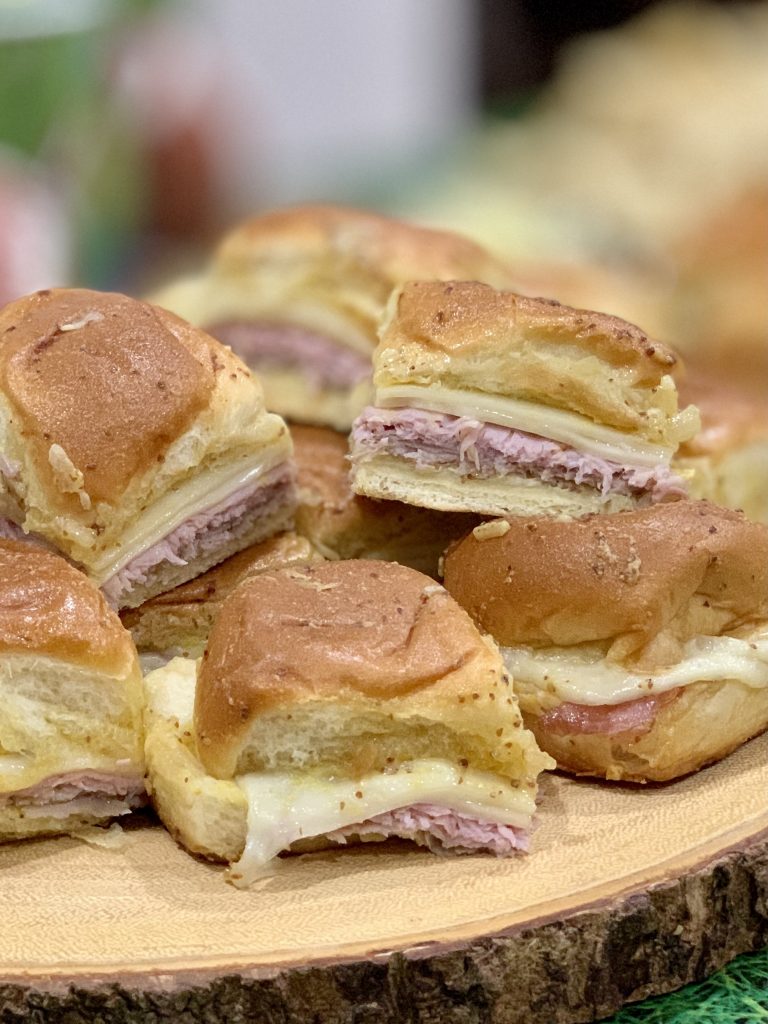 SAME MENU WITH STORE BOUGHT OPTIONS:
Cubano Sliders – Buy a few large Cuban sandwiches, slice and serve if you can't order a platter already made. You can order a Cuban Sandwich platter from the deli department at Publix, a Florida based grocery chain in seven southern states.
Note: Substitute Cuban Sandwich for Italian, Philly Cheesestake subs or your favorite sub combo.
Pork Sliders – Buy roasted pork from a local BBQ place or grocery store that has a food-by-the-pound section, mix with your favorite BBQ sauce and serve them on slider buns with store bought coleslaw.
Southwestern Egg Rolls – Check the freezer section for already made egg rolls. The freezer section has a wide selection of appetizers. Note: Mozzarella sticks are also a great option and you can bake them in the oven.
Assorted Dip Board – buy all dips already made along with assorted chips, crackers and pre-sliced vegetables. Note: A cheese platter or board is also a great cold appetizer option for any party.
Best Ever No Bake Key Lime Pie – make the filling using ready made whipped topping and purchase a graham cracker crust. You could also buy a pie at the bakery.
THE DAY BEFORE
Do as much as you can the day before so you're relaxed and stress-free. Take a look at your menu and do any food prep, sauces or desserts you can make ahead of time and get organized. It's much easier to pull a bag of pre-cut celery sticks than to begin cutting when guests are there. If you're having the food catered, confirm delivery times. Set any decorations out, if applicable and double check your food and drink stations.
Set out the plates, utensils, glasses and napkins. Clean the entertaining areas plus the bathroom your guests will use, but not a deep cleaning – the big clean up comes after the party. Make sure the bathroom is well stocked and do a cleanliness check throughout the party.
TAKE IT EASY
As you take care of your guests, don't forget to take care of yourself. Allow yourself time to relax and decompress before your guests arrive. You set the tone for your party. If you're not relaxed, your guests won't feel relaxed either. At the end of the day, remember that entertaining is all about sharing and connecting with the people we love around good food. Rarely do we remember the food served, but we always remember how we felt. If you treat your guests, as you would like to be treated, your guests will enjoy themselves. And should disaster strike, take it in stride and roll with the punches.