Gingerbread spice mix is an essential ingredient in many German Christmas recipes dating back to the Middle Ages. It's called Lebkuchengewuerz and it is made of up nine spices, representing the perfect praise of God! In autumn, German stores begin to stock all the holiday baking ingredients and spice mixes. By fall, they are sold out and the Christmas baking season is in full swing.
While there's nothing wrong with buying already made gingerbread spice mix, I love to make my own spice mix at home so I can control the quality and quantity of the ingredients I'm using. I use already ground spices, but you can toast and grind your own if you prefer. This gingerbread mix is lovely in cookies, cakes, scones, pies and any recipe you would use pumpkin pie spice mix!
Traditional ingredients are cinnamon, cloves, nutmeg, allspice, ginger, coriander, cardamom, anise and fennel seed. Small amounts of star anise, black pepper and mace are sometimes added as each baker makes their own mix and there isn't a standard mixture. So with that in mind, feel free to add or leave out any specific spice.
Happy baking!
Note: Make sure your spices are not expired. I ground my anise seed in a mortar and pestle because I couldn't find it already ground. If you can't find a spice in your local grocery store or Whole Foods, try Amazon.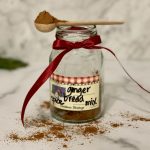 German Gingerbread Spice Mix (Lebkuchengewuerz)
A traditional German gingerbread spice blend that is used to bake classic dessert during Christmas.
Ingredients
2 ½

Tablespoons

ground cinnamon

1 ½

teaspoon

ground cloves

½

teaspoon

ground nutmeg

½

teaspoon

ground ginger

½

teaspoon

ground all spice

½

teaspoon

ground cardamom

½

teaspoon

ground coriander

½

teaspoon

ground anise seeds or star anise

¼

teaspoon

ground mace
Instructions
Whisk all the ingredients together until well blended and store in an air tight container. Spice mix will keep up to one year. I make this mix early fall so it's ready for the holiday baking season.
Recipe Notes
If baking more than two recipes, make a double batch.