Christmas is the most wonderful time of the year and I love to gather with family and friends and share in the joyous spirit of the season. What better way to gather than for a simple afternoon break from the commercial bustle and relax, sip a cup of tea, eat a refreshing snack and be in great company? Time is suspended and a cup of tea can melt your troubles away.
Tea parties are so special and one of my favorite gatherings to plan. There is an air of sophistication, refinement and elegance. After all, tea parties were for England's ruling class and made popular by the queen. What's a trip to the United Kingdom without a sitting for tea? In this post I'll share with everything about my Christmas Tea Party along with previous posts you may find helpful as you plan your perfect tea party.
HERE'S MY INSPIRATION
I love fine bone English china and I've been collecting various designs since 2018 when I began to plan my mom's A Royal Afternoon Tea Party. I fell in love with Royal Albert Poinsettia pattern (sometimes labeled Yuletide) with it's beautiful poinsettia flowers and gold trim, and with Rosina-Queens Yuletide pattern with holly berries, pine cones and gold scalloped trim. Since I don't have all the pieces for each pattern, I combined both to create this beautiful table.
A DAY OR TWO BEFORE
Give yourself some time to set the table. I like to do it a day or two ahead of time. Sometimes the linens need ironing and it takes some to pull decorations or set the table. You can't do everything the day of so don't stress yourself. Plan ahead and solicit help whenever possible. Here's my pre-set table with the Christmas decorations and placement.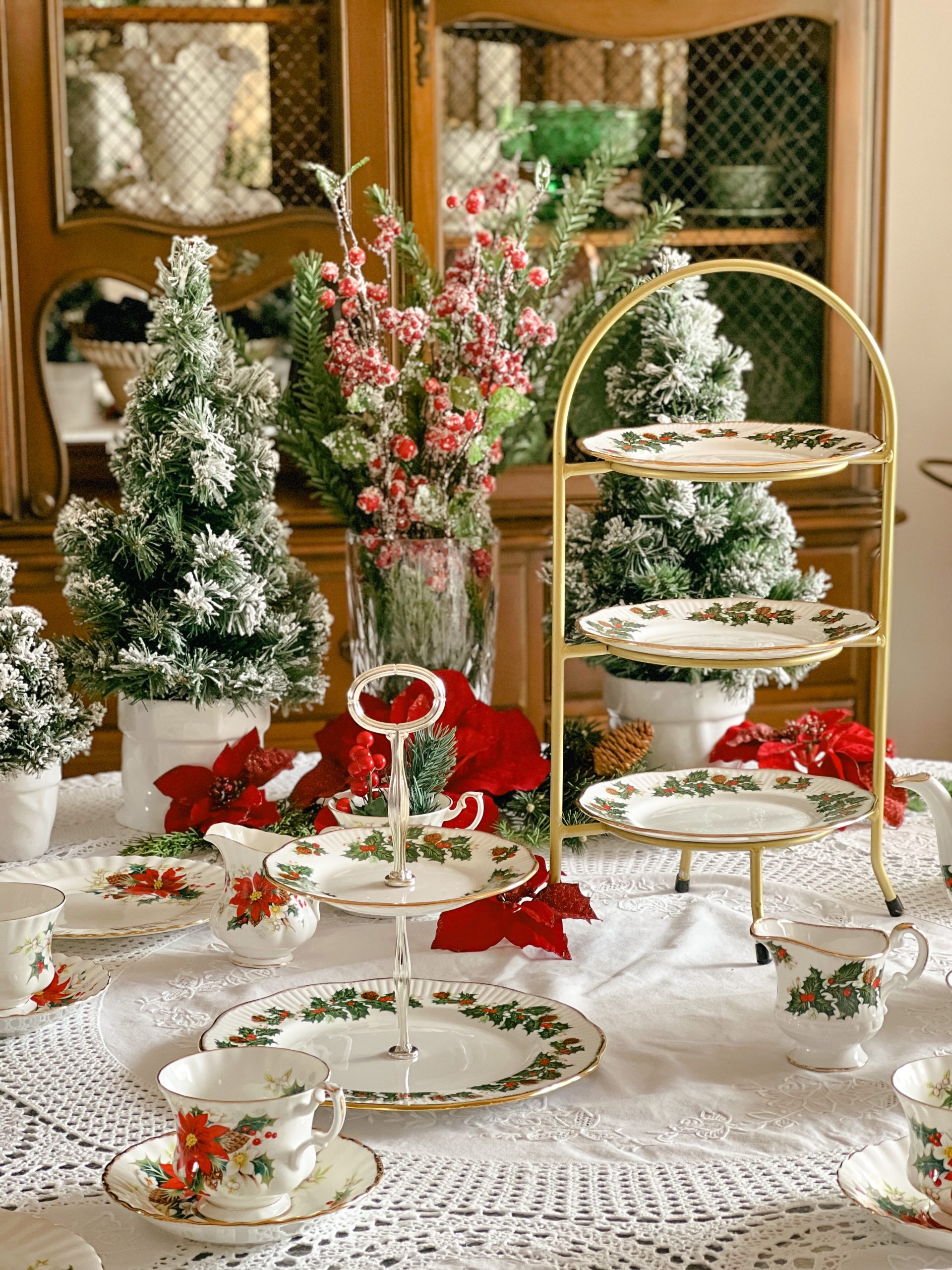 MENU
You have so many options and whatever you choose, make it stress free – especially during the holidays. I didn't make everything myself for this tea party. Instead I made some, took a few short cuts and purchased some. Here's what I served:
Assorted English Tea Sandwiches are just a few options and the ones I made for this tea party. Buying prepared foods like chicken salad was a huge time saver and cut down my time in the kitchen.
Classic Cream Scones the best plain cream scone you'll every enjoy! This recipe yields 12 and bakes in 10 minutes, so it's perfect for a small party. Don't forget to serve with Clotted Cream and your favorite jam. I love Bonne Maman and Braswell's.
Citrus Posset is a lovely lemon and orange flavored set cream that's done in no time. A true English dessert.
Assorted mini desserts were all purchased at the local grocery bakery. I didn't even order ahead. Perfect.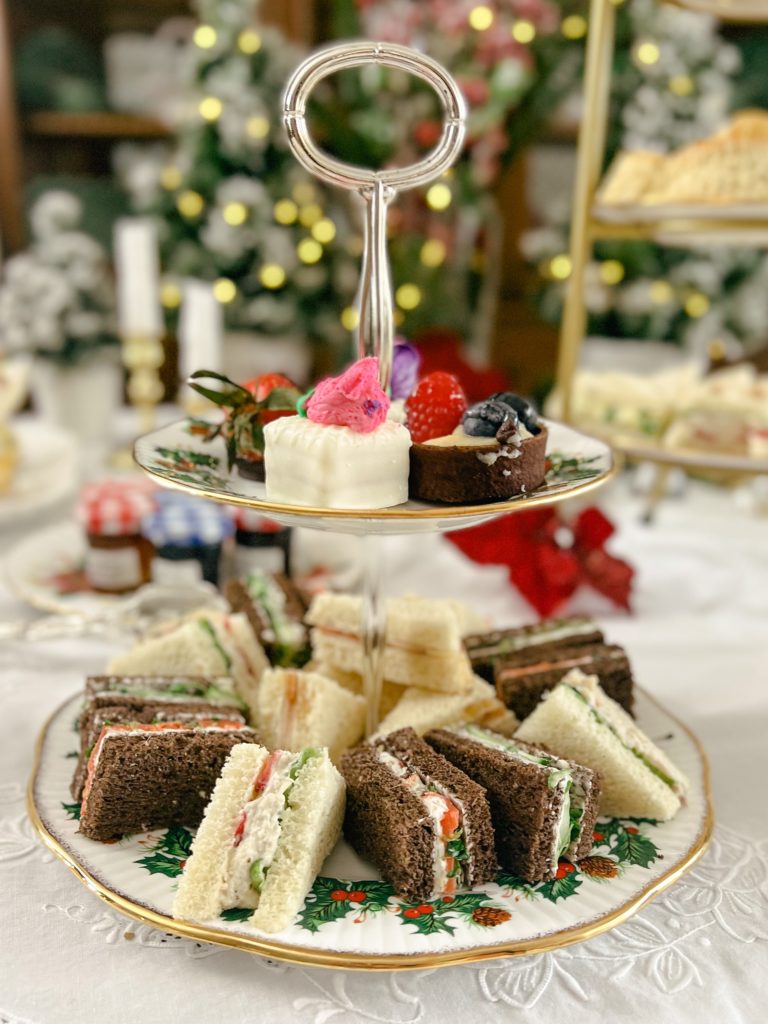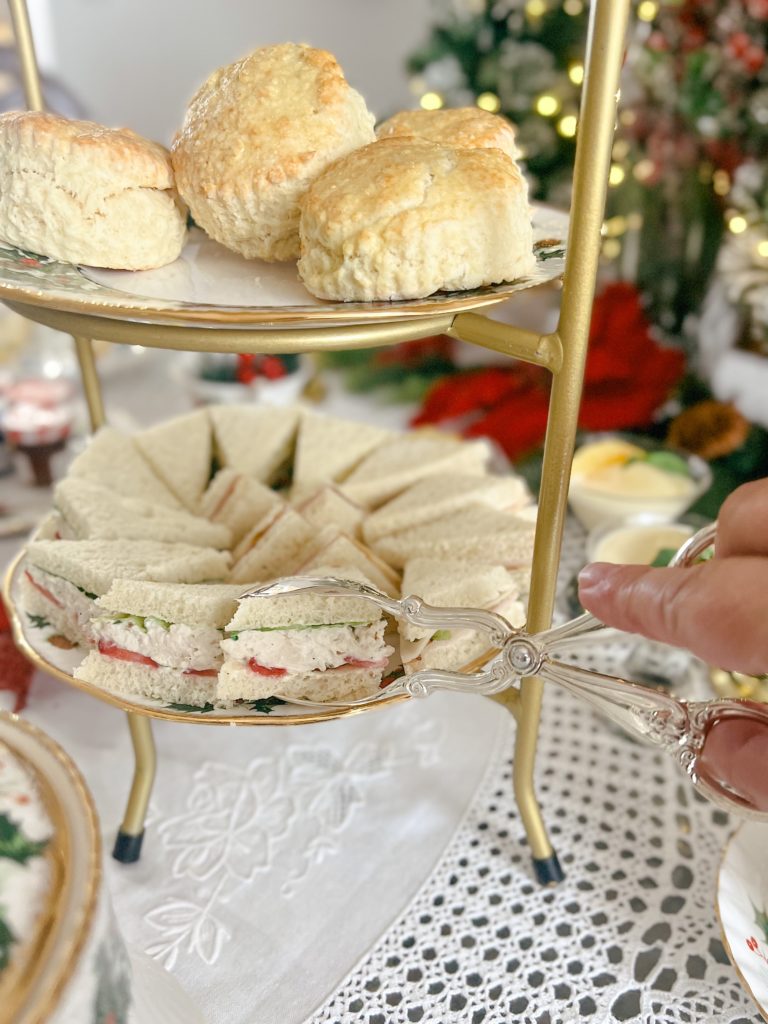 The devil is in the details and when it comes to tea parties, those little details are important. Because I like loose leaf tea, I made sure every guest has a tea strainer so they didn't end up with leaves in their tea. Serving utensils are necessary even thought the food is finger food. No one should reach over and grab. I love these Gorham Heritage pastry tongs. I sourced mine on eBay.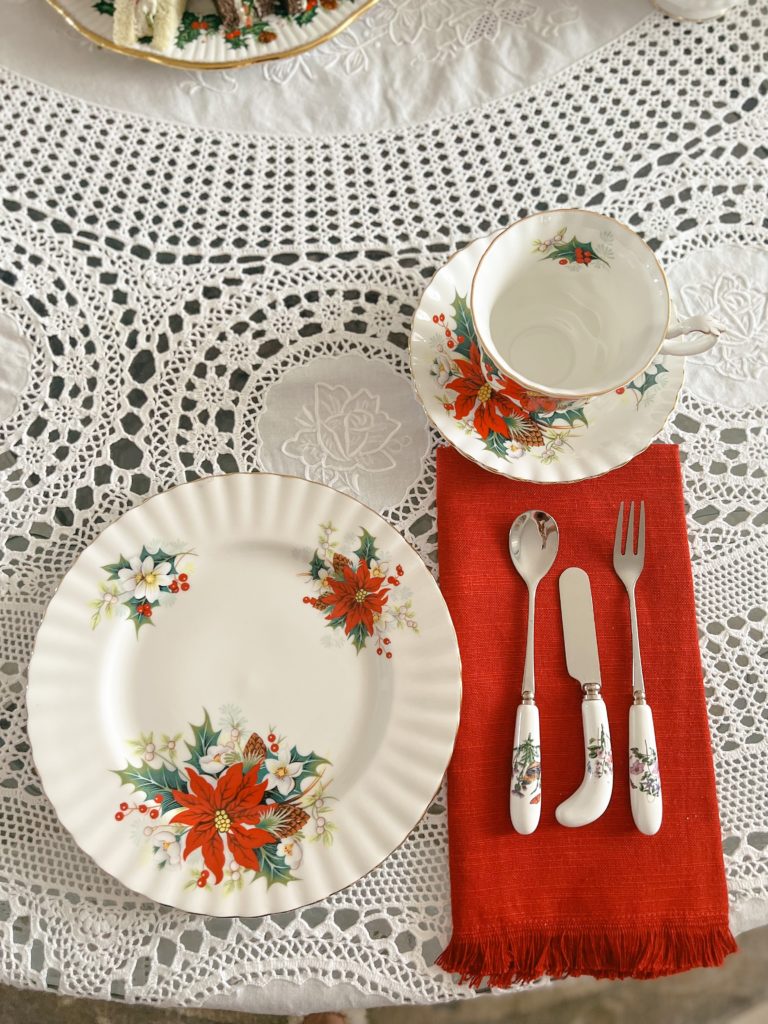 Typically, the napkin goes to the left, but I decided to place it on the right and set the silverware over it so they could pop against the red napkin and not get lost on the table. These Portmeirion Botanical Gardens tea flatware are small and dainty.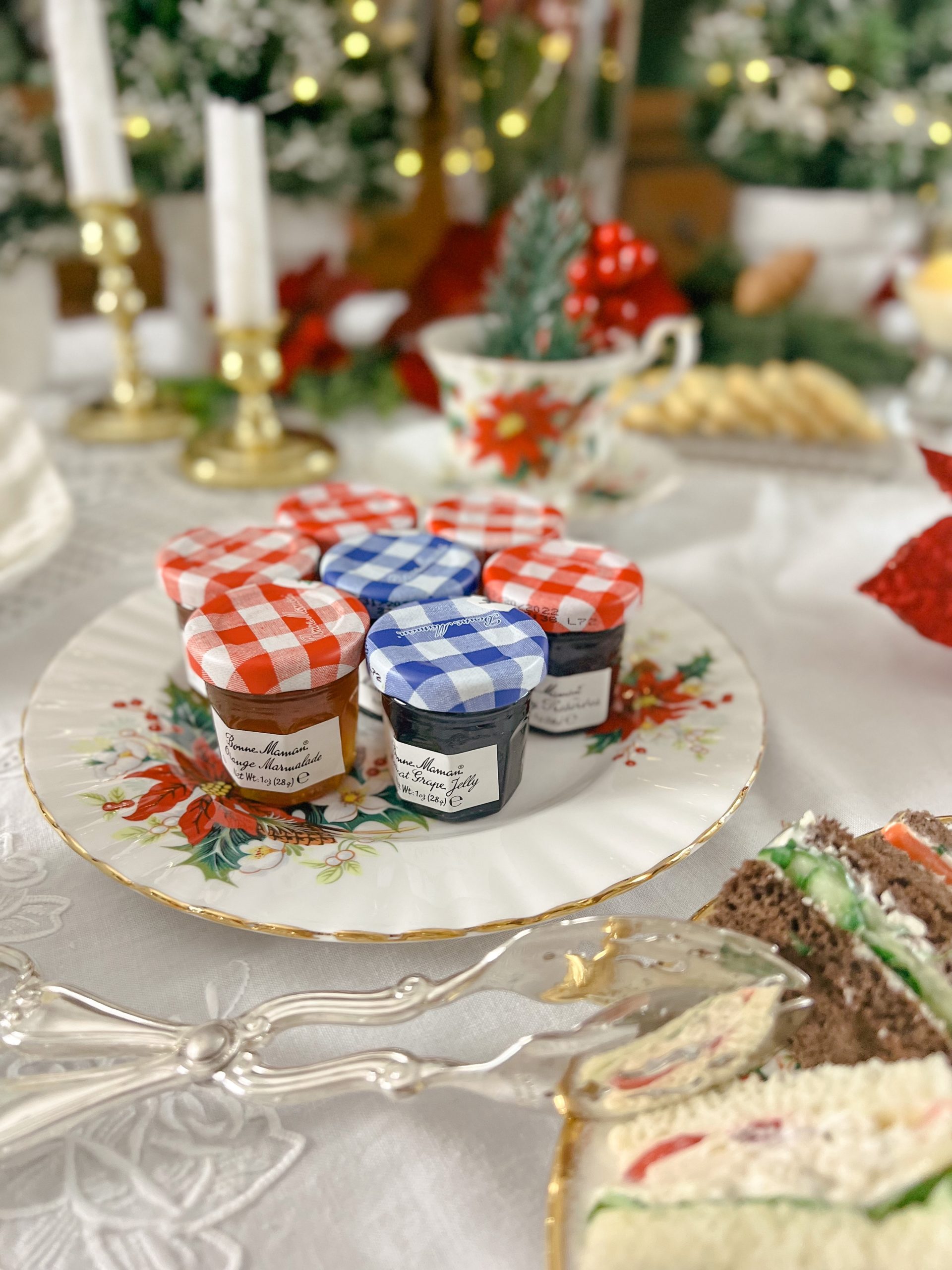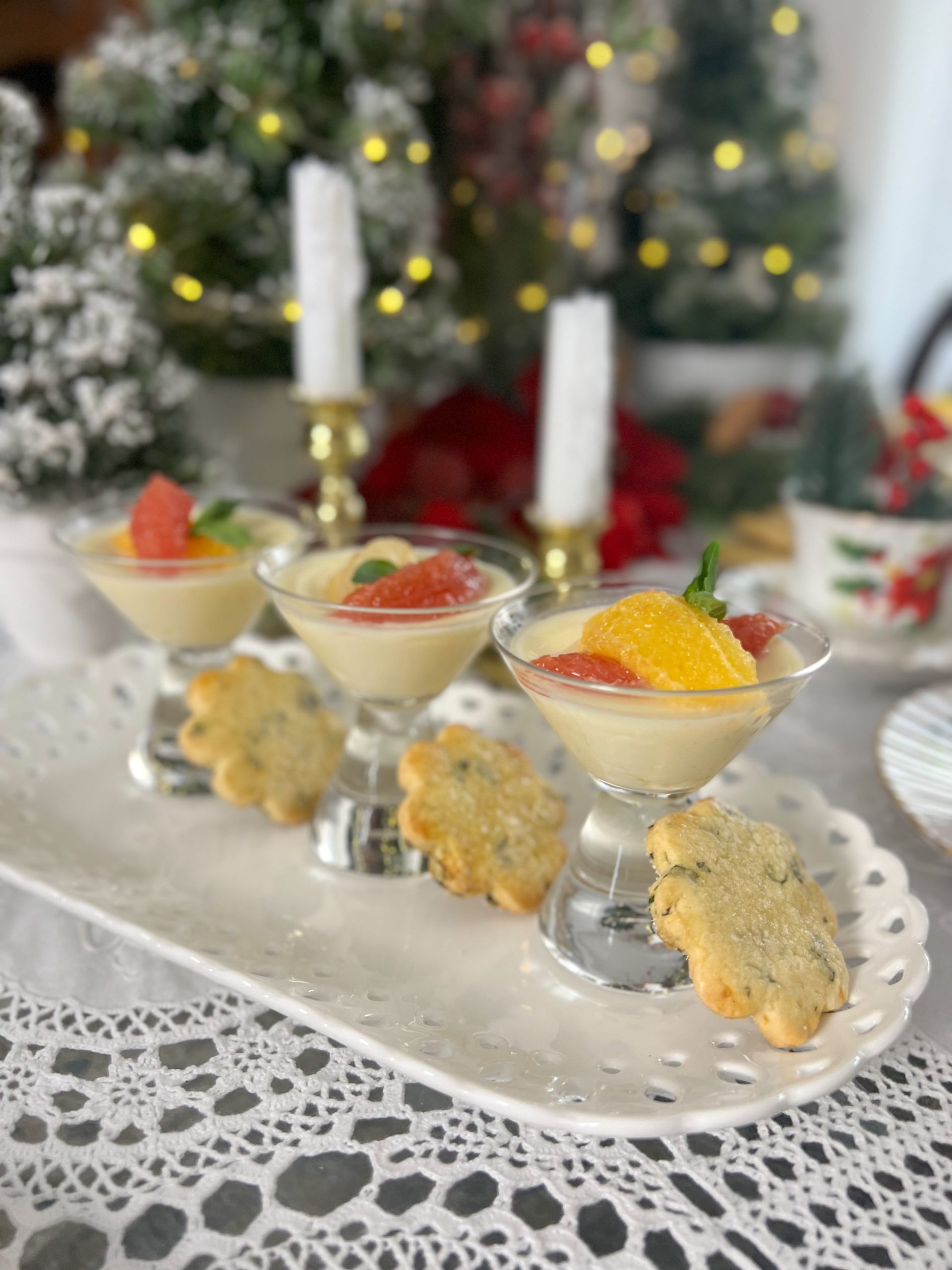 HELPFUL POSTS
I've researched and compiled a great deal of useful and helpful information regarding tea parties as I planned my mother's A Royal Afternoon Tea Party.
Afternoon Tea – Presentation & Etiquette learn all about the various ways to enjoy tea throughout the day along presentation, proper tea table etiquette and more.
Tea Sandwiches Q & A learn how to properly make a tea sandwich without it going soggy.
Afternoon Tea Party – DIY Projects & Decor sharing my various small DIY projects to create items I couldn't find.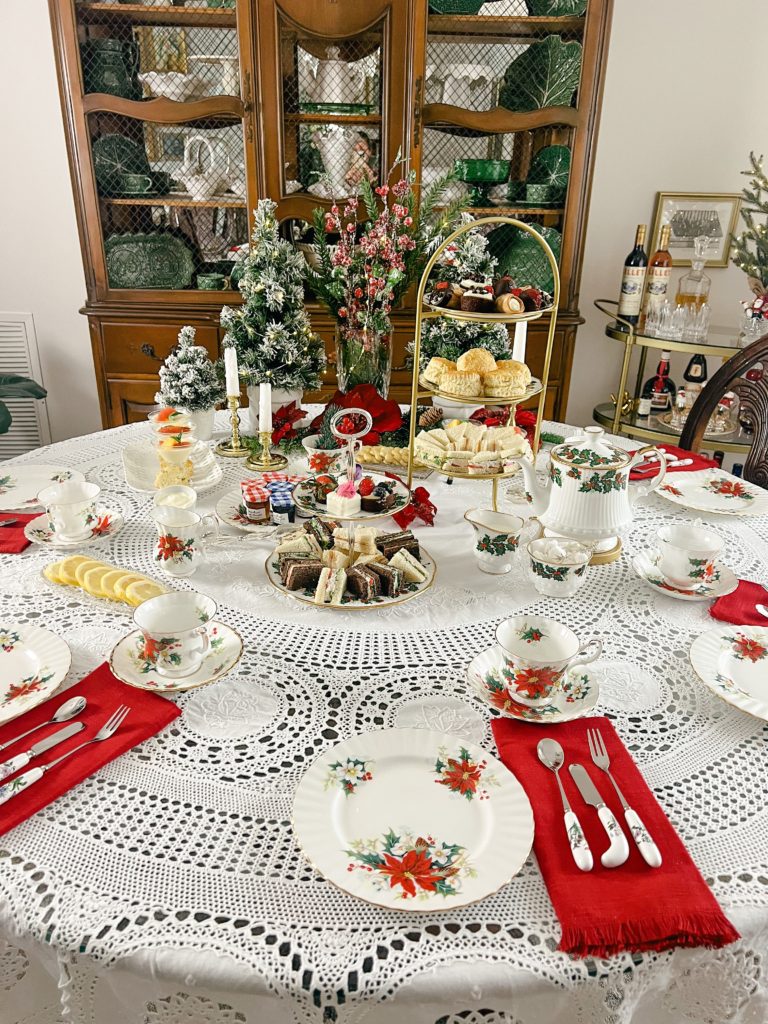 I hope you draw inspiration and a few ideas to host your own tea party. It doesn't need to be fancy and the china doesn't need to match. Hosting is all about the willingness to open your home and share time with family and friends. Leave a comment below if you liked this post. I would love to hear how your tea party turned out.
Merry Christmas!