Twenty nine years ago, Santiago Rivera, owner of La Viña in San Sebastian, Spain, created the Basque Burnt Cheesecake for the patrons at his bar. The cheesecake has gained popularity throughout the years and now tourists are known to pack the bar like sardines just to get a taste of the famous dessert. It's a crustless, creamy "burnt" marvel that doesn't require a water bath! It's become so famous that chefs like Dominique Ansel are going to San Sebastian, Spain to learn how to make the cheesecake. With just 6 ingredients, this crustless "burnt" masterpiece is turning the culinary world upside down and it was one of Instagram's most shared foods for 2019.
While the true recipe is unknown, American expat Marti Buckley has come close and she shared the recipe in her blog, Blank Palate and in her new cookbook Basque Country: A Culinary Journal Through a Food Lover's Paradise. As they say…when in Rome. Well, when in Spain, enjoy a slice of cheesecake with a glass of Spanish sherry – like González Byass from Pedro Ximénez.
Below is my version of this amazing cheesecake!
Start by preheating your oven to 400°F, place the oven rack in the center position and prepare your spring form pan by lightly greasing and lining it with a large single parchment paper sheet (not wax paper). Set the pan aside.
In a stand alone mixer or using a hand-held mixer, cream the room temperature cream cheese and granulated sugar. Add kosher salt and mix to combine. Add the room temperature eggs one at a time and mix until incorporated.
Whisk the heavy cream and once combined, evenly sift the flour over the mixture. Fold it in with a spatula so you don't create a dust cloud, then beat for a minute to fully incorporate with the cream mixture.
Pour the creamy mixture through a sieve directly into the prepared spring form pan. This step will remove any particles that didn't fully blend and ensure a creamy, custard-like cheesecake. I never bypass this step when working with custard or pastry cream desserts.
Bake the cheesecake at 400°F for 50 minutes and if the center is a little jiggly, much like molded jello, then remove it from the oven. Once baked, allow to cool completely at room temperature. The cheesecake will set as it cools.
Note: Depending on how old your oven is or if it has hot spots, you may need to bake it an additional 5-10 minutes or cover it with foil during the last 5-8 minutes. While you want a "burnt" appearance, you don't actually want to burn it.
Just prior to serving, remove it from the spring form pan and peel back the parchment paper. The imperfect, burnt sides are magnificent in both texture and flavor. The center is just gloriously creamy! It's quickly becoming one of my favorite desserts and I completely understand why there's a line around the bar in San Sebastian.
I like to serve it at room temperature with some Italian strawberries in syrup I purchased at Sur la Table. The actual name is Fragola Fabbri Frutto e Sciroppo and you can find it here, if you don't have a grocery store that carries it.
You can also refrigerate the cheesecake and serve it the following day. A cheesecake can keep in the fridge up to five days, but it never makes it past two days at home. I hope you enjoy this delicious treat!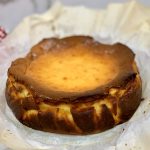 La Viña's Basque Burnt Cheesecake
The hottest cheesecake trend is almost 30 years old! The Basque "burnt" cheesecake is simple and complex: burnt on top with a slightly under-cooked center – 6 simple ingredients, yet almost impossible to perfect. It's perfectly imperfect and a showstopping dessert that has made La Viña in San Sebastian famous!
Ingredients
4 ½

8-oz. blocks

regular cream cheese, room temperature

(2.5 lbs of cream cheese)

1 ¾

cups

granulated sugar

¼

teaspoon

kosher salt

5

extra large eggs, room temperature

2

cups

heavy whipping cream

¼

cup

all purpose flour
Instructions
Preheat the oven to 400°F and position the oven rack in the center. Grease a 10-inch springform pan and line it with a parchment paper sheet that is big enough to leave 2 to 3 inches overhanging from the top of the pan.

In a large bowl using a handheld mixer or a stand mixer fitted with the paddle attachment, cream the cream cheese and sugar until smooth. Add the salt and mix. Add the eggs one at a time until fully incorporated. Whisk in the cream. Sift the flour and gently fold into the mixture. Beat for a minute to mix well.

Pour the batter through a sieve directly into the prepared springform pan and bake for 50 minutes, or until the cheese cake is slightly jiggly and browned on top. Remove from the oven and allow to cool completely at room temperature.

Note: Oven temperatures vary so you may need additional baking time, but don't exceed 60 minutes. Keep your eye on the cheesecake after the initial 50 minutes and check every 5 minutes. If your oven has a hot spot, you may want to tent the cheesecake with foil the last 5-8 minutes. You want the cake to brown, not burn.

Before serving, remove the cheesecake from the springform pan and gently separate from the parchment paper. Serve at room temperature. I like to serve mine with Italian strawberries in syrup and a glass of Spanish sherry.