I've been on a lemon recipe binge lately, but that's what happens when you go to Costco and buy a big bag of lemons.  Who can blame me and what's not to love about lemons?  I can list all the different ways to use lemons almost as well as Bubba listed shrimp dishes in Forrest Gump!  No lie.
About seven years ago I was blessed enough to go to Italy and visit Capri.  Their lemons are on steroids.  They are huge!    Luckily, Italians found many ways to use these gems.  Lemons have a unique ability to brighten and enhance just about anything – from drinks to desserts to savory dishes.  So when I think of cooking anything Italian, I instinctively add lemon juice, zest or both.  It's magical.
Start by butterflying the chicken breasts and pounding them until they are about a 1/4-inch thick.  Note:  It's important to have even thickness to ensure they cook evenly and fully in the pan.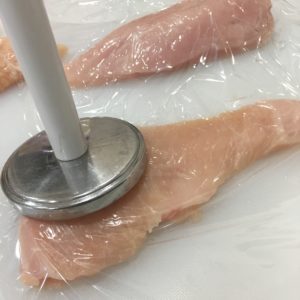 Set up a dredging station:
Plate 1 – flour  | Plate 2 – egg | Plate 3 – bread crumb
It's important to pat dry the chicken prior to coating it with flour.  As you dredge, allow the excess to shake (flour) or drip (egg) off before you dredge in the bread crumbs.  When dredging in the bread crumbs, press the crumbs into the chicken.  This will ensure an even coat and a crispy final product.  Note:  I use a microplane rasp grater to finely grate the Parmesan cheese.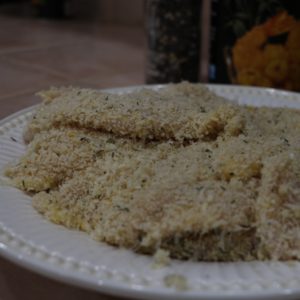 Note:  Prior to frying the chicken breasts, I flavored the oil by adding add a few garlic cloves, thyme sprigs and a dash of red pepper flakes.  When the garlic starts to brown, remove the garlic and thyme and discard.   This is an optional step.  
Generously coat a large sauté pan with oil (about 2 tablespoons) and cook the chicken breasts for about 3 minutes per side or until golden brown.   When fully cooked, set on a cookie sheet or oven safe plate.   You may need to add more oil as you work through cooking all the chicken breasts.    When all the chicken breasts have been cooked, keep them warm in a 200° oven while you  finish preparing the meal.  About 10 minutes or so.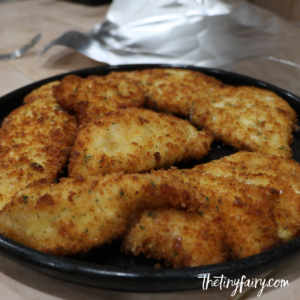 I ate my chicken Parmesan with greens and Parmesan cheese while my family had yellow rice and steamed broccoli.  It's also great with any pasta!
This Lemon Thyme Chicken Parmesan is delicious and a crowd pleaser.    You could easily serve this as an appetizer, a kid friendly chicken strips/nuggets or as a sandwich with roasted red bell peppers and mozzarella cheese.   It's a versatile recipe.
I hope you enjoy it and please leave a comment.
Lemon Thyme Chicken Parmesan
The lemon and thyme add extra layers of flavors that fragrance the chicken. I always get compliments on this recipe and it's just delicious. This can be served as an appetizer or main course.
Ingredients
2-3

chicken breasts, boneless, skinless and butterflied

salt and pepper to lightly season the chicken breast

1

cup

all purpose flour

1

teaspoon

kosher salt

1/2

teaspoon

fresh ground black pepper

2

eggs, beaten

1 1/2

cups

Panko or dry bread crumbs, unseasoned

1/2

cup

fresh grated Parmesan cheese plus more for garnish

1

tablespoon

lemon zest

1

tablespoon

thyme, fresh and finely chopped

oil for frying

2

garlic cloves, slightly smashed

2

sprigs

fresh thyme

1

dash

red pepper flakes
Instructions
Pound the chicken breast until they are 1/4 inch thick. Pay dry with a paper towel (to help the flour adhere to the chicken) and lightly season with salt and pepper.

Assemble a dredging station as follows:

1) FLOUR plate - combine the flour, salt and pepper.
2) EGG plate - beat two eggs
3) PANKO - combine bread crumbs, lemon zest and thyme
4) plate to hold the breaded chicken breasts

Dredge each piece of chicken in the flour and shake off any excess flour. Dip into the egg allowing any excess back into the plate. Dredge in the bread crumbs and press the bread crumb mixture into the chicken breast to ensure an even coating. Do this for all the chicken breasts.

Note: When dredging, make sure both sides are equally coated.


Over medium heat, generously coat a large saute pan with cooking oil. Fragrance the oil by adding the garlic cloves, thyme springs and red pepper flakes (optional). When the garlic begins to brown, remove the garlic and thyme sprigs from the oil and discard.

Cook 2-3 chicken breasts for about 3-4 minutes on each side or until golden brown. Remove from pan onto a sheet pan or oven safe plate. Keep warm in a 200° preheated oven.

Serve with any salad or side pasta of your choice. Garnish with Parmesan cheese shavings.

Enjoy.