Today is World Nutella Day! Oh happy day! Nutella is an unmatched decadent and delicious chocolate and hazelnut spread. It's so rich and creamy – it's no wonder it has its own day!
Now, I don't need an excuse to eat Nutella. I'm a huge chocolate fan. I can say I've been known to randomly scoop a spoonful of Nutella when passing through the kitchen. Doesn't everyone? What about a 3 pm chocolate fix or those midnight cravings? We've all done it and there's nothing wrong with that. Seriously, I'm so happy to celebrate Nutella!
These family friendly doughnuts are easy to make, fun to decorate and even funner to eat! You'll need a hand-held mixer or whisk, three mixing bowls, measuring cups and spoons, doughnut pan and disposable piping bag. This is a great recipe to make with kids.
Baking Tips:
1) Ingredients mix better when they are at room temperature. Butter creams better and eggs blend better. Don't skip this step, you'll notice the difference.
2) Never start baking as soon as the oven alerts you it's reached your desired temperature. Wait an extra 10 minutes. Sometimes the sensor isn't working properly, especially with older ovens. Allowing the extra time ensures you start cooking/baking at the right temperature.
Suggestion: Make extra glaze. It's delicious and you can easily convert it to a sauce by adding a little extra milk – add a few teaspoons at a time until it reaches the desired sauce consistency. I use it on ice cream, pancakes, crepes – just about anything.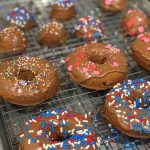 Baked Nutella Doughnuts with Kahlua Nutella Glaze
Light and delicious Nutella doughnuts with a decadent Kahlua Nutella glaze.
Ingredients
For the Doughnuts:

1 1/4

cups

All-Purpose flour

1

Tablespoon

cocoa powder

1 1/4

teaspoon

baking powder

1/4

teaspoon

Kosher salt

3

Tablespoons

unsalted butter, softened

1/4

cup

granulated sugar

1/4

cup

light brown sugar, packed

1/3

cup

Nutella

1

large

egg, room temperature

1/2

teaspoon

pure vanilla extract

1/2

cup

whole milk

For the Glaze:

1 1/4

cup

powdered sugar

4-5

teaspoons

whole milk

3

Tablespoons

Nutella

1/2

teaspoon

pure vanilla extract

1

Tablespoon

Kahlua (optional)

garnish with sprinkles, etc.
Instructions
Grease and flour the doughnut pan – or use Pam for Baking spray.

Preheat oven to 400° degrees.

For the DOUGHNUTS:

In a mixing bowl, sift the dry ingredients together: flour, cocoa powder, baking powder, and Kosher salt. Stir with a fork or whisk to mix. Set aside.

In a separate mixing bowl, mix the wet ingredients together with an electric mixer or whisk:

On medium speed, cream the butter, granulated sugar and brown sugar. Add Nutella. Mix to combine, scraping down the sides with a rubber spatula. Add egg and vanilla and mix well to combine.

Combining the dry into the wet: with the mixer on low, work in three small batches alternating between the flour and milk. Mix to combine and scrape the sides.

TIP: Use a piping bag for better control as you drop the batter in the greased pan.

Fill each doughnut shape in the pan about 1/2 – 3/4 way full with batter. Don't fill to the top since they will rise as they bake. Applying even pressure to the piping bag, circle once around the pan. That should be sufficient batter for your doughnut. Depending on the opening of the piping bag, the batter yields from 9-11 doughnuts.

Bake at 400° for about 7-9 minutes, depending on amount of batter per doughnut. Test by inserting a toothpick in the center. If it comes out clean, remove from oven. If the toothpick is wet, leave it in the oven for a minute or two – depending on how wet the toothpick is.

Remove from oven and allow to cool. In 5 minutes, shake the pan slightly to loosen the doughnuts. The will release from the pan and begin to pop up. Invert the pan onto a cooling rack. Allow to cool completely before glazing.

For the GLAZE:

In a small bowl, whisk together the powdered sugar and milk until smooth. Add vanilla extract, Nutella and Kahlua (optional). Garnish with sprinkles.

Enjoy!
I hope you enjoy these as much as my family does. Your comments are welcomed!