Why spread regular butter on anything when you can spread a savory butter packed with flavor? Butter is a great blank canvas to get creative and these compound butters significantly enhance any dish. Beurre Maître d'Hôtel, a.k.a. Maître d'Hôtel Butter got it's names after the restaurant's maître d'hotel since they would prepare the compound butter table-side for their guests. How lovely and how French! Maitre d'Hotel butter is used in preparing the Chateaubriand sauce that goes over the Chateaubriand steak. But I guarantee you that a simple pat of butter melting by the heat of any dish, meat, chicken or seafood, would be magnificent.
I make compound butters frequently and use them in a variety of recipes. Try it on a crusty French or Italian bread and toast it in the oven – glorious! The butter melts into all the nooks and crannies. Warm bread and butter, hello? It just doesn't get any better.
Change up the herbs and spices and make different compound butters. I used Tarragon and garlic in this compound butter and ti was delicious. Play with ingredients like rosemary, thyme, capers, anchovies, garlic, cilantro, red chili peppers, etc. But don't stop at savory, try out some sweet compound butters with zest, honey, etc. They are perfect for brunch and enjoyed with scones, pancakes, toast, etc.
Mix up your butter and shape into a log, roll it up in parchment or plastic wrap like a sausage and chill to harden. Cut into small disks and serve. It also freezes well so you can have this savory butter any time. You can also pack it into a small jar and serve it room temperature.
It's amazing how something so small can make such a big difference.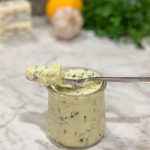 Maitre d'Hotel Butter
A delicious compound butter than enhances any savory dish. This is a basic recipe – try changing the herbs.
Ingredients
2

sticks

butter, unsalted, at room temperature

1/4

cup

fresh parsley, minced

3

teaspoons

lemon juice, freshly squeezed

1/2

teaspoon

Kosher salt

1/2

teaspoon

pepper

Optional: 1 garlic clove, grated
Instructions
Place all the ingredients in a small bowl and stir to combine.

Shape into a log over parchment paper or plastic wrap. Roll into a log and chill to harden.

Slice discs of butter and serve.