This sauce is a rich, buttery and decadent sauce that perfectly complements a variety of dishes. Hollandaise Sauce elevates meat, poultry, eggs and even potatoes! Try it on Steak Oscar, chicken, seafood and even on eggs Benedict, omelettes or home-style potatoes.
The best part of this sauce is how easy it is to make in a blender. It comes together in minutes! You can add herbs, I'm partial to parsley – it has a mild flavor, it doesn't take over the sauce and I love to see the green flecks throughout. For a delicate and subtle licorice flavor, try adding Tarragon. I made Tarragon Hollandaise Sauce and served it over Steak Oscar. If you like an extra kick, add a pinch of cayenne. Simply amazing and so easy to whip up in a blender!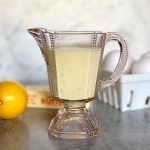 Hollandaise Sauce
A rich, buttery and decadent sauce perfect for eggs Benedict, steak Oscar and other dishes. Making it in a blender makes it extremely easy to whip up.
Ingredients
3

extra large egg yolks, room temperature

1 ½

Tablespoons

lemon juice, fresh squeezed

¾

teaspoon

kosher salt

prefer Diamond brand

¼

teaspoon

black pepper, freshly ground

1

stick

unsalted butter

prefer Plugra brand

1

Tablespoon

Parsley or Tarragon, fresh
Instructions
To a blender, add egg yolks, lemon juice, salt and pepper and blend together for 20 seconds.

In a small saucepan, melt the butter until it's hot. With the blender on low, remove the small circular insert in the top of the blender, and slowly drizzle the hot butter until it is fully blended and the sauce is thick. About 30 seconds.

Note: To thin the sauce, add 1/2 teaspoon of water at a time until you reach desired thickness.

Add the fresh herb and pulse a few times to incorporate. Serve immediately.
Recipe Notes
Adapted from Pioneer Woman and Alton Brown's recipes.