Panzanella is a simple yet delicious Tuscan bread salad that is also popular in other parts of Italy. It is believed the name came from "pane" for bread and "zanella" for the deep plate is was typically served in. Originally the dish was bread and onion based, tomatoes came along in the 20th century.
Although the modern version is made up of bread, onions, tomatoes, olive oil, vinegar, cucumber, basil and salt & pepper, other ingredients such as lettuce, olives, cheese, wine, capers, anchovies, celery, carrots parsley mint, bell peppers, lemon juice, garlic, tuna and boiled eggs have been added, but Florentines disapprove of all these ingredients according to Wikipedia. I hope the Florentine's aren't too upset with me, but here's my Panzanella version and I'm eager to share it with you. It's so good!
In a wide salad bowl or zanella plate, combine baby spinach, hothouse seedless cucumber cut on a bias, red and yellow bell peppers cut in cubes, a bunch of rough chopped basil leaves and thin slices of red onion. Set it aside. I cut each vegetable differently because I like the different shapes and colors, it adds dimension to the salad, but you can cut your veggies any shape you prefer.
Note: Love Hothouse cucumbers, a.k.a. English cucumber & European cucumber, they are seedless with a thin skin and you don't need to peel them. Just wash well and slice away. They are said to be burp-less since they are easier to digest and that's just an add extra brownie points. They work perfectly in any salad or pickled.
Cube a French baguette and add to a sheet pan. Sprinkled with good olive oil, salt, pepper and Italian seasonings. Toss together to evenly coat the bread, then bake at 350°F for about 10-15 minutes. I didn't time it.
Make the Classic French Vinaigrette with garlic (southern France) while the bread toasts in the oven. According to Julia, fresh is best. As soon as the bread is ready, add it to the salad, pour all the dressing over it and toss to coat to combine all the ingredients. The warm the bread soaks up the simple vinaigrette and semi-wilts the spinach. A great marriage of flavors! Add the feta cheese and toss to combine, again and finish with a sprinkling of Maldon sea salt and black pepper.
I wanted to add kalamata olives, but I didn't have any. What a wonderful addition. This recipe also works well with grilled vegetables. Panzanella is such an easy adaptable recipe to customize to personal preferences or themed party. I served this salad with grilled skirt steak and it was spectacular! What a delicious combination of flavors and textures. Perfect meal to kick-off the summer grilling season!
Adapted from Ina Garten's Panzanella recipe on Food Network.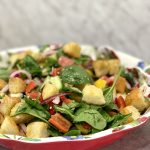 Panzanella
A delicious Tuscan bread salad that's a perfect summertime side for chicken, meat or fish that's grilled or roasted. This salad is easy to put together and you can add your favorite ingredients.
Ingredients
Panzanella
1

French baguette, cubed

3

tablespoons

olive oil

pinch

kosher salt

prefer Diamond brand

pinch

fresh ground black pepper

2

cups

baby spinach

3

plum tomatoes, seeded and cubed

1

hothouse cucumber, cut in half and diced on bias 1/2 inch thick

a.k.a. English or European cucumber

1

red bell pepper, cubed

1

yellow bell pepper, cubed

½

red onion, thinly sliced

20

basil leaves, rough chop

½

cup

feta cheese

sea salt and pepper, to taste
Classic French Vinaigrette with Garlic (southern France style)
½

cup

extra virgin olive oil

3

Tablespoons

champagne or white wine vinegar

1

medium

garlic clove, grated

about 1 teaspoon

½

teaspoon

Dijon mustard

½

teaspoon

salt

prefer Diamond brand

¼

teaspoon

black pepper
Instructions
Panzanella
Preheat oven to 350°F and spread French bread cubes on a sheet pan. Coat with about 3 Tablespoons of olive oil, kosher salt, black pepper and dry Italian seasonings that have been crushed between the palms of your hands. Toss everything to combine and bake until golden, about 10-15 minutes.

Note: You could crisp the bread in a large skillet as well. You may need to do so in batches.

In a large salad bowl, combine spinach, tomatoes, cucumber, red and yellow bell peppers, red onion and basil leaves. Set aside.

Make the vinaigrette by combining all the ingredients in a mason jar and shaking vigorously for 30 minutes.

When the bread cubes are golden, add to the salad bowl, pour the vinaigrette and toss to combine. Add the feta cheese and toss again.

Optional: Finish with a little Maldon sea salt and fresh cracked black pepper. Serve with your favorite grilled or roasted meat.