Shrimp Scampi is one of those dishes that come together easy yet look so elegant. After a day of laundry, cleaning and testing recipes, I was looking forward to this simple dish with a nice glass of white wine. Not a bad way to end a Sunday night. This is my adapted mash up of Ina Garten and Tyler Florence's Shrimp Scampi recipes.
I always keep anywhere from one to two pounds of jumbo shrimp from Costco in the freezer – peeled, deveined and tails removed. Let's be honest, tails look pretty, but you don't eat them and no one likes to fuss with their food. The night before I place the shrimp in the refrigerator to thaw. Once completely thawed, I pat dry with paper towels, sprinkle a little salt, fresh ground black pepper and Old Bay seasoning. Note: Old Bay isn't a traditional ingredient in Shrimp Scampi, but I like it and use it often on all my seafood dishes.
Start by placing a stock pot of water on the stove top to boil. While the water comes to temperature, chop the shallots (I used red onions here because I didn't have shallots), garlic and parsley and zest your lemon. Measure out the white wine and have all your ingredients ready to go – this dish comes together quick! As soon as the water boils, add about a good tablespoon of salt to the water and a good drizzle of olive oil. Add the pasta, give it a good stir. Cook the pasta according to packaging instructions – typically 7-9 minutes for 1 pound of pasta al dente, less time if cooking fresh pasta. While the pasta cooks, get the sauce and shrimp going.
Note: Salting the water will flavor the pasta and adding oil will help prevent the noodles from sticking to each other.
Saute onions, garlic & pepper flakes in butter and olive oil.

Add the shrimp to the skillet and cook in single layer.
In a large and wide skillet, over medium heat, cook the shallots/red onions, garlic and red pepper flakes in two Tablespoons of butter and two Tablespoons of good olive oil. Add the seasoned shrimp in a single layer. Cook a few minutes until the bottoms are pink. Individually flip each one and cook for another minute or so. Remove from the skillet and cover with foil to keep warm.
Add the white wine and lemon juice. When the liquid begins to boil, add the remaining butter, olive oil and zest. Stir to combine. As soon as the butter melts, return the shrimp to the skillet and add the pasta.
Note: I pull the pasta right from the pot and add it directly to the skillet bringing with it a little pasta water. If you prefer to drain the pasta, reserve about 1/2 cup of pasta water for the sauce just in case you need more liquid.
As you toss and coat the pasta, it will absorb the flavors and continue to cook. Taste and reseason if needed. Just before serving, drizzle a little olive oil and sprinkle with parsley and pepper flakes. Enjoy with crusty Italian bread, salad and a nice glass of white wine. Buon appetito!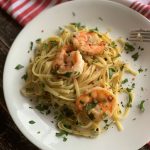 Shrimp Scampi with Linguine
A classic recipe that is elegant for special occasions and simple enough for any family meal. It's bright, but with a kick. This is the ultimate shrimp scampi recipe.
Ingredients
3/4

pound

Linguine pasta

4

Tablespoons

unsalted butter

4

Tablespoons

Olive oil, plus a little extra to drizzle at the end

2

Shallots, minced

(can substitute with ¼ cup of minced red onion)

3 – 4

garlic cloves, minced

pinch

red pepper flakes

1 1/2

pound

jumbo shrimp, peeled and deveined

1

Tablespoon

plus 1 teaspoon of Kosher salt

1/2

teaspoon

fresh ground black pepper

1/2

cup

white wine

1

lemon, juice and zest

1/4

cup

Italian flat leaf parsley, chopped, plus more for garnish
Instructions
Fill a stock pot with water, add 1 Tablespoon of Kosher salt and a drizzle of oil. When it comes to a boil add the pasta and cook pasta according to package instructions, about 6-8 minutes for al dente.

In a wide skillet over medium heat, melt 2 Tablespoons of butter and 2 Tablespoons of olive oil. Saute the shallots, garlic and pepper flakes for a minute.

Layer the shrimp evenly in the skillet, sprinkle 1 teaspoon of salt and 1/2 teaspoon of fresh ground black pepper over the shrimp. When they turn pink, flip individually and allow them to cook on the other side. This takes a few minutes, do not leave shrimp unattended. Remove shrimp from skillet and tent with foil to keep warm.

Add wine, lemon juice and bring to a boil. Add remaining butter, olive oil and lemon zest. Stir to combine well. When the butter has melted, return the shrimp to the skillet. Add parsley and pasta.

Stir well to combine and coat all the pasta with the sauce. If a little dry, add a 1/4 cup of pasta water. Taste and reseason as needed.

Drizzle a little olive oil, parsley and red pepper flakes (optional). Serve immediately.