I think Europeans in general have the right approach to eating – rich foods, small bites, great wine and good company. I love traveling and learning how different cultures eat and prepare foods. The ability to return home and recreate just transports me back again.
Sundays are important days at home. With our busy schedules, it's often the only day we gather around the table as a family. We normally do mid-morning breakfast/brunch and a late lunch/early dinner. This Father's Day Sunday, I decided to make Ham & Cheese Quiche Tart, Orange Scones (the best scones you'll ever eat), strawberry salad and all of a sudden I was at a French bistro on a quiet street in Paris.
Base: 6 eggs and 6 ounces of evaporated milk

Added: ham, shallot, parsley and cheese!
I've always made quiches and tarts with whole milk, but recently my friend shared a secret her classically-trained-French-pastry-chef-friend (that's a mouthful) shared with her: all her quiches start with 6 eggs and 6 ounces of evaporated milk. Since I use evaporated milk in my custards, that made perfect sense to me. It was like a light bulb went off. So now I too start all my quiches with 6 eggs and 6 ounces of evaporated milk.
Sauteed diced ham in Maitre d'Hotel herb butter!

Love the brown bits that just add so much flavor.
I started cooking the ham and onions in some Maitre d'Hotel butter. Immediately the aroma that filled the air was just delightful! As you can see, I allowed the ham to develop all those golden bits of flavor. That's just yummy goodness in every bite. I wanted ham and cheese, Gruyere to be exact, but I didn't have any and I remembered I had a block of Kerrygold Dubliner Irish cheese (I buy at Costco). It's not French, but equally delicious.
Lightly roll out a puff pastry sheet. Use pin to transfer.

Shape in tart tin and pierce with fork to prevent puffing.
While the ham was cooking, I lightly rolled out a puff pastry sheet I thawed in the refrigerator. Once I got the rectangle shape, I transferred it to a buttered tin and pierced the pastry with a fork throughout, including the sides. This helps prevent it from puffing up too much. I returned it to the refrigerator until the filling was done and cooled.
Added ingredients to egg mixture.

Poured into tart tin & topped with extra cheese and parsley.
I didn't measure the cheese, but I shredded almost a cup. We like cheese. Once the ham and onions cooled, I added them to the egg mixture along with the cheese, parsley, scallions, salt and pepper. You can add any ingredients that you have on hand and you like. I poured the mixture in the refrigerated pastry tin, placed the quiche tart on a cookie sheet and baked it at 350°F until golden brown, about 35 – 40 minutes.
Note: Although I buttered the tin a good amount, I didn't use parchment paper between the tin and the pastry. I should have because some parts did not release as easily as I would have liked. If your oven has a hot spot, you may want to turn the pan 15 minutes into baking.
Comes out golden and beautiful.

Look at the golden crust!
The quiche puffed up golden and glorious. I had to wait for it to cool to transfer it from the tin to the serving dish. I cut it in squares and served it with the scones, salad, coffee and juice. It was a delicious European breakfast at home. One of those nice, quiet moments to treasure.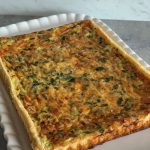 Ham & Cheese Quiche Tart
An easy and delicious ham and cheese quiche tart using puff pastry. Great basic recipe quiche recipe that's perfect every time.
Ingredients
1

sheet

puff pastry, thawed in refrigerator

6

large whole eggs, room temperature

6

ounces

evaporated milk

8 ounces

diced ham

1

cup

Gruyere cheese, shredded, plus extra for garnish

(or any other cheese that melts nicely)

1

large

shallot, minced

2

Tablespoons

parsley, finely chopped, plus extra for garnish

1

teaspoon

kosher salt

1/2

teaspoon

fresh ground black pepper

1

Tablespoon

Maitre d'Hotel butter or regular butter, room temperature
Instructions
Preheat oven to 350°F. Butter quiche tin.

Sauté the ham and shallots in about a Tablespoon of Maitre d'Hotel butter. You can use your own savory compound butter or regular unsalted butter. Sauté until the ham has golden brown bits and the onions are translucent. Set aside to cool.

Slightly roll out the puff pastry over a lightly floured surface to fit the dimensions of your tin/pan. Transfer to a well buttered and parchment lined tin. Prick the pastry with a fork and return to the refrigerator until the ham and onion mixture has cooled.

Once the ham and onion mixture has cooled, beat the eggs and evaporated milk. Add the ham and onion mixture, shredded cheese, parsley, salt and pepper. blend well and pour into the tin. Top with extra cheese, parsley and pepper.

Transfer the tin to a cookie sheet and bake at 350°F for approximately 35- 40 minutes or until golden brown. Allow to cool about 15 minutes before removing from the tart pan.