If you love red Spanish sangria, you'll love this white sangria version as well. It's simple to make and very easy to adapt.
Since this is a one bottle of wine recipe, a simple 1 liter carafe container will do the trick. If you want to double the recipe, use a clean empty water gallon container or a 101.4 ounce bottle.

In the empty container, pour:
• a 750 ml bottle of Pinot Grigio, other mild white or sparking wine
• 1/2 cup of good brandy (I used apricot flavored brandy)
• 1/2 cup of triple sec (or any orange flavored liquor you have on hand)
• 1 cup of orange juice (try adding pineapple juice too!)
• 3/4 cup of simple syrup (see below)

Seal the container, mix to blend and store in the refrigerator. I made it early in the morning for Easter brunch. You can make it the day before, just don't add the fruit.
I like to clean and pre-cut the fruit so I can enjoy a glass with my guests. In a plastic bag, store the fruit in the fridge. You can use any of the following:
• sliced apples
• sliced lemons or limes
• sliced navel oranges
• sliced kiwi
• blackberries, blueberries or other berry of your choice
• pomegranate seeds, when in season
Prior to serving, add fruit to the carafe or beverage dispenser and fill with sangria. Ice is optional.
Notes:
(1) Simple syrup is equal parts of granulated sugar and water. Heat until sugar is dissolved and cool at room temperature.
(2) While I used an inexpensive pinot grigio, you can also use champagne or sparking wine. "Champagne" is a sparking wine from the Champagne region of France. Only they get to use the term Champagne; however, there are a lot of sparking wine choices. I'm partial to Spanish Cava. this link expands on the differences between Champagne, Cava and Prosecco.
(3) If you add the fruit too early, some berries will not hold up.
Cheers!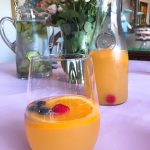 White Spanish Sangria
A light and delicious white sangria for any summertime gathering or meal.
Ingredients
1

750ml

bottle of Pinot Grigio (or mild white/sparking wine)

1/2

cup

good brandy (Apricot brandy works well too)

1/2

cup

triple sec (or other orange flavored liquor)

1

cup

orange juice

3/4

cup

simple syrup

garnish with fruit and orange slices
Instructions
Add all ingredients into a carafe, shake and let the flavors marry overnight.

Serve with fresh fruit and enjoy!