Gratin dauphinois is a French dish of thin raw potato slices baked in cream with cheese. It was created in 1788 in the Dauphine region in France. Sounds fancy, right? Anything French sounds fancy. The cooking au gratin is a technique that has been adopted worldwide and depending on the region where you are it could be called scalloped potatoes, potato bake, potato casserole or gratin. There may be slight variations in its preparation, but the basic concept remains the same – thinly sliced raw potatoes with cheese baked in cream. And it's glorious! A gratin is a great way to make a wonderful potato dish to serve a crowd. It's easy entertaining and I'm all for that! I usually make this dish during the holidays for our large family gatherings.
HERE'S HOW I MAKE IT
Butter and oven safe casserole dish and set aside. Preheat oven to 375°F and place oven rack in the center.
In a sauce pan, scald the heavy whipping cream, bay leaves, smashed garlic cloves, tarragon and thyme sprigs. Set aside to cool while the cream is infused by the herbs and garlic. You'll remove them later. Grate the Gruyere cheese and chop the herbs. If you wish to add another cheese to the mix, Parmesan cheese works very well. Just use about 1/2 cup of freshly grated Parmesan. Since this is for a holiday meal, I recommend buying the wedges of cheese and shredding them at home.Glossary Term: Scald means to heat to near boiling; usually scalded milk is required for some recipes, the milk will create a skin on top with smaller boiling bubbles.
Sometimes, when I have a new casserole, I like to place the potatoes inside just to get a general idea for the volume. This isn't a necessary step, it's just a quirky thing I do at times. Maybe it helps you, too. I don't know, but I wanted to share with you.
Peel and slice your baking potatoes 1/8 inch thick. I used a hand held mandoline to ensure even slices. Even slices will mean the potatoes cook evenly. While you can use a sharp kitchen knife, a mandolin slicer is a great kitchen tool to have and you'll slice all the potatoes in no time. If you don't have one, I highly recommend one. I purchased this OXO mandoline slicer from Sur la Table, currently out of stock, but I'm sure you can find it online. I like this one because it's compact, it has a dial to regulate the thickness and I can easily mount it over a bowl. Be very careful when slicing as you can slice your finger too!
Potatoes release a starchy liquid as you slice them. I don't think all that starch adds to the recipe so I like to rinse the potatoes and pat them dry with paper towels just before layering.
Note: If for any reason you slice the potatoes and don't use them immediately, keep them submerged under water. Air will oxidize them and you don't want a brown casserole dish. It won't affect the flavor, they just won't look appealing.
Now I'm ready for layering! Set everything nearby for easy access. Create a thin layer of potato slices in rows, evenly overlapping each other. Evenly sprinkle a pinch of salt and black pepper over the potatoes along with Gruyere cheese and fresh herbs. Repeat the steps until the casserole is filled with layers. When you get to the last layer, reserve the cheese and herbs until you pour the cream sauce.
Strain the heavy cream infused with garlic and herbs and combine with 1 cup of white wine. Pour evenly over the potatoes and top with Gruyere cheese and herbs. Cover with non-stick foil and bake for an hour. After an hour, remove the foil and bake for an additional 30 minutes or until the potatoes are cooked and the top is golden.
Test for Doneness: You can test for doneness by piercing the potatoes with a knife or skewer. If you can remove the tester without resistance, the potatoes are done. Remove from the oven an allow to set for 10-15 minutes before serving. Garnish with a fresh tarragon sprig.
Tip: If you don't have non-stick foil, lightly butter regular foil so the foil doesn't stick to the cheese.
This side pairs well with baked ham, steak, chicken and just about anything. No matter your menu, this side is an elegant potato dish that will have your guests asking for the recipe. Enjoy!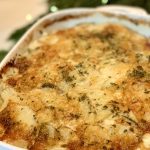 Gratin Dauphinois with Tarragon
This is a rich potato dish with fresh tarragon, thyme, cream, wine and Gruyere cheese. Perfect for a special occasion meal like Christmas, Easter or any fancy festive gathering. This isn't your ordinary scalloped potatoes.
Cook Time
1
hour
30
minutes
Total Time
1
hour
55
minutes
Ingredients
Cream Sauce
1 ¼

cup

heavy whipping cream

2

bay leaves

2

large

garlic cloves, unpeeled and smashed

1

spring each of

thyme and tarragon

1

cup

white wine
Potato Filling
3

lbs

baking potatoes, peeled, sliced thin rounds ⅛ inch thin

Yukon Gold are nice and creamy potatoes

1 1/2 – 2

cups

Gruyere cheese, freshly grated

Dubliner cheddar cheese is a great substitute

2

Tablespoons

fresh tarragon, finely chopped

2

Tablespoons

fresh thyme, finely chopped

1

Tablespoon

Italian parsley, finely chopped

Kosher salt

prefer Diamond brand

fresh ground black pepper
Instructions
Preheat oven to 375°F and butter a 13x9x2 baking dish. Set aside.

In a small sauce pot, scald the heavy whipping cream with bay leaves, smashed garlic cloves, sprigs of tarragon and thyme. Remove from heat and set aside to cool slightly.

Note: Scalding means to bring to temperature, just before boiling.

Grate the Gruyere cheese and set aside.

Combine the chopped tarragon, thyme and parsley in a small dish and set aside.

Peel and slice the potatoes ⅛ inch thick. Rinse the potato slices in cold water to remove the extra starch they release. Pat dry to remove any excess water just prior to layering in casserole. See notes below.

Tip: Use a mandoline slicer to evenly cut the potatoes into thin uniformly cut rounds.

In the prepared casserole, lay down potato slices in rows slightly overlapping. Sprinkle a little kosher salt, black pepper, Gruyere cheese and chopped herbs. Repeat steps until all the potatoes have been layered in the casserole.

Strain the cream or remove the bay leaves, smashed garlic cloves and sprigs of tarragon and thyme. Whisk the strained cream together with the white wine and pour evenly over the potatoes. Top with extra cheese.

Cover with foil and bake in the center rack for an hour. Uncover and bake for 30 minutes or until the potatoes are tender and the top is golden.

Tip: Test for doneness by piercing with a knife or skewer. If the knife has no resistance when you remove it, they are done. If you don't have non-stick foil, lightly butter the foil so it doesn't stick to the cheesy top layer.

Remove from the oven let stand for 10-15 minutes before serving. Garnish with fresh herbs. Enjoy!
Recipe Notes
Note:  Potatoes oxidize quickly and turn brown when exposed to air.  Slice the potatoes immediately before making the dish and keep the potatoes under water until ready to assemble.  Work quickly to rinse, pat dry with paper towels and assemble in the casserole dish.