Most people buy a bunch at a time, but it's hard to eat all of them – especially when they are overly ripe. That's the perfect banana for baking so don't throw them out! Save them for Banana Nut Bread! Banana bread is practically a staple in our home. We usually don't eat all of them, so as as they ripen, we peel-and-freeze to bake banana bread. Growing up I wasn't a banana fan yet this is our family go-to-recipe. Everyone loves it! This recipe is rich in flavor with beautiful sugary edges and it's incredibly moist and dense at the same time. By dense I mean it's not falling apart like cake, but it's not a brick either. The ripeness of the bananas and folding technique makes a huge difference in the outcome.   It doesn't need anything else. This recipe yields two loaves – one to enjoy and one to share or freeze for later! You can also add chocolate chips to this recipe, but I never do.
INGREDIENTS
6 ripe bananas, but I've made it with 5
2 cups all-purpose flour (I loosen it in the container before spooning into the measuring cup)
1 teaspoon kosher salt
2 teaspoons baking soda (make sure it's not expired)
1 cup unsalted butter, room temperature (2 sticks)
1 cup light brown sugar, well packed
1 cup white granulated sugar
4 large eggs, room temperature
1 1/2 teaspoons vanilla paste or extract (I prefer the paste since it has all those vanilla flecks)
1 cup chopped nuts – optional, but I never leave them out. I use walnuts or pecans
HOW I MAKE IT
Start by preparing two 9X5 loaf pans with a thin coating of butter and flour, the old fashioned way. I just smear an even coat of room temperature butter all over the inside of the pan, dust with flour and tap to release the excess. This will ensure the bread releases properly once cooled. Sometimes, I add a piece of parchment paper to easily pull out the bread. If adding parchment, grease the parchment paper.
Note: If you prefer to use baking spray, please do so. Please read the label though, one popular brand contains silicone so I don't use it. I prefer this old fashioned method of simple butter and flour.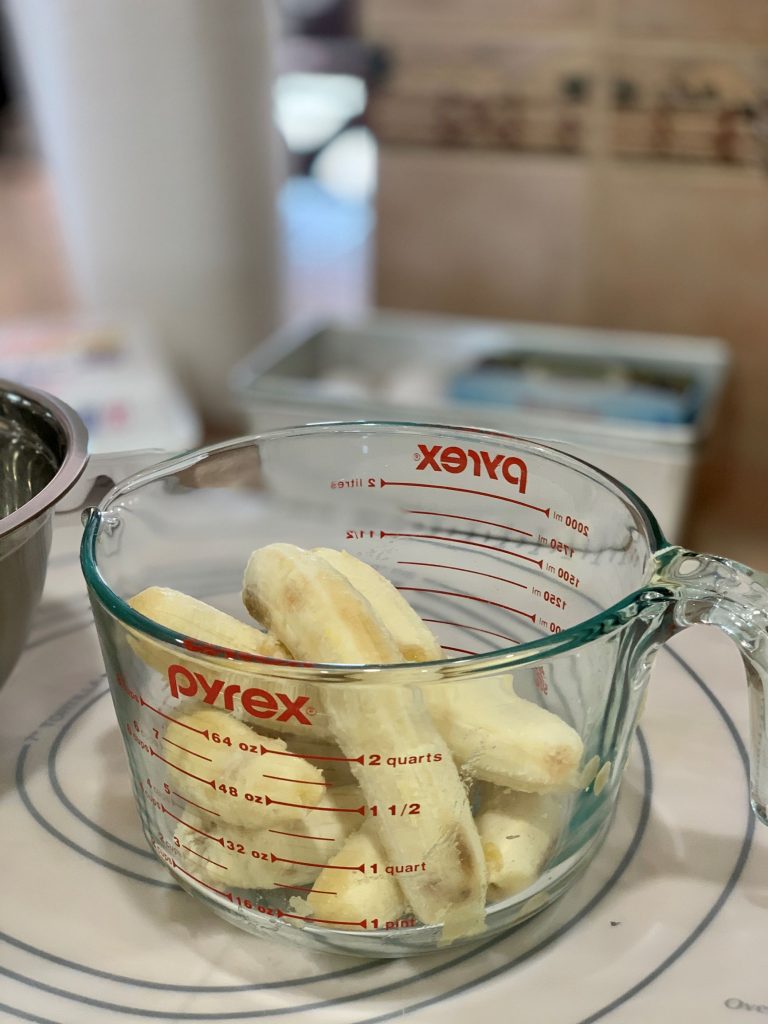 You'll need a few mixing bowls. In one mixing bowl, mash the bananas with a fork and set aside. I like to mash with a fork to leave some texture. Otherwise I can end up with baby food if I used a food processor. In another bowl, sift the flour, salt and baking soda and set aside.  In a third bowl, cream room temperature butter and sugar, then add the vanilla extract followed by the eggs – one egg at a time until all the wet ingredients are combined.  Fold the dry ingredients into the creamed mixture in two batches as not to overwork the flour. Remember to scrape down the side. Then fold in the bananas and nuts just until well combined. You don't want any pockets of flour in the batter, but you also don't want to overmix.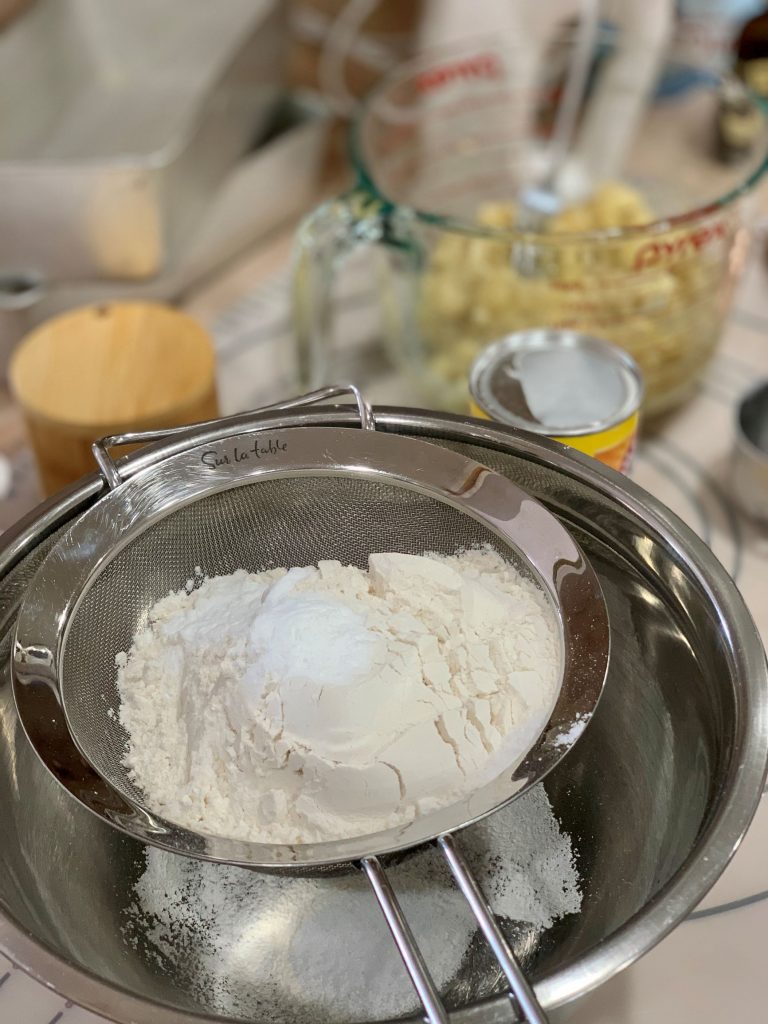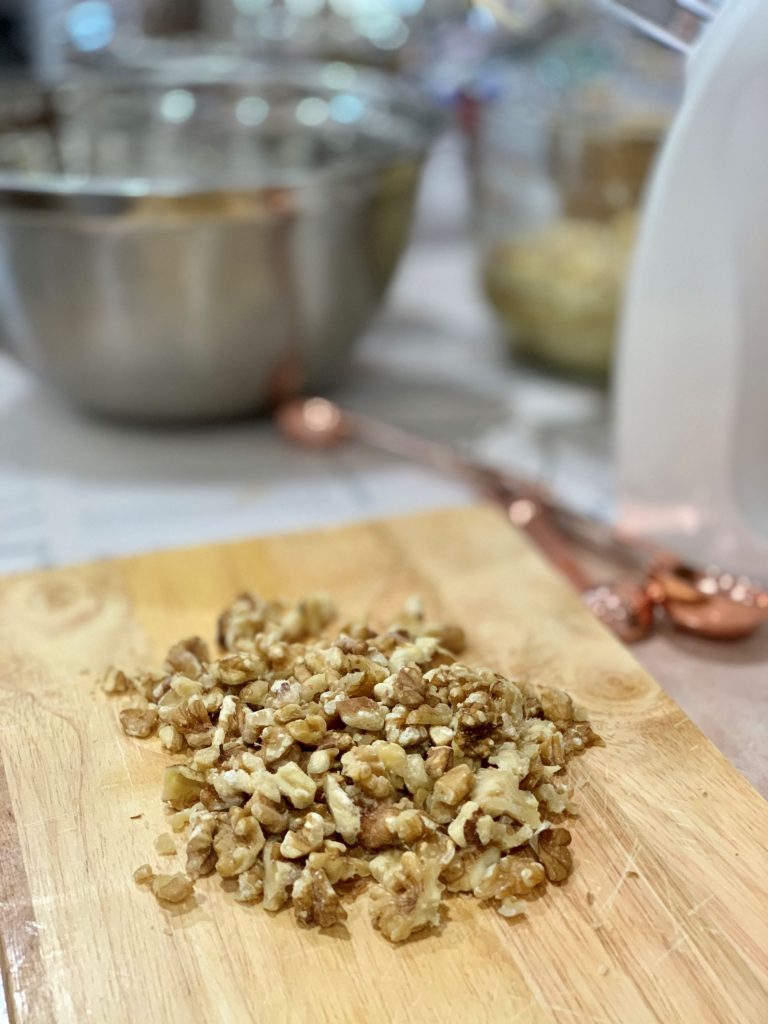 Equally divide the batter between the two prepared loaves. Tap twice over a hard surface to remove any air bubbles and bake in a 350°F preheated oven for an hour or until you insert a toothpick and it comes out clean. Typically once you being to smell the banana bread, it's usually done or almost done. Your nose knows!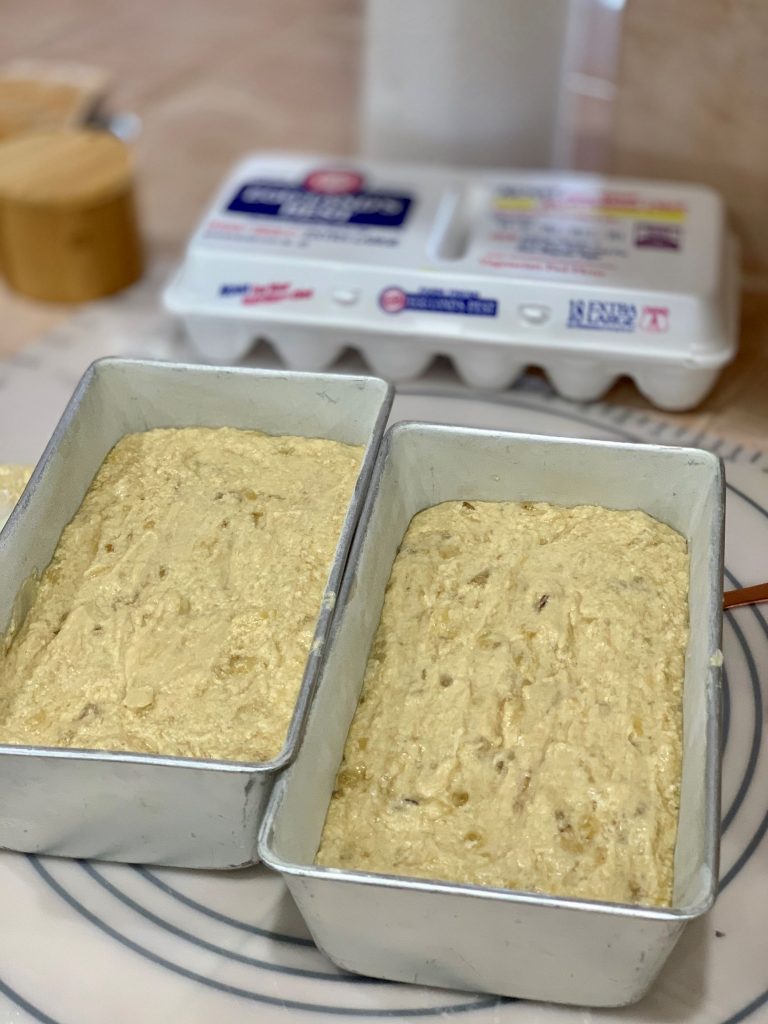 When baked, allow to cool over a baking rack about 8-10 minutes before tapping the sides of the pan and loosening the bread. Then invert the pan on a baking rack and release the pan. Invert the banana bread again so the top is up and the bread isn't cooled face down.
I'll soon be sharing some other recipes you can make with this good ol' banana nut bread. Don't pre-slice the bread as it can dry out. To retain its moisture, keep it uncut and if not enjoying right away, wrap it in plastic wrap and keep in a cool place. The two loaves I made today are gone. It's like eating potato chips, once you start, you cant stop!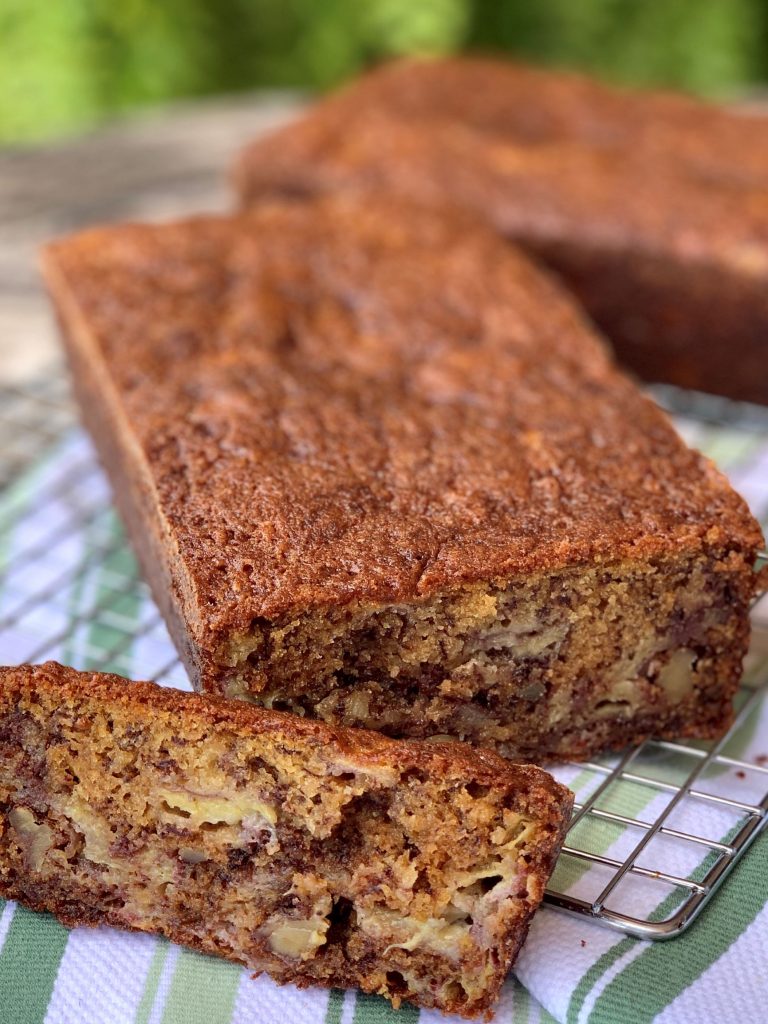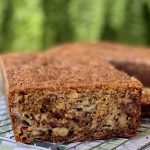 Banana Nut Bread
This is the best banana nut bread ever. It has an amazing sugary crust and it's so moist. It's the perfect balance of flavors. Perfect for breakfast, snack, gift giving and freezing.   Recipe yields 2 loaves.
Total Time
1
hour
20
minutes
Ingredients
6

ripe bananas, mashed with a fork

2

cups

all purpose flour

1

teaspoon

kosher salt

2

teaspoons

baking soda

1

cup

unsalted butter, softened at room temperature

(leave out overnight)

1

cup

light brown sugar, packed

1

cup

granulated sugar

4

large

eggs, room temperature

1 ½

teaspoon

vanilla extract

1

cup

chopped pecans or walnuts (optional)
Instructions
Preheat oven to 350°F. Grease and flour two 9X5 loaf pans. Tap off excess flour and set aside.

In a mixing bowl, mash bananas with a fork and set aside.

In another bowl, sift flour, salt and baking soda. Whisk and set aside.

If adding nuts, chop nuts and set aside in a small bowl.

In a larger mixing bowl, cream the butter and sugars (both white and brown sugars) with a hand mixer. Scrape down the sides to ensure it is well creamed.

Add the vanilla paste or extract and eggs – one at a time. Mix until well blended.  

Fold in dry ingredients in two batches, scraping down the sides,  just to incorporate.    Avoid over mixing the batter.  

Fold in the banana mash and copped nuts with a spatula or wooden spoon.

Divide evenly between the two prepared loaf pans. Tap twice on a hard surface to remove air bubbles and bake in the center rack for an hour.  Test by inserting a toothpick or knife in the center of the loaf.  If it comes out clean it's done. 

Note: Usually when it's done, you can smell the banana bread.

Remove from oven and cool for 8-10 minutes.  Tap the sides of the pan and the loaf should come loose.  Remove bread from tins and finish cooling on a wire rack.  

When cool, wrap in plastic wrap whole and store to keep moist if not enjoying immediately.

To Freeze: Wrap well in plastic wrap and in a freezer storage bag for up to three months. Thaw in refrigerator overnight and enjoy!