I love lemons, I'll add them to just about anything.  This lemon tart made my taste buds happy, happy!  It was light and smooth in texture with the perfect balance of sweet, tart and crunch.  This is such a lovely dessert.  I dare ask for two slices!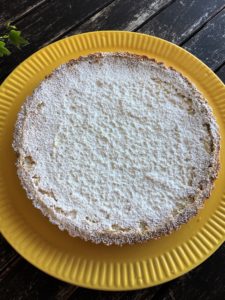 There is something about the crumbly, crunchy texture or graham crackers that I love.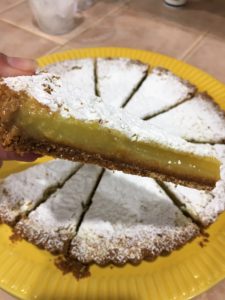 Did you notice how odd the slices are?  This is what happens when some folks want a large slice and others want a very small slice.  No matter the size of the slice, the flavor was amazing!
Graham Cracker Crust:
In a food processor, combine the Graham crackers, cinnamon, sugar and butter.  Add the mixture to a buttered tart pan.  Using a measuring cup, spread it evenly and press it against the edges to create that crisp, clean look.    Bake it in a preheated 350 degree oven for 8 minutes.    Set it aside and make the filling.
Lemon Filling:
Combine the flour, sugar, eggs and fresh lemon juice with a hand mixer.  Pour it through a sieve into another bowl containing the lemon zest.
Note: While some may consider this an unnecessary step, I am VERY picky about the texture of any filling or custard containing eggs.  So for me, this step ensures that my filling is completely blended and velvety smooth.  Anything that shouldn't be in the dish, will stay in the sieve.   If you've never done this step, just try it once and see if it makes a difference.   
With a spatula, blend the lemon zest with the filling and then pour it into the Graham cracker crust.
Back in the oven it goes at 350 degrees for 22-25 minutes.   When it comes out, it will not be set.  It will shake and jiggle some.  That's okay.  As the tart cools, it will set.  When it's room temperature, store it in the refrigerator overnight.    Just before serving, dust with powdered sugar.
I hope you enjoy it!  Now, if I could only go to Capri and make it with Italian lemons!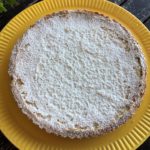 Perfect Lemon Tart
Ingredients
1 1/2

sleeves

Graham crackers

1/4

cup

granulated sugar

1/2

tsp

cinnamon

4

tbsp

unsalted butter, melted

1 1/2

cups

granulated sugar

1/4

cup

all purpose flour plus 1 Tablespoon

4

eggs, room temperature

3

lemons - zest two, juice all three
Instructions
Preheat oven to 350 degrees and lightly butter the tart pan.

Graham Cracker Crust: In a food processor, pulse the crackers until they are crumbs. Add the sugar and cinnamon and pulse to combine. Slowly drizzle in the butter as you pulse the mixture.

Add the Graham cracker mixture to the tart pan. Using a measuring cup, spread it out evenly and press against the edge to create that sharp, clean edge.

Bake it for 8 minutes. Then set it aside and start the filling.

Lemon Filling: Zest two lemons and set aside in a mixing bowl. In a separate mixing bowl, combine the sugar and flour to break up any lumps. Add the eggs in one at a time while mixing and then the lemon juice. Mix well to combine.

Pour through a sieve into the mixing bowl with the lemon zest. With a spatula, mix well to combine the lemon zest throughout the filling. Pour filling into the tart dish and bake for another 22-25 minutes.

Note: Pouring the filling through a sieve ensures a consistently smooth texture and is a personal preference.

When the baking time is up, remove it from the oven and allow it to cool at room temperature. It will set as it cools. Once at room temperature, place it in the refrigerator overnight.

Dust with powdered sugar just before serving.

Optional: serve with fresh berries and whipped cream