Bananas Foster is a iconic classic dessert synonymous with New Orleans. Gooey bananas sautéed in a caramel rum sauced that's flambéed and served over ice cream! This is just heaven on a plate. If you're ever in the French Quarter, you must stop by Brennan's and enjoy this dessert. But for all of those who don't live driving distance from NOLA, we will just have to make them at home.
About the Name
By 1950, New Orleans was a major port for bananas coming in from Central and South America. Restaurant owner Owen E. Brennan wanted to showcase this product so he challenged his chef, Paul Blangé, to create a new culinary masterpiece – and with just six ingredients he created Bananas Foster! Named after Owen Brennan's good friend, Richard Foster, who was also a frequent customer and chairman of the New Orleans Crime Commission.
Since then, people have been serving Bananas Foster over pancakes, crepes, flavoring ice cream and even cocktails! My Bananas Foster follows the traditional Brennan's recipe and they are piled high over my Classic Buttermilk Pancakes. They are so easy to make, you just need to be careful with the flambé part!
I made half the recipe for the Bananas Foster and the full recipe for my Classic Buttermilk Pancakes. I only had two bananas and other family member wanted different toppings. The steps are the same whether making half a recipe or whole.
This recipe calls for banana liqueur and it's not something I use enough to spend on a full size bottle. My local liquor store has a stand of tiny bottles in all flavors – bananas included. I got two banana liqueur bottles and a few other flavors.
Traditionally, the bananas as split lengthwise and then in half. I don't find that shape appealing so I sliced mine on a bias. Next time I'll slice them a little thicker, but I still find this cut more appealing.
Start by melting the butter in a pan over medium heat. I used a non-stick pan for easy clean up. Melt the butter, add brown sugar and cinnamon. Stir frequently to combine. Add the banana liqueur and continue to stir. Add the bananas and gently move them around as they caramelize on one side, then gently turn them over to caramelize on the other side. You'll notice how their texture changes.
At that point, move the bananas and the sauce over to one side of the pan, away from you, and pour the rum in that corner. You can tip the pan to flambé the sauce, but I prefer to use a long barbecue lighter. The rum will ignite on one side of the pan and it's easier to control the flame.
Note: Flames are unpredictable. You should have an extinguisher handy along with a big lid. Never pour directly from the bottle onto your dish over an open flame. Always measure out your alcohol and turn off the burner when pouring. You can easily turn the burner back on and flambé the sauce.
As soon as the flame is out, swirl the bananas in the pan to combine and the sauce is ready. Turn the burner off and plate your dish! Bananas Foster are extremely easy and delicious. You just need to be mindful when burning the alcohol. Brennan's originally served them over ice cream. Today I'm serving them over pancakes, but you can serve them over anything – waffles, crepes, pound cake, etc. The flavors in this recipe work so well together, it's just delicious. A masterpiece indeed that has enamored all of us for decades.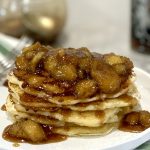 Bananas Foster Pancakes
An iconic and delicious New Orleans dessert converted into a breakfast treat with pancakes! The flavors take you to the French Quarter! Perfect for a do-it-yourself brunch deconstructed brunch option as well.
Ingredients
Bananas Foster
¼

cup

unsalted butter, room temperature (½ stick)

prefer Plugra brand

1

cup

brown sugar

½

teaspoon

cinnamon

¼

cup

banana liqueur

4

ripe but firm bananas

¼

cup

dark or spiced rum

1 ½

teaspoon

vanilla extract
Classic Buttermilk Pancakes
2

cups

all purpose flour

4

Tablespoons

sugar

3

teaspoons

baking powder

1

teaspoon

baking soda

1¼

teaspoon

kosher salt

2

extra large eggs, room temperature

2

cups

buttermilk, room temperature

¼

cup

whole milk, room temperature

4

Tablespoons

unsalted butter, melted

1½

teaspoon

pure vanilla extract or paste

butter to cook the pancakes
Instructions
Bananas Foster
Melt the butter in a sauce pan over medium heat. Add the brown sugar and cinnamon. Stir to combine. As the sauce bubbles, add the banana liqueur and stir.

Add the bananas and gently move them around the sauce pan as they caramelize on one side. Flip each one over and move about the pan as the other side caramelizes.

Move the bananas and sauce to one side and make a spot for the rum, preferably away from you. Pour in the rum and ignite to flambé. As soon as the flame is out, the dish is ready to serve.
Classic Buttermilk Pancakes
Whisk together the flour, sugar, baking powder, baking soda and kosher salt in a mixing bowl.  Make a well in the center and set aside. 

In another mixing bowl, beat the eggs, then add the buttermilk, milk, melted butter and pure vanilla extract. 

Pour the wet ingredients into the dry ingredients and whisk just to combine. The batter will be lumpy. Allow the batter to rest for 10-15 minutes. The buttermilk will react with the baking powder and baking soda to make them fluffy and tender. The batter will thicken up some and the lumps of flour will blend into the batter some on its own.

Heat a griddle or pan over medium heat. When the griddle is hot, lightly butter the griddle and quickly ladle 1/4 cup of batter onto the griddle. Allow to cook undisturbed until bubble appear and the edges are golden. Flip the pancake and cook the other side.

Keep the pancakes warm in a 200°F oven, loosely covered with foil, until all the pancakes are cooked or until you're ready to serve.
Recipe Notes
The Bananas Foster sauce and Classic Buttermilk Pancakes batter holds well in the refrigerator for two days. If the batter is too thick, add a Tablespoon of milk.