Well isn't that title a mouthful! The salad was certainly a delicious bite. I've been thinking of 70s retro recipes and I remembered my "party meatballs" with BBQ sauce, grape jelly and honey and the famous red pepper jelly over a block of cream cheese – oh so delicious with club crackers! So I decided to try combining the two on grilled shrimp and adding them to a few salad ingredients I had on hand. The results were fabulous!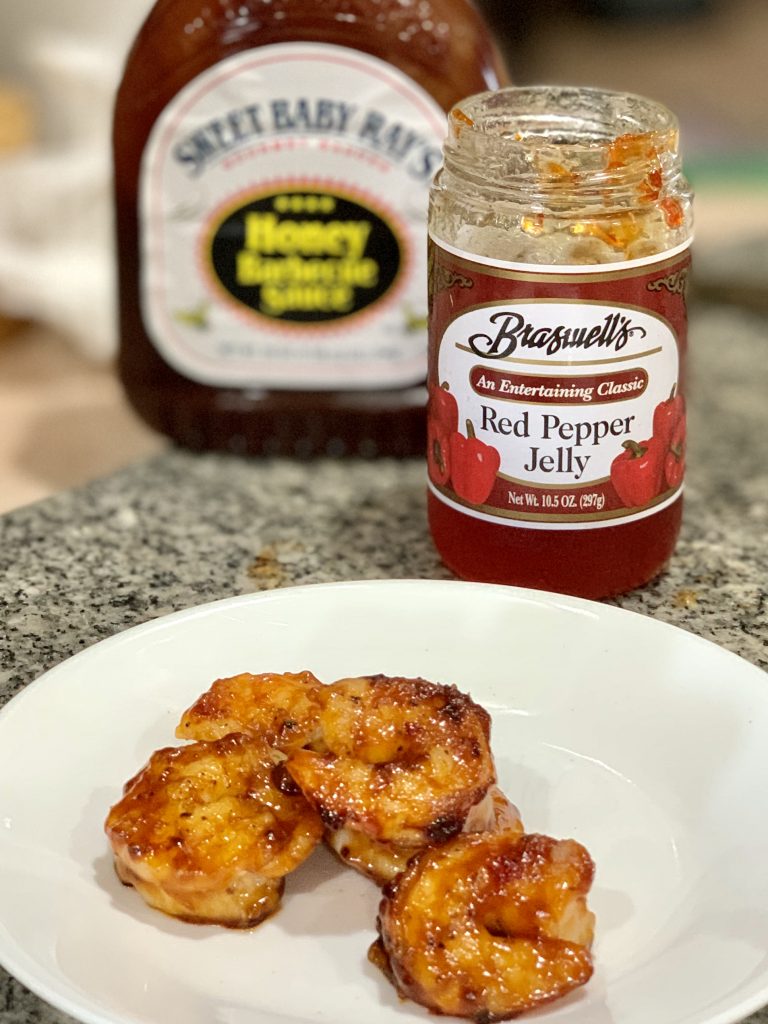 In a small pot, add some fresh summer corn, butter and cover with water. Bring water to a boil, then reduce heat and cook until tender, about 20-30 minutes. Remove, drain and add to the flattop grill to get some charred marks. Remove from grill top, stand cob and run a knife from the top of the cob to the bottom, cutting the kernels. Set kernels aside.
Mixing about 1/2 a cup of Sweet Baby Rays Honey BBQ sauce with about 1/4 cup of Braswell's Red Pepper Jelly and 1 small garlic clove, grated. Whisk and combine all the ingredients well.
Seasoned 1 pound large shrimp with kosher salt and fresh ground black pepper and juice of half a lemon. Heat a skillet over medium heat and coat with olive oil. Add the shrimp and toss for a minute then add enough sauce to coat the shrimp. I didn't use all the sauce. Cook for about 5 minutes, tossing frequently and allowing the sugars to caramelize. Remove from skillet and place on a flattop or skillet with grill marks. Grill on each side just to get grill marks.
Note: I would have grilled the shrimp outside, but it was pouring all day so I grilled indoors on a dual purpose flattop griddle I bought at Bed, Bath and Beyond last year. It has a flat side and a grill side. Very practical to have.
Chiffonade a bunch of kale (or your favorite greens) and add to a mixing bowl. Add cherry tomatoes, pickled red onions, corn, ranch dressing and Cotija or Feta cheese. Toss to combine. Plate salad and top with grilled BBQ shrimp and extra cheese. You could also serve these on tacos for a delightful option.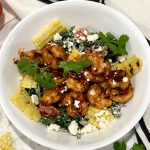 Red Pepper Jelly BBQ Shrimp with Kale Corn Salad
Red pepper jelly and honey BBQ sauce makes these grilled shrimp so savory with the right amount of sweet heat. Served on a bed of bright greens, tomatoes and sweet grilled summer corn with Cotija cheese and a ranch dressing. You can also serve these as a taco. Delish!
Ingredients
2

ears

sweet summer corn

2

Tablespoons

butter, unsalted

1

lb.

large shrimp, peeled and deveined

about 26 shrimp

kosher salt

prefer Diamond brand

black pepper

juice of half a lemon

oil to coat the pan for the shrimp

2

cups

kale, ribs removed and chiffonade

⅓

cup

cherry tomatoes, halved

pickled red onion to taste

ranch dressing to taste

Cotija cheese to taste
Red Pepper Jelly Honey BBQ Sauce
½

cup

Sweet Baby Ray's Honey BBQ Sauce

¼

cup

Braswell's Red Pepper Jelly

1

garlic clove, grated
Instructions
Cover the corn with water in a medium pot and add 2 Tablespoons of butter. Bring to a boil and immediately reduce heat. Simmer until tender, about 20-30 minutes.

While the corn cooks, prepare and dress the salad – kale, tomatoes, pickled onions and crumbled Cotija cheese. Coat ans toss the salad with ranch dressing. Reserve some Cotija cheese for topping.

Heat a flattop grill or skillet with grill marks over medium to high heat.

Prepare the BBQ by whisking together ½ cup of honey BBQ sauce with ¼ cup of red pepper jelly and 1 small/medium garlic clove. Set aside.

Pat dry the shrimp with a paper towel and season with kosher salt and fresh ground black pepper. Squeeze half a lemon over the shrimp.

Heat a medium size skillet over medium heat and coat with olive oil. Add the shrimp and sauté for a minute. Coat the shrimp with the prepared BBQ sauce and toss to coat all the shrimp evenly. Toss frequently for a few minutes so the shrimp doesn't stick to the skillet. The sauce will begin to reduce and thicken.

Remove the shrimp from the skillet and place over the hot grill. Reduce the heat to medium heat. Remove the corn from the pot, drain and also place on the grill. Sear both just to get grill marks. Quickly flip the shrimp and corn, then remove.

Note: If using an outdoor grill, skewer the shrimp and use the sauce to glaze the shrimp.

Cut the kernels of corn by standing the corn on one end and with a knife, cut straight down from the top end to the bottom end. Turn and repeat step until all the kernels have been cut.

Add the corn to the dressed salad and top with BBQ shrimp and Cotija cheese crumbles.
Recipe Notes
A pound of large shrimp yields about 31-35 shrimp, an average of 7-8 shrimp per person.  This salad could feed 4, you'll need to increase the salad and vegetable amounts.  
.