This salsa is so, so good and healthy! I love the combination of flavors and textures against the citrusy tang from the lime juice, not to mention all the vibrant colors from all the fresh vegetables. Whipping up a batch is as easy as opening up a few cans, chopping a few vegetables and juicing two limes! Serve it in a big bowl with tortilla chips or add to any salad, taco, burrito or Mexican pizza and see your family and friends gobble it up. This is perfect for picnics, buffets, summertime parties and of course, Cinco de Mayo celebrations.
For a really cute buffet idea, serve them in disposable mini dessert cups from Amazon for a beautiful presentation making self-serving easy and without a mess.
INGREDIENTS
1 15-ounce can black beans, rinsed & drained
1 15.25-ounce can sweet corn, rinsed & drained
4-5 plum tomatoes, seeded & diced
1/2 medium red onion, finely diced
2-3 green scallions, chopped
small bunch cilantro, chopped
juice of 2 – 3 limes
few dashes of hot sauce or 1 jalapeño, ribs and seeds removed and diced (optional)
kosher salt (about 1 teaspoon)
fresh black pepper (about 1/2 teaspoon)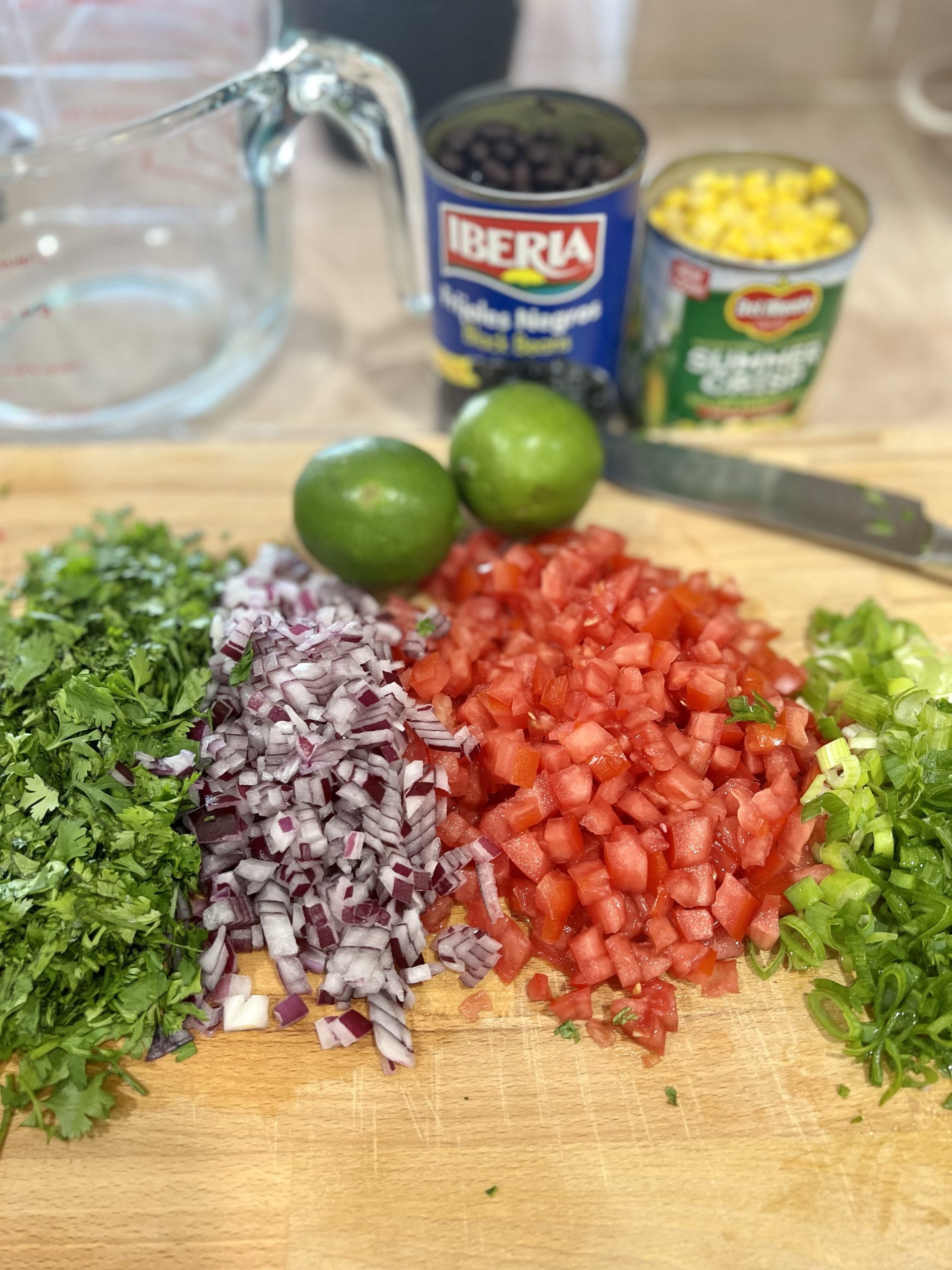 HOW I MADE IT
Rinse, drain and chop all of your ingredients. Combine all the ingredients in a large mixing bowl and toss to evenly combine and distribute. Cover and refrigerate for at least an hour, but best overnight, so the flavors can marry. Serve with your favorite tortilla chips, lettuce wraps or veggies like bell pepper wedges. Don't forget to place extra lime wedges and hot sauce on the side. Simple. Fresh. Healthy!
Don't like black beans? Try Pinto beans instead, or add a diced avocado just before serving. Since avocados oxidize quickly, I like to dice and coat them with lime juice prior to adding them to the bowl just before serving. Remember to gently fold in as not to crush them.
Can corn or fresh corn? If you have fresh corn on the cob, it's better. I would grill the corn first for added flavor and texture. Having said that, this is a great pantry recipe so canned corn works great.
Why seed the tomatoes? They add too much liquid to the salsa. If that doesn't bother you, don't seed them.
Heat is a matter of preference. If you don't like it, don't add any. I prefer to add hot sauce since it is a liquid and is evenly distributed with the lime juice as you toss. If you don't have hot sauce or prefer to add a fresh jalapeño, start with half a pepper to determine the heat. Some peppers are hotter than others and remember the heat is in the ribs and seeds so you want to remove them.
Note: Wash your hands extremely well and don't touch your eyes.
This recipe is not only easy to make, but to adapt. Feel free to omit or add any of your family favorites like bell peppers – they come in so many beautiful colors! Also consider a pinch of cumin for smokey flavor or chili seasoning. Add a can of pinto beans and you have Cowboy Caviar! So many ways you can adapt to your own palate.
If you make this, I would love to hear back from you. Leave a comment below and let me know how much you liked it, or not. Feedback is always welcomed.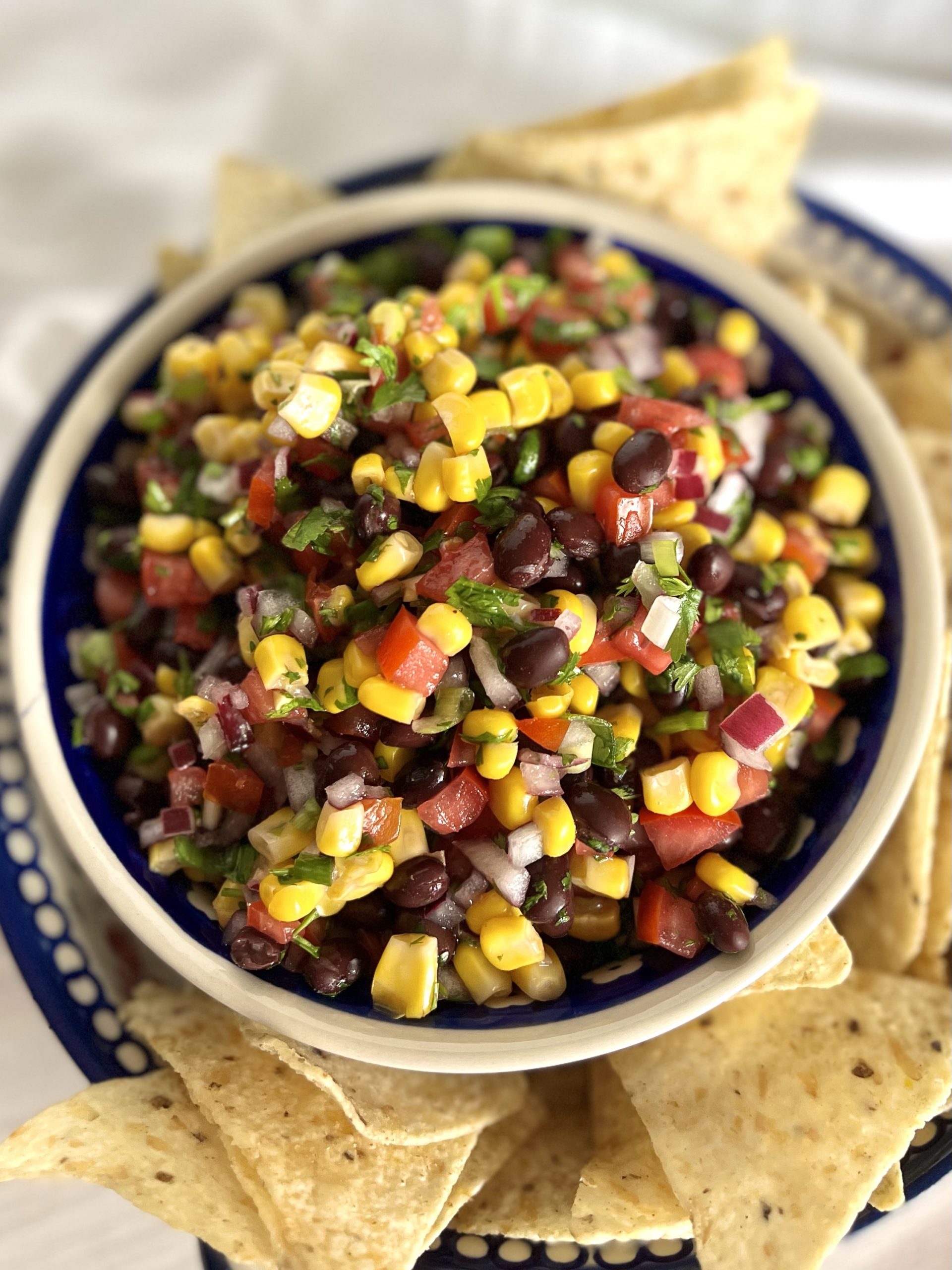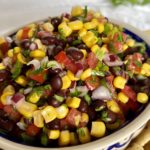 Black Bean and Corn Salsa
A delicious and easy to make fresh salsa. Serve with tortilla chips for an any time family favorite snack.
Minimum Refrigerate
1
hour
Total Time
1
hour
15
minutes
Ingredients
1

15-ounce

can black beans, rinsed and drained

can substitute with Pinto beans

1

15.25-ounce

can sweet corn, rinsed and drained

4-5

plum tomatoes, seeded and diced

½

medium

red onion, finely diced

2 – 3

scallions, chopped

a small

bunch

cilantro, chopped

juice of

2 – 3

limes, depending on how juicy they are

few

dashes

hot sauce, to taste

kosher salt to taste (about 1 teaspoon)

prefer Diamond brand

black pepper to taste (about ½ teaspoon)

Optional

1

Jalapeño, remove ribs & seeds, diced
Instructions
Prepare all your ingredients. Rinse and drain the black beans and corn. Seed and dice the tomatoes. Chop and dice the red onion, scallions and cilantro. Juice the limes – you will need at least 2 Tablespoons of lime juice and depending on their size, you may need 2 – 3 limes.

Note: prep If adding jalapeños, remove ribs and seeds and finely dice.

Combine all the ingredients in a bowl and toss well to evenly distribute the ingredients and seasonings. Cover and refrigerate for at least an hour. Serve with tortilla chips, crunchy bell pepper wedges or lettuce wraps.