Of all the red-white-and-blue tablescapes, none are as patriotic, nostalgic and vintage as those tables set with Liberty Blue plates. Liberty Blue ironstone beautifully depicts historical American colonial scenes – from Independence Hall to Paul Revere's famous ride and Betsy Ross sewing our flag. They make any American holiday table extra special. My plates are Independence Hall dinner plates and Monticello bread plates. I started my collection a few years ago at an estate sale and I've been adding a plate at a time as I find them in thrift stores and estate sales.
HISTORY
Liberty Blue dinnerware began as a promotional item in the pacific northwest in 1975 by the Benjamin Franklin Federal Savings and Loan Association. In 1975, Enoch Wedgwood, in England's historic Staffordshire district, was commissioned to create a blue and white pattern depicting American Colonial historical scenes. Each piece depicts a different historical scene and all the pieces are unified by a boarder of wildflowers. The dinnerware pieces were used as incentives to gain subscribers – when you opened an account, you were gifted accordingly. The program ended by the end of 1976, but the dinnerware made its way to grocery stores and a few other locations – eventually disappearing altogether by the mid-1980s. eBay created a market where people could source the dinnerware and replace broken pieces or complete a set. Now, the dinnerware is highly sought after, especially by grand millennials. Replacements, LTD and Amazon may also carry a few pieces, but your best bet is still at the local thrift store.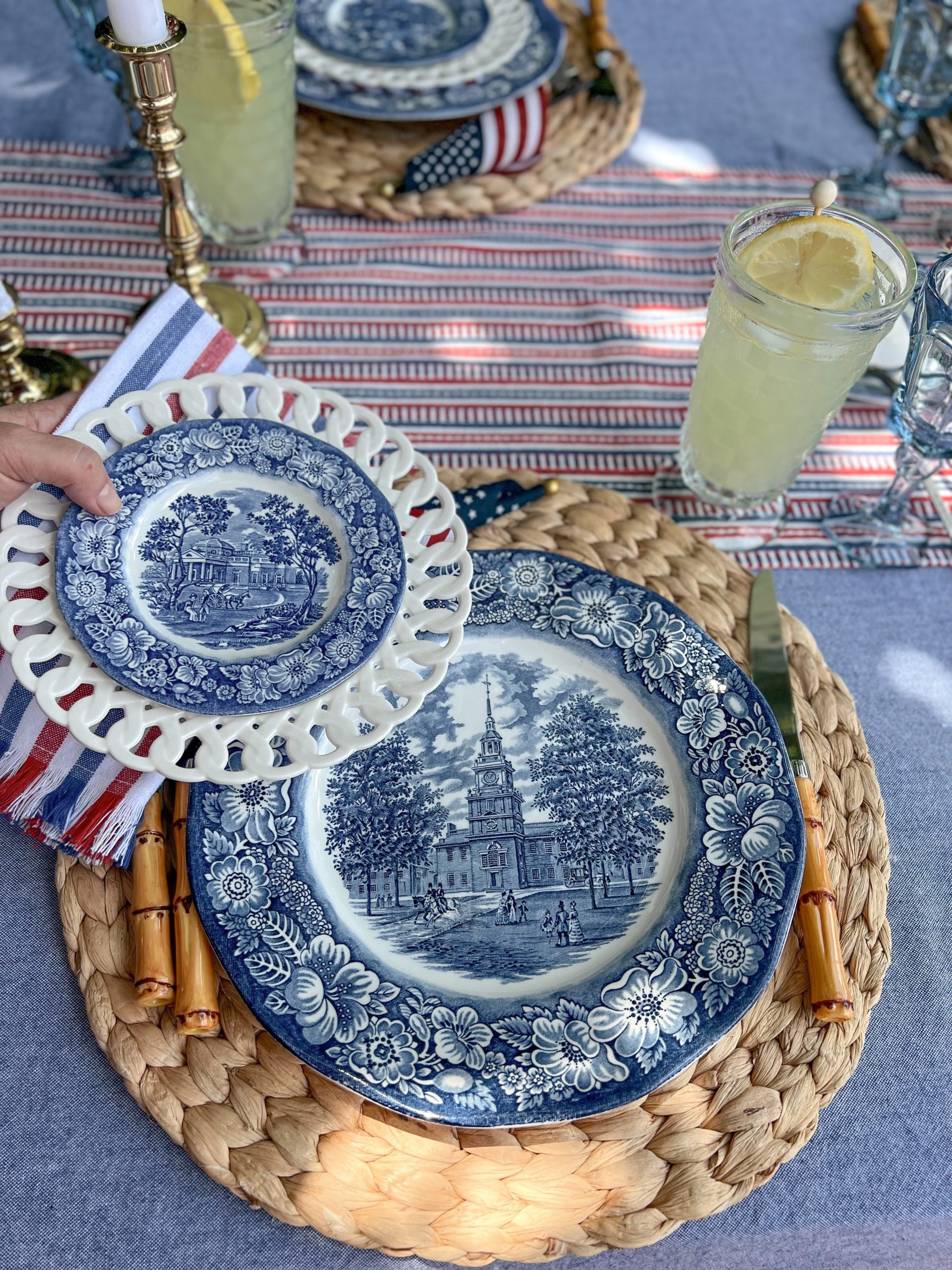 INSPIRATION & CREATING THE LOOK
My inspiration was my Liberty Blue plates. I finally had enough dinner plates and Independence Day was around the corner. It's summertime, so I had to make this an alfresco tablescape. I set my table in the shaded patio area under a sea grape canopy, surrounded by green ferns and areca palms. Since this is a glass table (yes, a glass table, outdoors, in a hurricane prone city), I set a blue chambray tablecloth as my canvas. I added a patriotic table runner from Pier 1 for added color and contrast. Although mine is discontinued, there are so many beautiful ones available both in store and online. The hyacinth placemats defined each space and the bamboo flatware ties in the natural elements.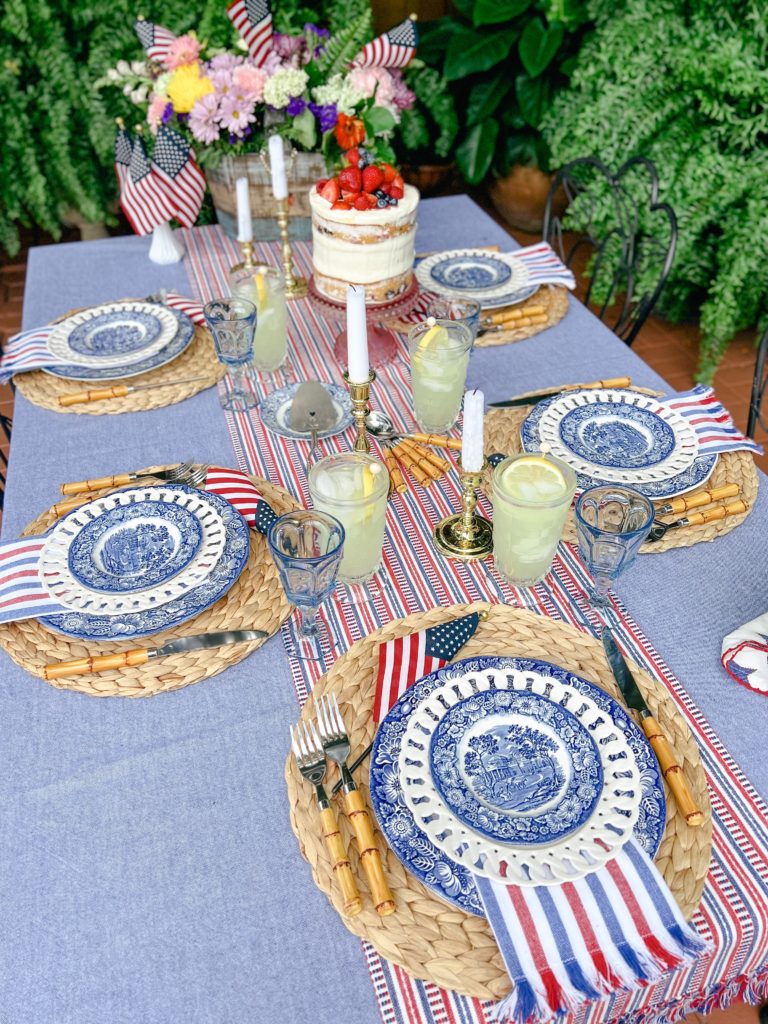 I set down the 10-inch Independence Hall dinner plate, followed by a white Heirloom dessert plate with a beautiful lattice edge for contrast and topped with the 6-inch Monticello bread plate. A simple red-white-and-blue striped napkin from HomeGoods and an American flag finishes off the setting. So pretty and colorful and those plates are simply stunning.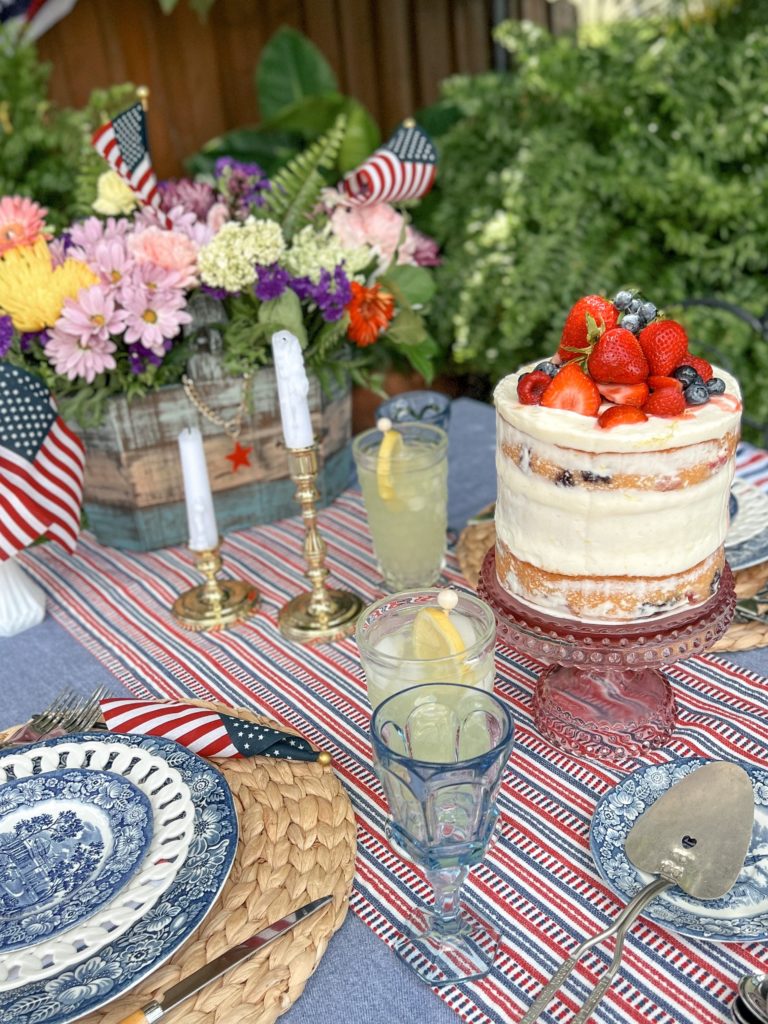 I thought it only fitting to set out vintage glassware with vintage dinnerware. Shown here are two different and gorgeous glassware – Fostoria Virginia pattern in light blue and Whitehall by Colony clear iced tea glasses. Each glass has a beautiful design and the tea glasses have a sturdy and hefty weight to them.
Classic and elegant brass candle holders are timeless. I love my Baldwin brass candlestick holders. I collect them in various heights and I use them as often as I can – especially at Christmastime. They have a clean design that's never out of style. I purchased a few bunches of flowers at the grocery and tucked in a few mini American flags. The bunting along the wooden fence also add to the festive and patriotic theme.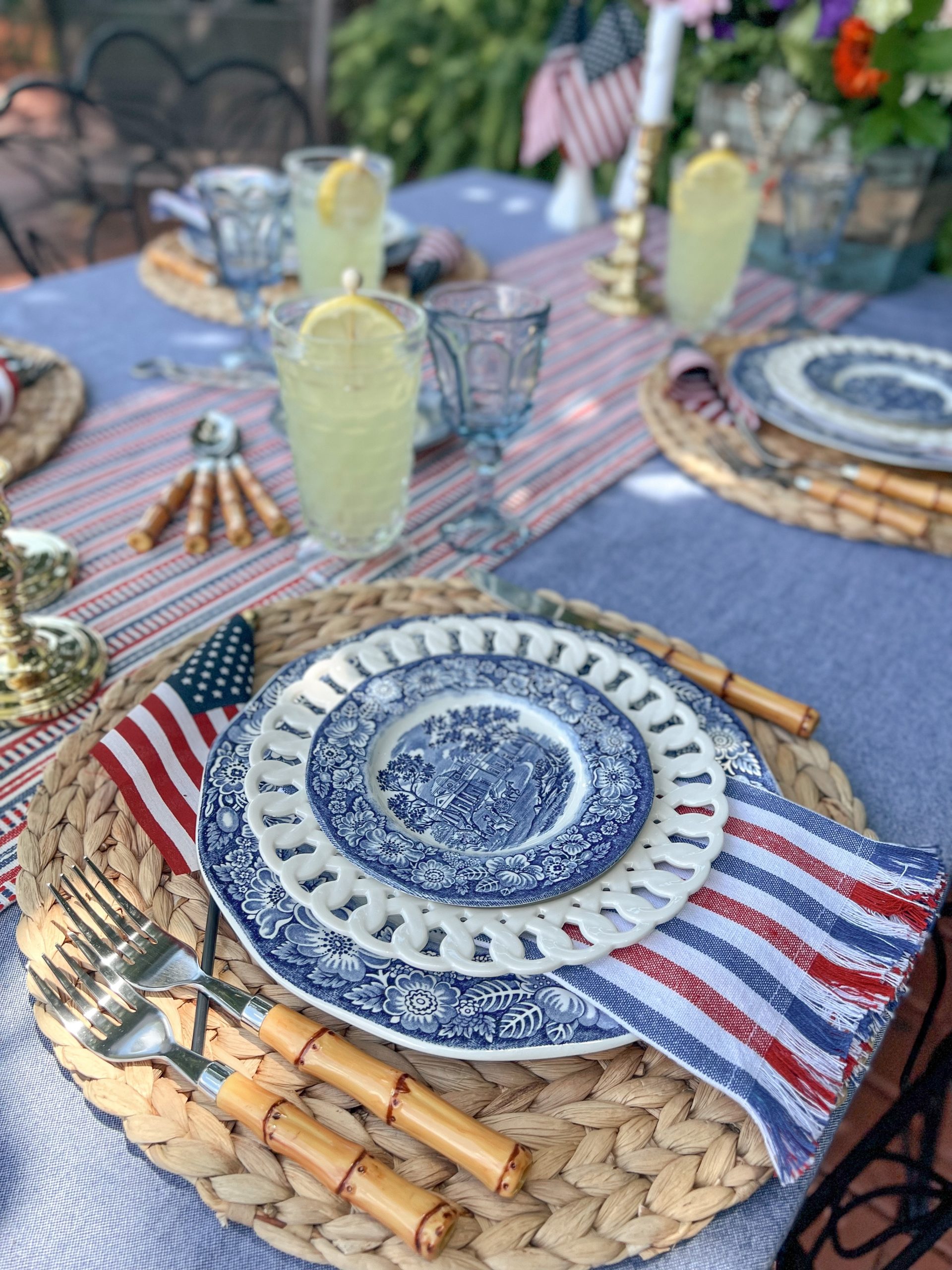 This delicious refreshing cake is my Lemon Berry Mascarpone Cake – moist cake with lemon and fresh berries baked in, a light and creamy mascarpone cream cheese frosting and macerated berries piled high! The heat was unbearable so you see the cake and then you don't. I only took it outside for a few pictures.
I hope you enjoyed this tablescape and draw inspiration for your own creation. Happy birthday America!
SOURCING
Chambray Blue Tablecloth & Striped Napkins – HomeGoods
Table Runner – Pier 1 Imports, discontinued
Hyacinth Woven Placemats – Amazon
Liberty Blue Dinnerware – thrift stores
Grace Teaware Heirloom Dessert Plates – HomeGoods, can also source on Replacements, LTD
Bamboo Flatware – Macy's
Blue Virginia Glasses by Fostoria – thrift stores
Whitehall by Colony Clear Tea Glasses – thrift stores
Tommy Bahamas Bunting – HomeGoods
Baldwin Candlestick Holders – thrift stores and eBay
L.E. Smith Pink Hobnail Cake Stand – eBay