I had hoped to celebrate Cinco de Mayo outside, but Mother Nature threw me a curve ball. Not discouraged by a little water (felt like a tropical storm), I forged ahead with my plans – because it's all about the party, the company and the food, of course.
I love casual entertaining even if it's for a small gathering so that was ever present as I set up indoors. I wanted my table to be as colorful and visually interesting as the menu I selected. You can easily achieve this by layering various textures, creating a focal point (mine is above the sideboard covering a large mirror) and by placing items at different heights. Don't be afraid to mix solids with patterns and natural elements or even introduce a little whimsy – I love my llama dipping bowl. Mexican cuisine is as rich in flavor as the country in history and there's something for everyone. This is all about fun and fiesta!
MY CINCO DE MAYO MENU
Classic Margaritas with a Tiny Twist – delicious and refreshing
Spiced Rum Sauce – amazing caramel sauce with cinnamon and rum
Flan de Queso – creamy and smooth cooked custard topped with a light caramel sauce
Apple Mini-Hand Pies – semi-homemade little apple pie bites
Carne Asada – flavorful and tender meat grilled to perfection and sliced against the grain
Skillet Lime Shrimp – one of my favorite and go-to shrimp dishes
Skillet Street Corn – sweet summer corn cooked and tossed in a delicious dressing
Guacamole – this guac is killer and it's all about the guac
Pico de Gallo – easy, fresh and tangy – the perfect topping on just about anything
Mango Salsa – this pairs so well with the shrimp – the sweetness of the mango with the jalapeño is perfect
Plus an assortment of toppings – queso fresco, jalapeños, diced red onion, chopped cilantro, lettuce, sour cream, homemade vinegar coleslaw and salsa verde. Assorted beers and soft drinks (not shown).
About A Week Before:
1) Plan your menu and make a shopping list of the items you need to purchase.
2) Take inventory of the serving dishes and decorations you have. Purchase any decorations, tablecloth, serving bowls, etc. that you may need to complete your tablescape. I like to buy multipurpose pieces that I can mix and match since my storage space is limited.
Tip: I look year-round, not just before my party, and I go to the clearance section first. Who doesn't like a bargain? You never know where you're going to find what you're looking for so look everywhere! I visit eBay, Goodwill, Dollar Tree, Pier 1, Sur la Table, HomeGoods/TJMaxx/Marshalls, Crate &Barrel, Williams Sonoma, etc. I also buy hard to come by items whenever I find them.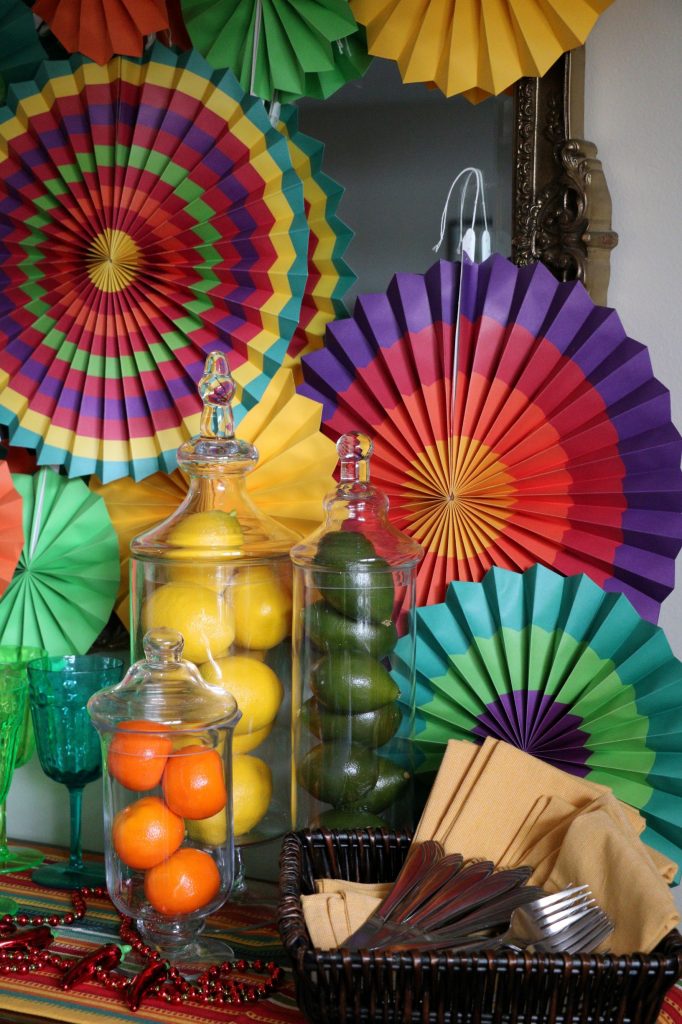 A Day or Two Before:
1) Determine the layout of your tablescape & decorations and placement of the serving dishes, plates, beverages, etc. Think of how you want your guests to flow through the space. Layout a serving utensil for every dish. I like to place little notes next to the dishes as a reminder so I don't forget anything. This is also the time to wash the drinking glasses, dishes, etc. – especially if you rarely use them. Prepare the Margarita glasses with the salt rim the night before.
2) Depending on your refrigerator and storage capacity, you may be able to purchase some ingredients ahead of time. I like to purchase and prep as much as I can the day before so I don't look exhausted on party day. I don't always succeed in executing my timelines as I usually take on too much, but it's worth it in the end. Gatherings with family and friends is what memories are made of. So I do it, even if I'm exhausted when it's over.
3) Tidy up the house the day before, buy fresh flowers and make your floral arrangement(s). The day of the fiesta, you have plenty to do in the kitchen. Don't be afraid to accept help or assign tasks to you family members. At some point, what didn't get done, let it go.
(4) Select your outfit. If you're up against the clock, you're going to be stressed and you may not have time to iron or find the perfect outfit. Take care of the host first!
Day of your Fiesta:
1) Wake up early. It's fiesta day.
2) Have a kitchen game plan – coordinate the work you have ahead of you. What needs to bake, grill, chill? While something is in the oven, like the flan, make the salsas and guacamole or finish decorating.
3) Hosting can be stressful! Allow yourself some down time to enjoy a cup of coffee or tea before guests arrive.
4) When Food Network first started, Sara Moulton, former Executive Chef of Gourmet Magazine, had a cooking show where she taught cooking techniques. It was wonderful! I remember her saying to never apologize for your food – even if you burn it. No matter how it came out, that's how you planned it. I like that!
5) Enjoy your party! Whatever didn't turn out the way you envisioned it, don't worry, your guests don't know any better. They appreciate your efforts and being invited.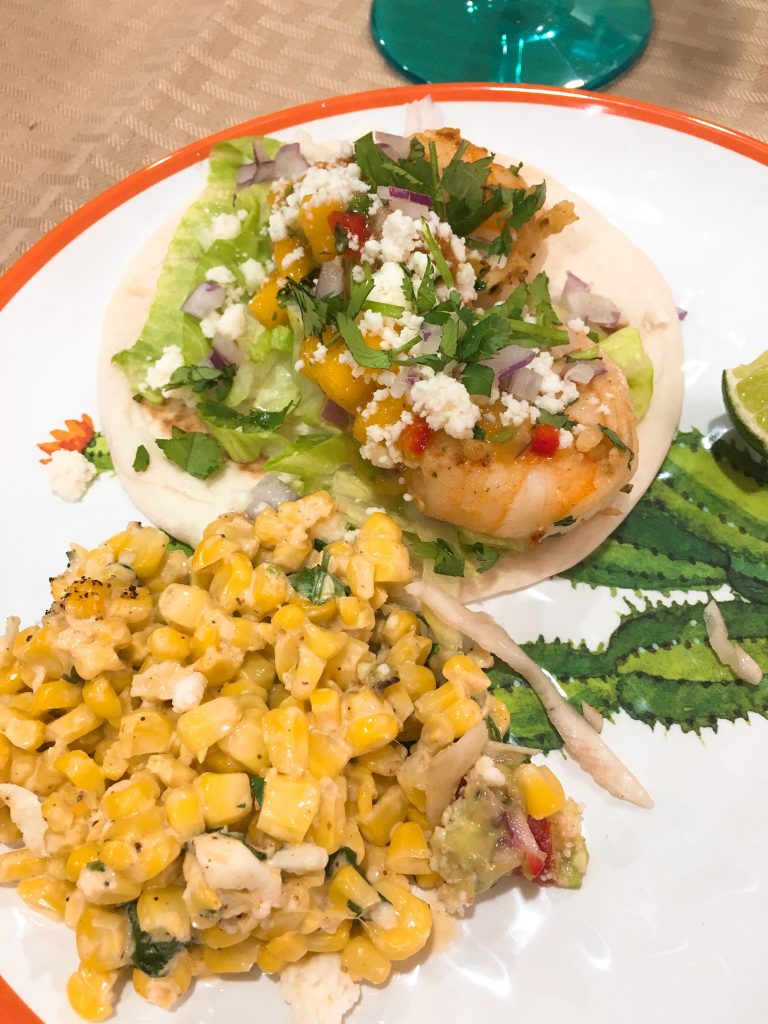 Everything was served buffet style on a round dining room table (chairs removed). My guests loved the variety and the flexibility to eat small bites and get creative. We had such a wonderful time laughing and eating and singing Ranchera songs. I hope that you find my guide helpful as you plan your party. Please leave questions or comments below. Maybe my next "Easy Entertaining" party should be Tapas Party!
Note: When setting out a food spread, it's perfectly fine to serve room temperature dishes. Everything can't come out piping hot at the same time like at a restaurant. Don't put that pressure on yourself.
Sourcing Dishes and Decorations:
Most of the items you see on the table I already had, but I did buy a few extra. I usually shop at Pier 1, HomeGoods/TJMaxx/Marshalls, Amazon, eBay, Goodwill, Dollar Store, Macy's, Sur la Table, Pottery Barn, Crate & Barrel, Williams Sonoma, etc. and I always get something for the home during my travels.

Festive Paper Fans – eBay
Blue & Green Drinking Glasses – Dollar Store
Stainless Steel Beverage Tub – TJMaxx
Cactus Serving Tray, Cactus Salt & Pepper Shakers, Orange Bell Pepper Dish, Lama Dish, Green Artichoke Dish, Blue Tablecloth, Table Runners and Napkins & Cactus Dinner Plates – Pier 1
Yellow Serving Tray – Old Time Pottery
Green Peas In A Pod Serving Dish – Goodwill
White Serving Trays – TJMaxx
Boleslawiec Polish Stoneware – Marshalls & TJMaxx
Fresh Flowers – Publix, my local grocery store
Maracas & Red Chili Necklaces – Party City
Not Shown: Picadillo banderas (Mexican cutout banners) – eBay